News
May 8th, 2016
Pink golf buggy fund-raiser
Here's a cute idea for Breast cancer care
Words: James Greenwood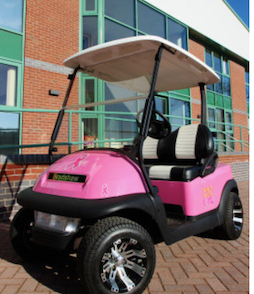 Bradshaw, UK supplier of Club Car golf buggies and utility vehicles, has created a Pink Buggy Campaign in aid of Breast Cancer Care.
The pink Club Car Precedent i2 golf buggy will be delivered free of charge to golf courses in Bradshaw's region for one week at a time, with golf courses donating 100 per cent of the revenue generated from hiring the buggy.
Bradshaw covers golf courses in Cambridgeshire, Lincolnshire, Essex, Kent, East and West Sussex, Surrey and Hampshire.
The buggy has already been out to Redbourn Golf Club, and other golf courses already signed up to help raise funds include Rutland County Golf Club, West Malling Golf Club and Cambridge Meridian Golf Club.
We think it's a great little idea to help a great cause.
For more on another great charity fund raiser here's how they do it at the Phoenix Waste Management. Meet the Thunderbirds.