News
Oct 20th, 2016
Pablo gives his putter a talking to. Literally!
It didn't work.
Words: Daniel Owen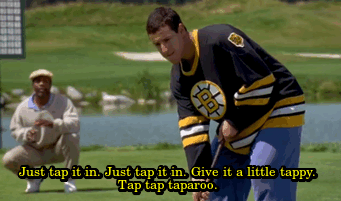 Pablo Larrazabal had a Happy Gilmore moment with his putter at the Portuguese Masters. After shooting a first round 71, where according to Twitter, he had hit the ball the best he had all season.
Best long game of the season + worst putting pf the season = level par..... a lot of work to do tomorrow to be at the weekend

— Pablo Larrazabal (@plarrazabal) October 20, 2016
He then switched up his social media and took to Instagram to give his Odyssey Works V-Line Versa (now that's a mouthful) a serious talking to. 
https://www.instagram.com/p/BLyuZH6BxWB/?taken-by=plarrazabal
Everyone who has ever played this daft game has at some point felt like this. I know I have. And often a putter change is as good as a rest. Well hopefully that's the case for Pablo, as he followed up his 71 with a 69, and as we write this is looking likely to miss the cut. 
Bye bye Portugal... going home earlier than i though...my long game is in good shape going to the final series. i have to work on my putting

— Pablo Larrazabal (@plarrazabal) October 21, 2016
For all his harsh words, it looks like the putter may have had a stay of execution...
Yes... the putter is making the flight to Barcelona... but i have a couple of meeting with him over the weekend...

— Pablo Larrazabal (@plarrazabal) October 21, 2016
TAGS: Happy Gilmore, Pablo Larrazabal, Putting, Odyssey, Versa, V-Line, News, 2016