News
Sep 7th, 2015
Monty On Top
History Maker
Words: The Brigadier Photography: Getty Images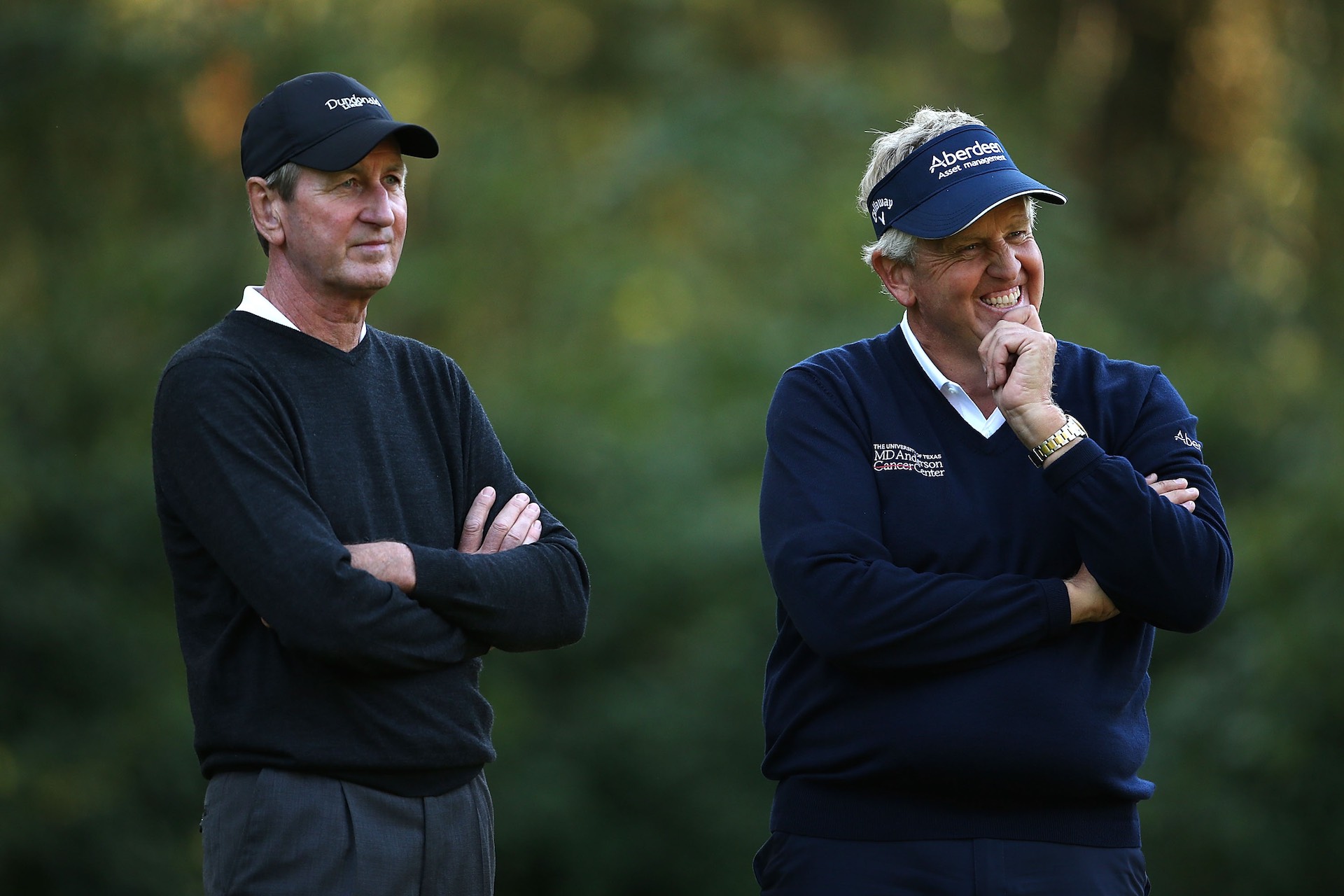 "And then they told me you'd three putted the 18th, and we just fell about!"
Colin Montgomerie became the first player to win three events in succession on both the European Tour and the Senior Tour. You can't argue with that – for once.
His victory in the Travis Perkins Masters at Woburn secured him this unique position in the history of golf. And it didn't come easy, as he had to win a play-off against fellow Scott Ross Drummond.
007-Iron to the rescue!! Fantastic. Superb.
He needed an 18-foot birdie putt on the second extra hole to secure his victory, and his place in history. He will now keep the trophy permanently, which is a nice touch from the organizers.
Monty won the PGA Championship on the main tour three times between 1998 and 2000, and then this event in 2013, 2014, 2015
'I came here to Woburn with a lot of pressure on me as the favourite to win and it's sometimes difficult and harder to achieve when something is expected of you,' Monty told The European Tour in the aftermath of his win.
'And today proved that point. I was having some putting issues coming in and three putted the tenth and 17th and missed a 'gimme' for birdie at the 15th.
I thought these putting zimmer frames were supposed to help...
'Then I heard that Ross had bogeyed the 18th and it gave me a chance to birdie the last to get into a play-off. That wasn't easy, knowing you need a birdie and achieving it to get into a play-off. Then I managed that birdie on the second play-off hole. I got very fortunate to come away with a win.'
Not such a good day for Drummond, who had victory within his grasp, until he three putted the final green, which let Monty into a play-off.
Fantastic. Superb.
Drummond has had 490 starts on The European Tour and 125 on the Senior Tour, but had never won. Today was his opportunity to take his first ever title at the tender age of 58 years and 281 days.
Monty knew on the 18th that nothing less than a birdie would do, and pumped it 270 yards to within 15 paces of the green. He chipped to two feet, and holed his putt.
Poor Scott Drummond! 28 years on tour, and to loose to Monty in such cruel fashion. Even Monty looked a bit abashed.....
There were no reports of butterflies being in the area, which we think could have made all the difference to Monty's concentration.
If he says 'Fantastic, Superb' again I'll chin him.
TAGS: European, Seniors, Colin Montgomerie, Scott Drummond, Travis Perkins, Woburn, News, 2015