News
Oct 9th, 2015
Mickelson in wrong ball melee
Changes ball mid round with dire consequences
Words: Tim Southwell Photography: Getty Images
What a pallaver! And what was Lefty thinking? Changing his ball mid-round?! I mean, really?!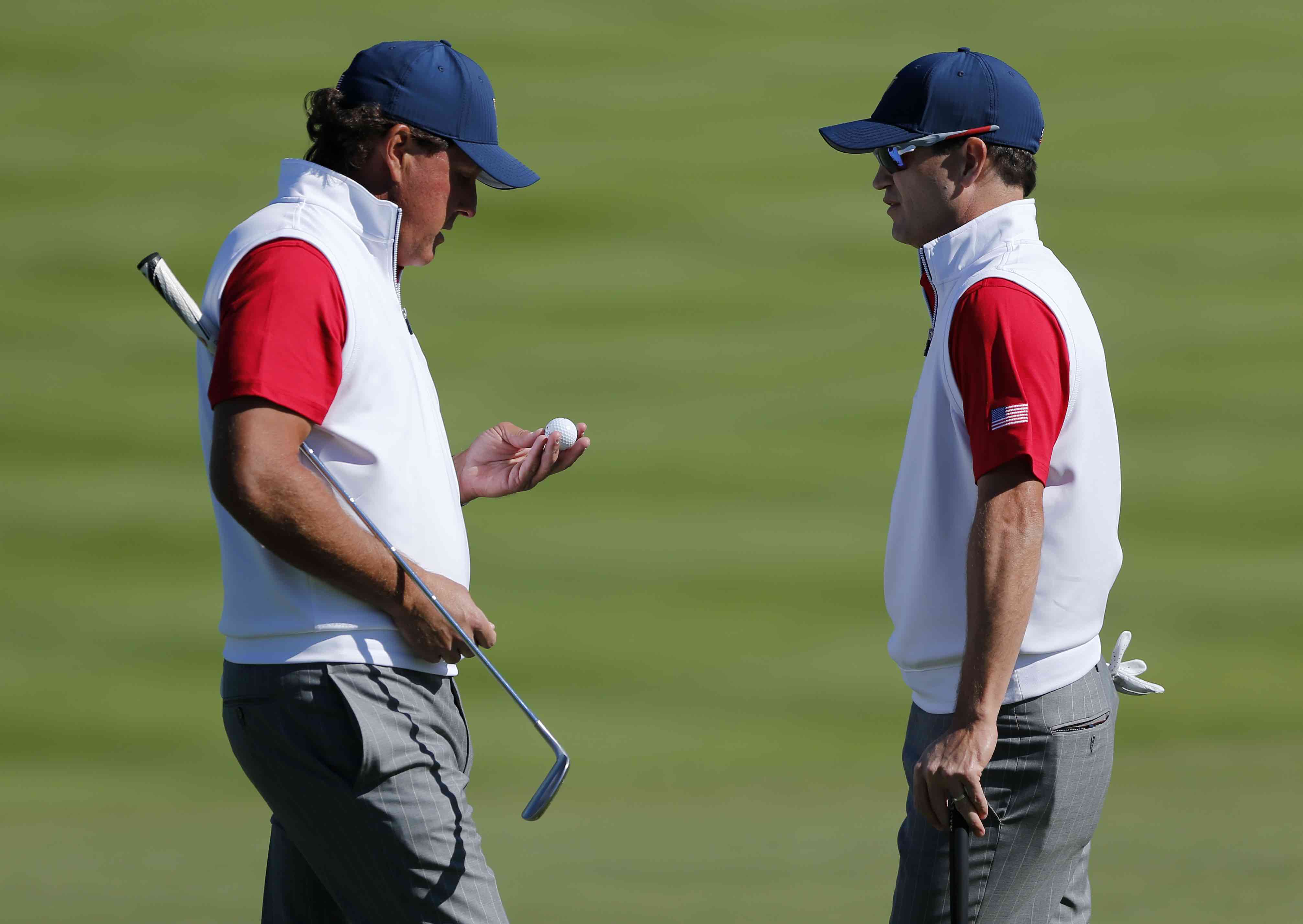 "To be honest, mate, they all look the same to me..."
Phil Mickelson's penalty on Friday at the Presidents Cup led to an entirely new ruling that everyone playing, watching, broadcasting, and observing had never encountered.
The infraction led to the American duo of Mickelson and Zach Johnson essentially losing a hole twice. Mickelson decided to change the model of his Callaway ball on the 7th tee, which was a violation of the one-ball rule – you cannot change the model of your golf ball in the middle of a match. Let's face it, we all know this.
Phil was told he was disqualified from the hole and Johnson had to play the rest of the hole in this best-ball format by himself up against Jason Day and Adam Scott.
Johnson lost the hole, posting a par while Jason Day made birdie. So the USA went one-down on the lost hole. But before they teed off at the 8th, the rules official stepped in again to say there was some confusion about the penalty. There would also be a "match adjustment" or "match penalty" for the violation. The ruling they were relying on: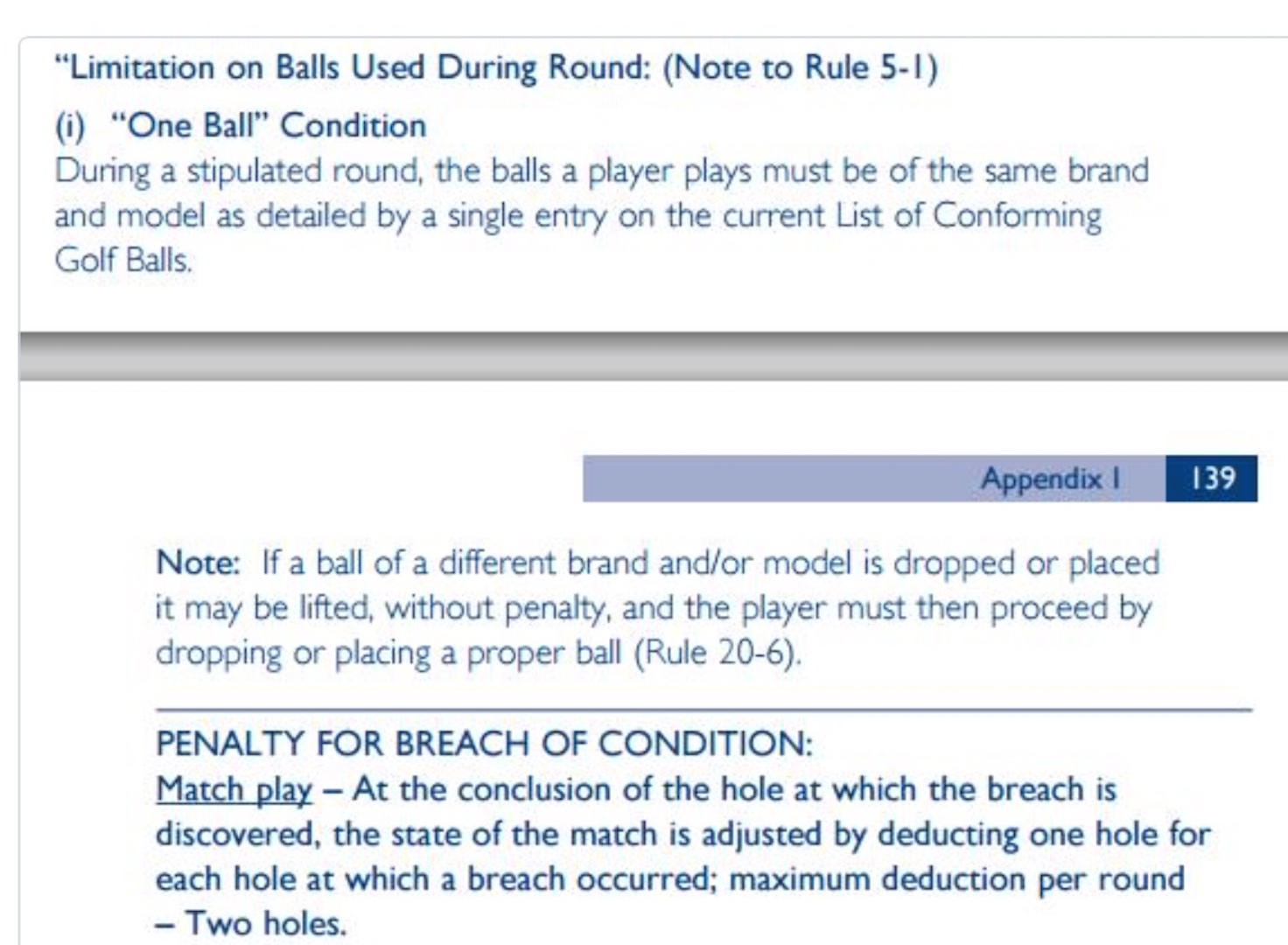 So on top of Phil getting DQ'd in the middle of the hole, they docked the USA side another hole and they went to 2-down, essentially losing the 7th hole twice. No one had ever seen such a ruling in match play (this quirk could change the meaning of "dormie").
Phil loudly stated he had never heard of such a penalty. Everyone was confused and assumed the rules officials had made some sort of mistake.
The conversation up on the tee continued and there was still confusion several holes later about whether the correct ruling was made. Zach Johnson even asked if they should let the group behind play through while things were initially sorted out on the 8th tee.
AND THEN....:
Head rules official Mark Russell called USA captain Jay Haas in for a face-to-face meeting and, according to Golf Channel's Steve Sands, apologized to the American captain. He admitted to rules "committee error" and that Mickelson should not have been told he was disqualified from the hole but that at this point in the match and in the session, there was nothing they could do about it and would not "waive the additional one-hole penalty." An hour later, they issued a lengthy "final word" statement admitting as much: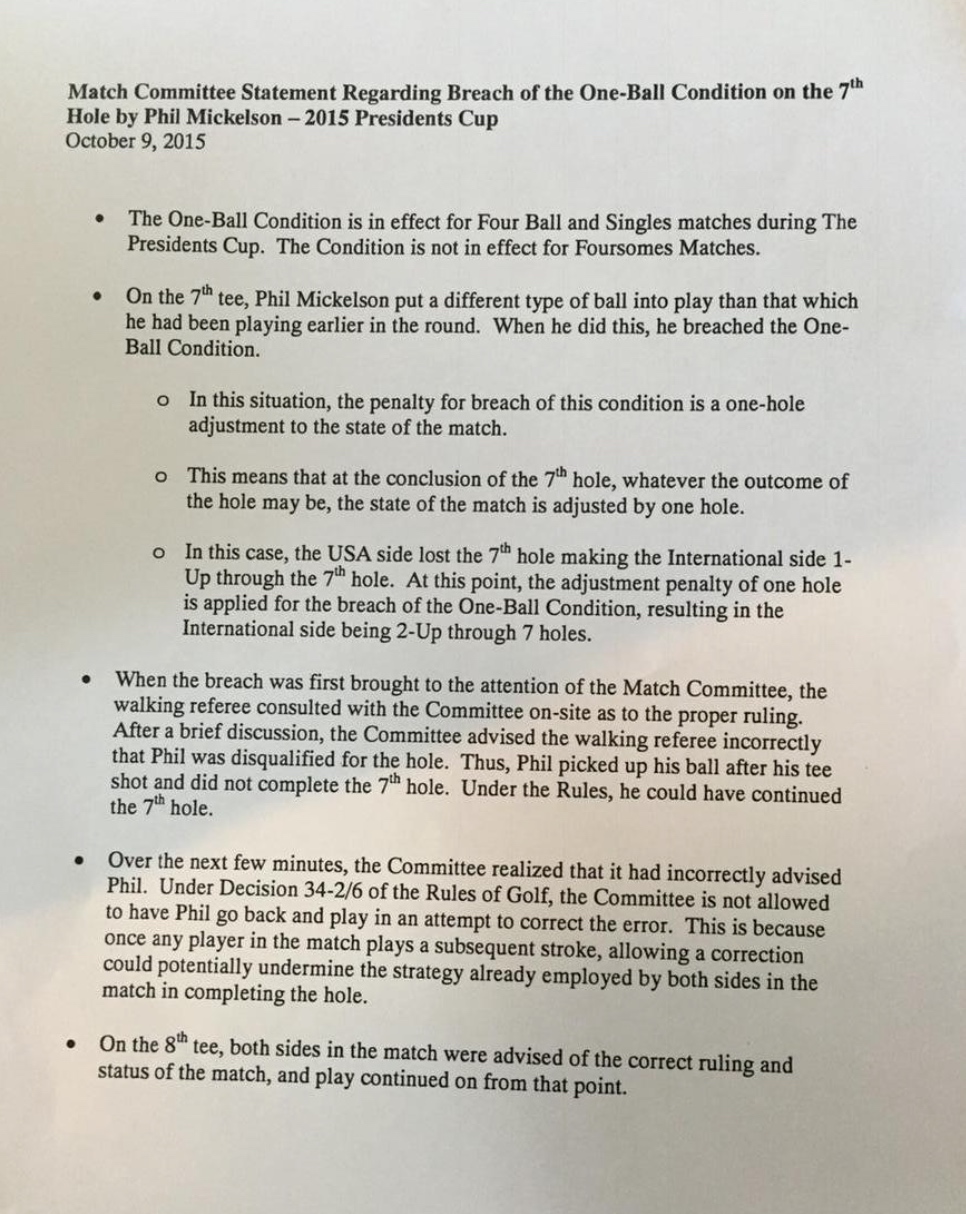 Sort yourselves out lads.