News
Nov 24th, 2015
Mary, Queen of Clubs
Original Swingin siren
Words: Nicholas Kevern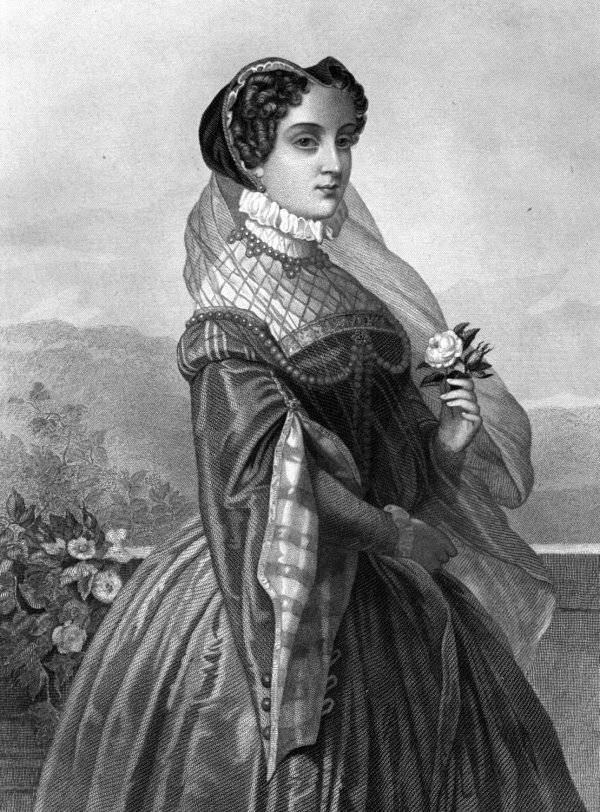 Here at GolfPunk we like to celebrate our Swinging Sirens. But what about the first swinging siren? A trailblazer for our game in Golf's earlier days. 
Unknown to many, before I ventured into the world of Golf writing I spent my days in the classroom. A History classroom to be precise. There I would try and find new ways to engage the youth of today towards the past. But you cannot forget your first love as they say. Mine is History. Now...it's time for a golf history lesson. So, books out, pens at the ready and pay attention. "Chairs have four legs for a reason, stop swinging on it and sit properly please"...now...where was I? 
The story I am about to tell you involves Murder, Plotting, severe cases of losing one's heads and of course...golf. If you ever thought that Tiger Woods caused drama...then you ain't seen nothing yet. This is the story of Mary Queen of Scots...or as I like to call her, Mary, Queen of Clubs (See what I did there).  
Mary, Queen of Scots stood at 6 ft tall and unlike some unflattering portraits of her, was a beauty. She was a bit of a tomboy and there were reports that she dressed up as a stable boy to venture the streets of Edinburgh incognito. She also was partial to a round of Golf.  
One place she loved more than any was St. Andrews. She had a small cottage there and would often take to the links to play. The links and golf itself would often take her mind of what was happening in Scotland at the time of her rule. Catholics and Protestants tensions were high and there were continuous revolts by her peerage. In St Andrews itself, the Archbishop of St Andrews was in trouble for burning a Protestant at the stake whist strapping gunpowder to him for extra kaboom. No wonder she liked the peace of the links so much!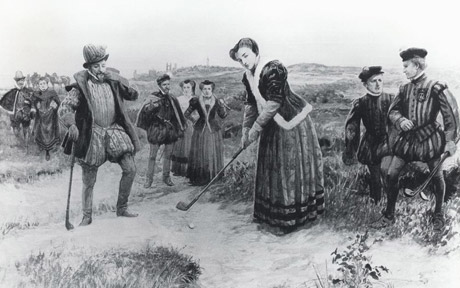 She didn't just play for fun either...she had a competitive streak. On one occasion she played against one of her Ladies in Waiting at Musselburgh. According to the stories told, she lost her Match Play game against Mary Seton. Mary, Queen of Scots gave Seton a necklace as a trophy.  
Yet her love of Golf also made her the speculation of gossip following the death of her husband, Lord Darnley. On the night of the 9th February 1567, Lord Darnley was found dead in the garden. The house where he was staying was destroyed in a massive explosion. Yet it appeared that Lord Darnley has been strangled. The Queen's husband was dead either way. How did Mary, Queen of Scots handle this deeply traumatic time? Well, golf of course. Just two days after the murder she was seen on the golf course, seemingly without a care in the world. February golf...in Scotland...this shows just how hard she really was.  
She opted to flee Scotland to England where she was imprisoned. She would spend the rest of her life imprisoned. In an attempt to claim her guilt in the Darnley matter, the Earl of Moray announced what had happened soon after Darnley's death. "A few days after the murder she passed to Seton, exercising her one day right openly at the fields with pall mall and golf," the charge read. 
Although Mary, Queen of Scots lost her head as Elizabeth I signed her death warrant following the Babington Plot, the true tragedy is that she spent years yearning for the golf course whilst in England. Her athleticism was slowly fading as she remained under house arrest. Sally Jenkins from the Washington Post said that  "She died still pining for the outdoors and wound up a mis-portrayed face on a canvas, the mother of golf, among all the stout old fathers." She lost her head in England but her heart remained on the Links of Scotland. 
TAGS: Mary Queen Of Scotts, Mary Queen Of Scotts Golf, News, 2015, Golfer