News
May 22nd, 2018
Incredible victory for journeyman pro on web.com tour
As he shoots the lights out as first alternative
Words: GolfPunk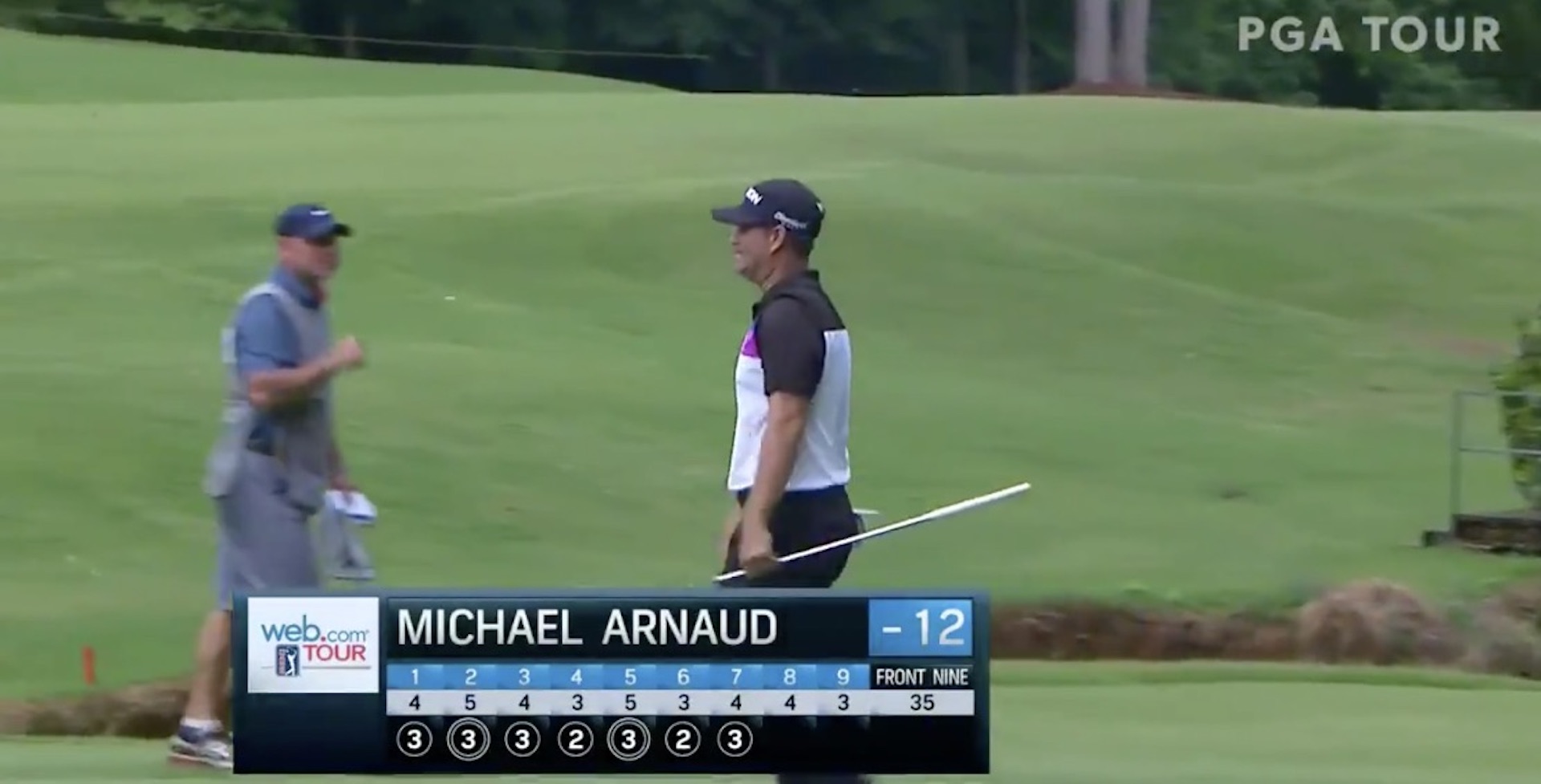 This is a simply incredible Cinderella story from the web.com Tour.
Michael Arnaud was the first alternative for the Web.com Tour's BMW Charity Pro-Am, so with 24 hours to go he didn't even know if he would be playing.
But fortunately the call came, and he was able to tee it up as the last player in the field, after Kent Bulle withdrew with a shoulder injury.
And this is where the magic began, as he stormed the front nine with one eagle, and six birdies in his first seven holes.
Arnaud made par on the eighth to put an end to his incredible run, and then proceeded to bogey the par-3 ninth. But that still left him with an incredible front nine of just 27, which tied the Web.com's nine-hole scoring record.
Arnaud's back nine was not quite as stunning as his front nine, but he added three more birdies, and then parred the final two holes for a 60. Only eight players have ever shot sub 60's on the Web.com Tour, and Arnaud just missed out on making it nine.
The BMW Charity Pro-Am was only his second start of the season (and 50th of career). Arnaud joined the Web.com Tour in 2015 and had two top 10s in 17 starts, but he finished in the top 25 just twice in 20 starts in 2016, and he never finished higher than T18 in his five starts in 2017.
"I have so many people that have been telling me to keep grinding, keep grinding — they knew I had the talent to make it out there," Arnaud said. "My wife just keeps telling me to work at it, and that's what I've done. Finally the fruits of my labor paid off."
After his amazing Pro-Am day, he took to the course full of confidence and shot a 69. But Friday saw him go low with an 11-under 60, which included another 27 on the front nine!
He was nine under on his first seven holes — two eagles, five birdies — and finished par-bogey to tie the Web.com's nine-hole scoring record for the second time in a single week.
With a 65 on Saturday, Arnaud started his final round with yet another amazing performance, making the turn with a seven-under 28.
He finally signed for an eight under 71, and a comfortable victory at 27 under.
"Wednesday morning I got up not knowing if I was gonna play, hoping I made the right decision to come here," he said. "You know, fate was on my side. Last man in the field and now I'm the first man at the top of the leaderboard at the end of the week."
Amen to that!
https://twitter.com/WebDotComTour/status/998293232097214464?ref_src=twsrc%5Etfw&ref_url=http%3A%2F%2Fwww.golf.com%2Ftour-news%2F2018%2F05%2F20%2Falternate-michael-arnaud-shoots-two-sub-30-front-nines-wins-bmw-charity-pro-am&tfw_creator=josh_berhow