News
Oct 10th, 2015
In Korea No One Can Hear You Scream
The Presidents Cup has a unique feel on the fairways
Words: Tim Southwell Photography: Getty Images
25,000 fans pour through the gates every day for the Presidents Cup in South Korea. But there is something slightly disconcerting about the noises they do and don't make...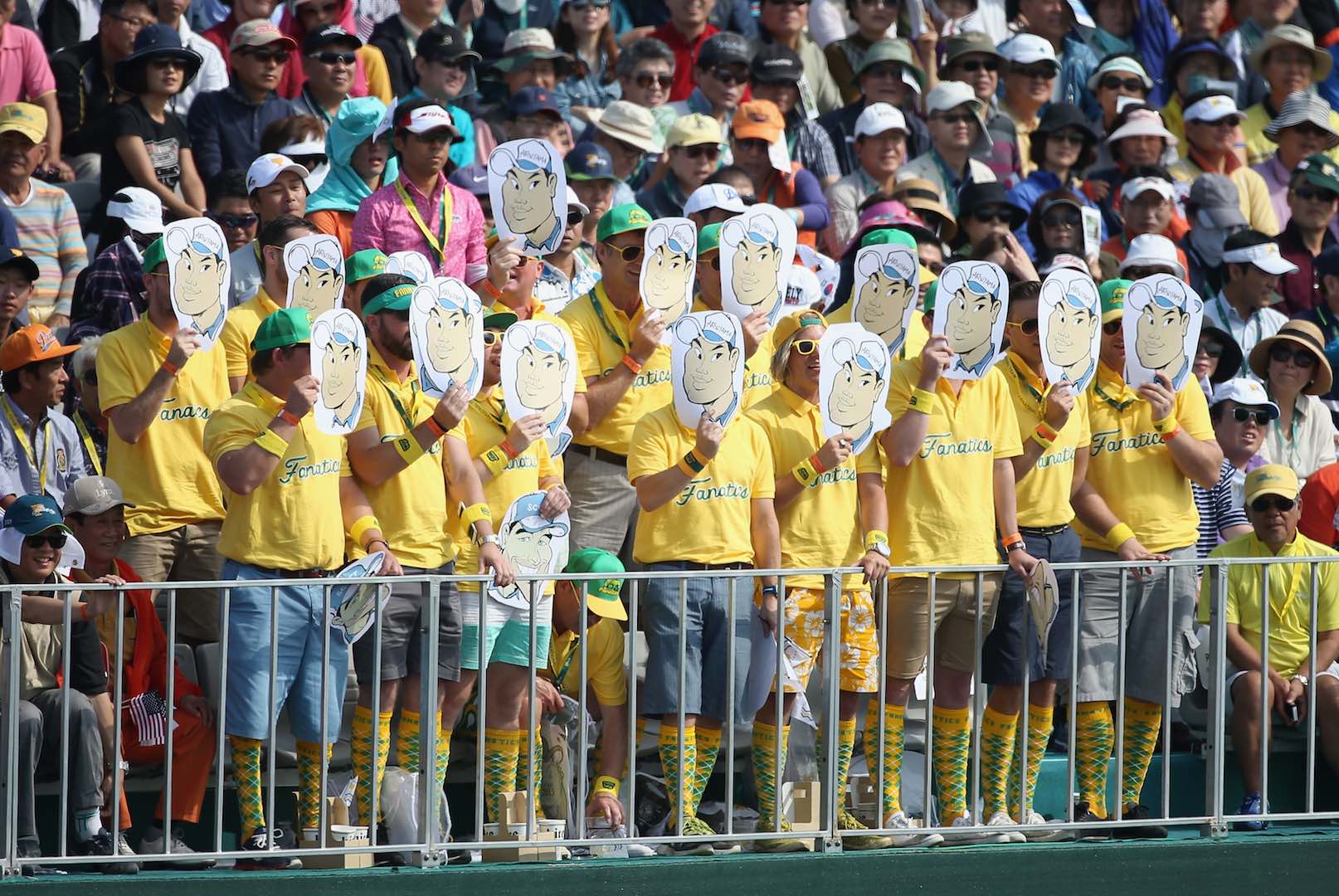 Matsuyama masks at the ready, the International fans get 'pumped'
The Ryder Cup this isn't. Boisterous and raucous these crowds are not. There are no menacing chants of "USA", no need for Patrick Reed to shush the crowd. No point in Bubba whipping the fans into a screaming frenzy on the first tee and insisting they continue through his whole swing.
These guys are as polite as the day is long. Even if they get excited, they'll applaud the vanquished team as much as the victors. Any wave of passion and euphoria the International team was hoping for – the 13th man so to speak – ain't happening.
The noise levels were muted when the International team got hammered in the first session and remained the same when the Internationals stormed back into the match by hoovering up the next session.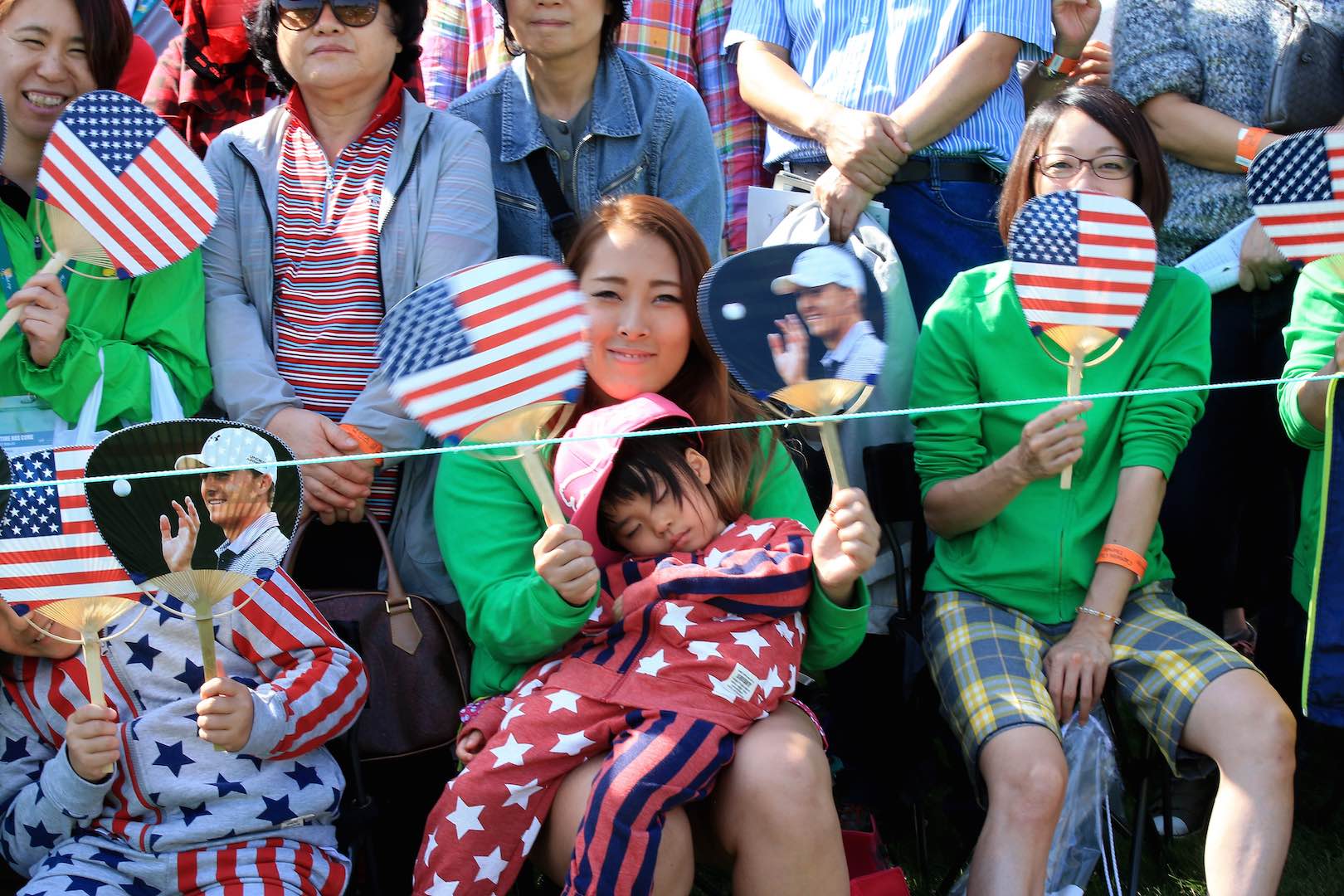 Big fans of Jordan
"It's funny," Dustin Johnson said. "When you hear a noise at another hole, you can't tell if (the Americans) did something good or if (the Internationals) just did something good. It's weird."
There's a real sense of 'Just really happy to be here" about the Korean galleries. Even on the practice putting green they applaud and go "ahhh" a lot when players hole putts. Players are applauded – think golf clap – when they hit shots and walk off the tee. Both teams get the same applause volume-wise when putts are holed and shots made.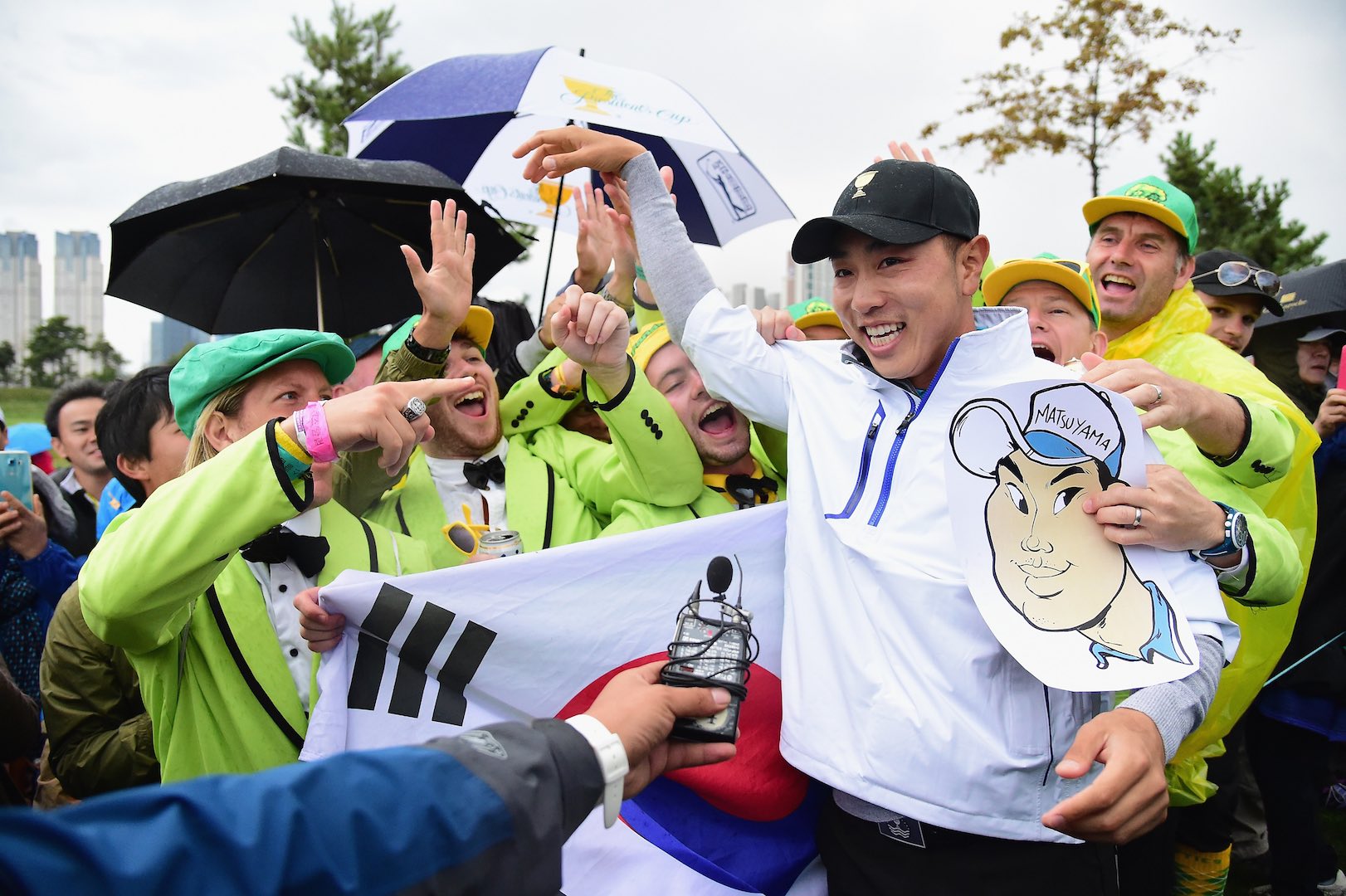 Bae Of Pigs (Dodgy President caption alert!! - Ed)
Even when Korean-born Sangmoon Bae made a birdie on the last hole to win his match with Danny Lee against Rickie Fowler and Jimmy Walker, the noise was kind of weird: Like someone watching his football team score when he is sitting in the opposition part of the ground, he instinctively gets up to scream, then remembers where he is and ends up making a muffled cough. There are no primal roars like you hear at Augusta National in the Masters or during the Ryder Cup.
This is the greatest golf event to ever be played in Korea – and it is the first the event is being contested in Asia. So, yeah, it's kind of a big deal and the local golf fans don't want to mess this opportunity up. The Presidents Cup has all the trappings of a big-time event and the Jack Nicklaus Golf Club Korea is superb. The 24 players are among the world's best. The corporate tents are top-shelf and the Public Village is an upscale setting full of merchandise and plentiful food and beverage options. It's a superb advertisement for what is possible for golf in Asia.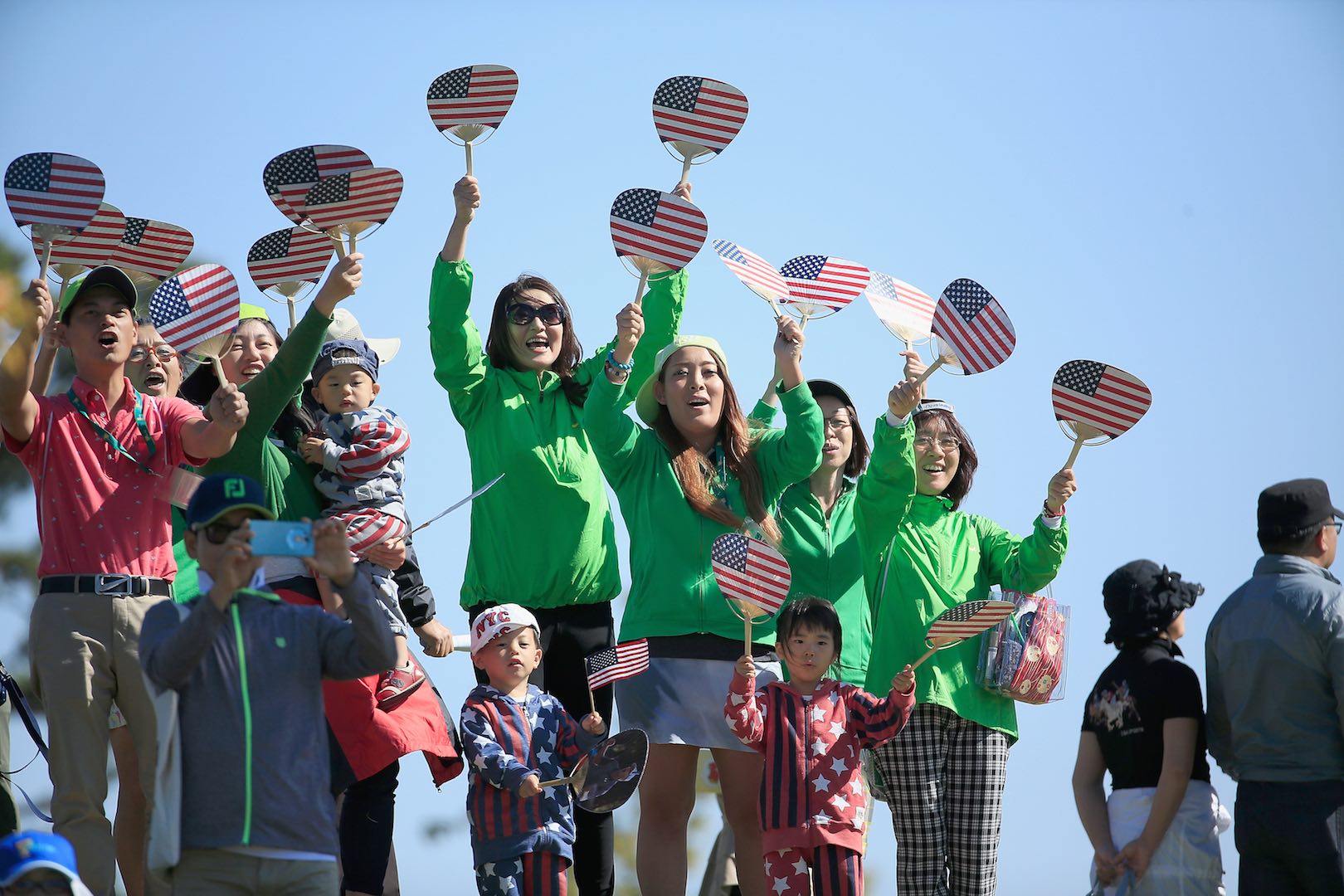 Big USA fans... (You've done that one already! – Ed)
95% of the fans here are Korean and, frankly, they seem in complete awe of the players. And if you think about it, that makes total sense. Remember the first time you went to a Tour event? You didn't really know how to act, how excited to get, how loud or quiet to be.
And then you end up standing so close to Nick Faldo or Seve or whoever as they make incredible shot after incredible shot, and you can't believe what you're seeing. The Koreans are experiencing exactly the same thing, Except that all 25,000 of them are experiencing it for the first time collectively, creating an other-worldiness about this event.
So when they see Bubba Watson pound another drive 330 yards down the fairway, they are entitles to gasp in admiration, rather than shout something gormless and inappropriate about potatoes.
"We were walking toward a hole and there were about 15 Koreans behind the green,"Zach Johnson said. "And they all had Americans flags and waved them when they saw me and Phil (Mickelson). Then when (Jason) Day and (Steven) Bowditch got to the green, they flashed Australian flags.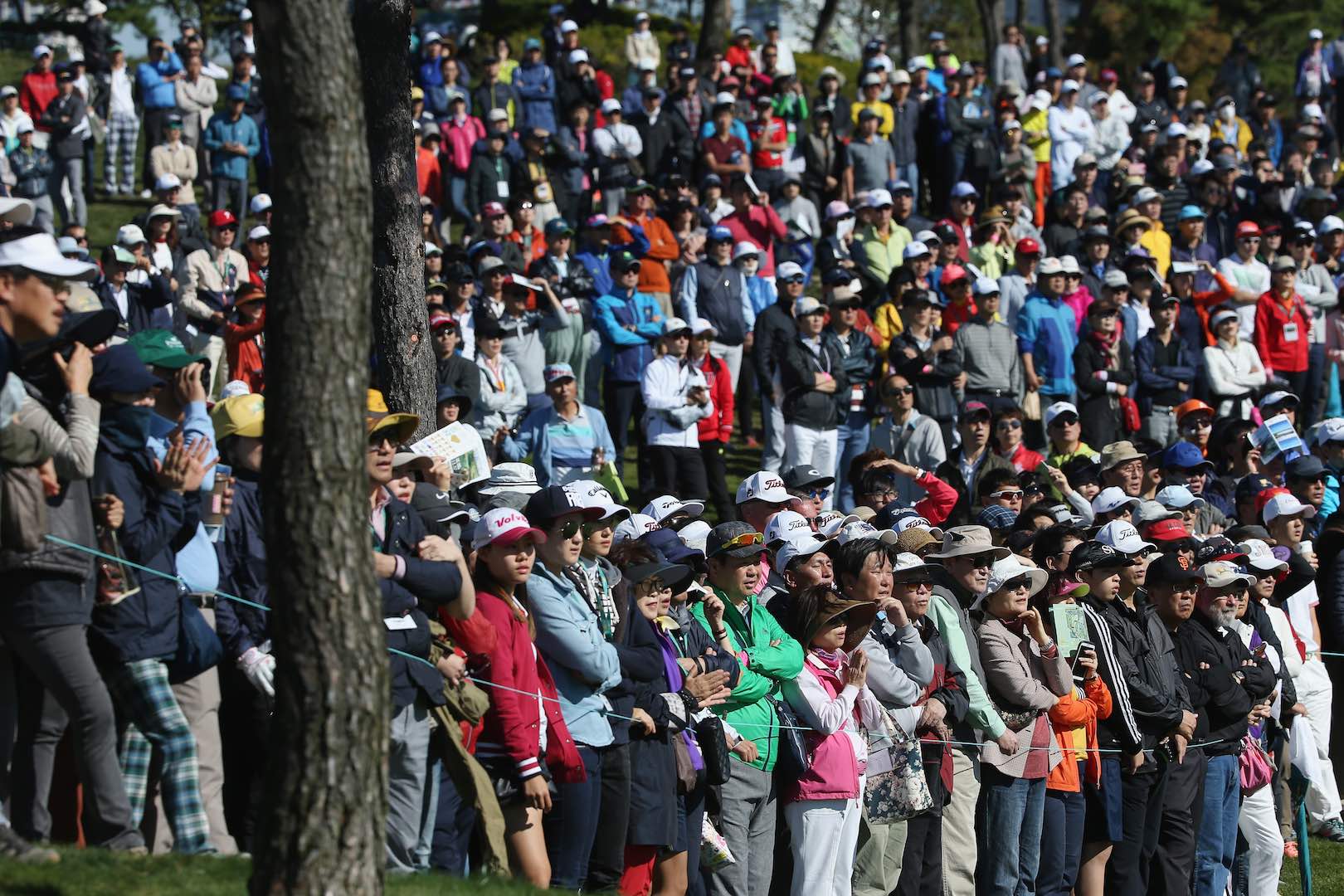 "That's not a bad thing at all. They love what they're seeing no matter who wins. But it is different."
"It's no Ryder Cup, that's for sure," said Rickie Fowler, who won his first event as a professional in the 2011 Kolon Korea Open. "The fans this week appreciate being here, appreciate the golf they are seeing. It's different. In some ways it's kind of cool."
The players may or may not be aware of it, but they are playing a pivotal part in bringing real excitement about the game of golf to Asia. As for the fans, they seem to know exactly what is going on and they are playing their part in a glorious, if relatively muted fashion.
The USA take a 7.5 to 6.5 lead into the thitd day.