News
Mar 18th, 2016
Ian Poulter One - Golf Troll Nil
Poulter's golf troll gets sacked
Words: James Greenwood Photography: Getty Images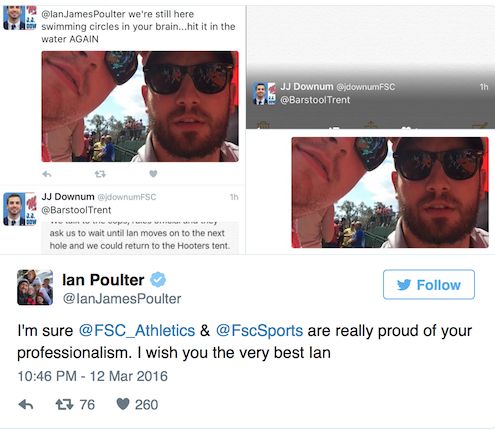 This was the orginal exchange between the golf troll and Ian Poulter's response. The troll turned out to to be one J.J. Downum, the Assistant Athletic Director for Development at Florida Southern College.
Poult's intervention certainly seems to have had the desired effect as according to Pete Meyer, Florida Southern's director of athletics and dean of wellness: "He's no longer employed at the institution."
So that's that then. One-nil to Poulter. But it does beg the question as to how social media is going to be used around the Ryder Cup at Hazeltine this October. It's going to add another dimension to the hostilities for sure. Phone off for the week anyone? Twitter purdah?
But hopefully painful lessons will have been learnt from the fate of J.J.Downum. Don't get pissed up, be abusive and let anyone know who you work for.
For more on the original incident click here or on the image below.