News
Jul 9th, 2016
How to raise money with a helicopter
And 1,000 golf balls
Words: John Dean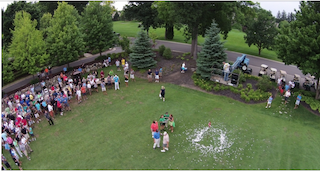 Here's an innovative way of raising money through golf. Drop golf balls from a helicopter and if they go in the hole you get a cash prize.
At Sachse Contruction's charity golf day, which will be held at Indianwood Golf & Country Club, attendees will find out if they have made an unusual hole in one.
Sache are planning to sell 1,000 golf balls to raise money for two local charities. $5 gets you two balls, or it's $10 for 5.
The balls will be then dropped onto the practice green from a helicopter. The first three balls that make it in the hole win cash prizes for their purchasers. If none make it in the hole, the three closest to it will win.
Simples really, if you can get a helicopter for free.
Related:
Click here to read how Danny Lee is raising money for the victims of the Greenbrier flooding