News
Jan 8th, 2019
Homeless man sells Q-School winner's golf clubs to Arizona woman
Who promptly sells them back to Cody Blick!
Words: GolfPunk
Cody Blick shot a magnificent 63 in the final round to earn his conditional PGA Tour status... without his own clubs, as they had been stolen the night before. Now Cody has his clubs back, and there is some story behind their return...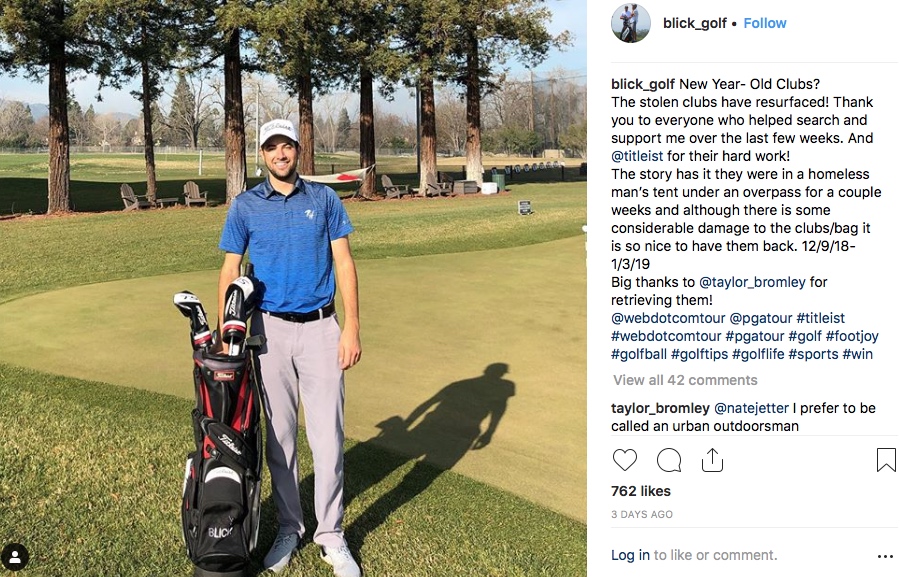 Blick had written off seeing his stolen clubs again until his mother, Carla, sent him a text this week.
According to Golf Channel, Carla says a woman from Arizona contacted her saying that she had met a homeless man recently asking for money, reportedly for a hotel room. The woman then asked the man if he had anything to sell. The man disappeared into his tent and reappeared with a bag of Titleist golf clubs, which the woman gave him $75 for. Hard charity if you like.
The name "Blick" was stamped on the wedges, so when the woman searched for information about them on the internet, she quickly came across Blick's amazing Q-school story.
She then made contact with Blick's mother, who in turn relayed the story to her son.
"I was pretty excited, but I was also pretty sceptical," Blick told Golf Channel.
A friend of Blick's met the woman at a burger joint in California and gave her $300 to buy back the clubs, giving her a tidy $225 profit for her efforts.
"It's a cool story and everything, but the fact that they were in some dude's tent kinda creeps me out," Blick said. He won't be using them again, as Titleist have provided him with a new set after his Q School triumph, but he is considering putting them in a glass case to remind him evermore of this strange event.
Related:
Access all areas at Padraig Harrington's house!