News
Mar 7th, 2016
Hole-in-one golfer gets taken for a ride
We think this stinks
Words: James Greenwood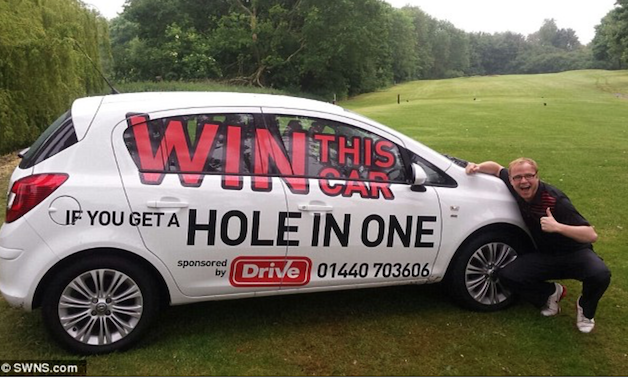 A golfer who won a car after hitting a hole-in-one during a charity event has been left seriously out of pocket after losing a legal battle over his prize.
24 year old Jake Warner hit a 202-yard hole-in-one at Haverhill Golf Club, Suffolk, during a £10-a-head event.
He posed for a photograph with what he thought was his prize, a new five-door 1.6TDi Vauxhall Corsa worth £14,000 and festooned with with the slogan: "Win this car if you get a hole-in-one." That all seems very straight forwards: what could possibly go wrong?
But when he went to collect the vehicle, he was shocked to find the golf club was offering him a basic £6,500 1.0 Corsa model instead. For a start it was only a three-door version, rather than the 5-door version that had been on the tee.
He refused to accept the car - or £7,000 in cash - and took the club to Cambridge County Court, but lost his case in January due to what he claims was a "legal loophole".
Mr. Warner received £7,500 in an out-of-court settlement, but was ordered to pay his and the club's legal costs, amounting to £10,000 - leaving him £3,500 down on the deal.
He said: "It has all been a bit of a nightmare. I got lucky and hit a hole in one, it's the first one I'd ever hit and I couldn't believe it when it landed on the green.
"I was elated to win the car, but it turned out to something altogether different to what they advertised. They put a high spec car on the tee which was worth £14,000 new but when I went to collect my prize the offered me a £6,500 1.0 basic model.
"It didn't have alloy wheels, air conditioning and was the most basic model. I was really disappointed. I was elated on the day and then I was devastated when I found out I wasn't going to have the car they'd advertised."
A solicitor told Mr. Warner he had a "very good case". However, he said he lost the court battle because he had not seen the car before the tournament.
He added: "Our argument was that the car was on the tee, written the way that it was. There's no real hiding from that. We were forced to go to court. I was told I could not have had that car purely and simply because I didn't see it before I started the round."
Mr. Warner lost his case on January 14 at Cambridge County Court. Immediately after the hearing, the club and its insurance company offered him a second hand Vauxhall Viva non air-conditioned car worth £8,300.
He rejected the car, but agreed in an out-of-court settlement to accept £7,500, which he used to pay his legal fees, leaving him short by £3,500.
It all seems a bit mad to us. You stick a car on a hole with 'win this car on it', and then get then you're offered something clearly inferior. Where is the justice in that?
The club's argument was that, at the time he entered the contest, he did not see–and thus could not have been relying on–the proclamation on the car that it would be his if he made a hole-in-one. Rather, he was told only that he would win a car. Now there are points of law, and points of law, be we are just not getting this one at all.
On that basis surely, a course could put a brand new Ferrari on the hole-in-one podium, and then award the winner with a Robin Reliant. It's a car isn't it?
TAGS: News, 2016, Hole-In-One, UK, Golfer, Winner