News
Jun 11th, 2016
Golf is on the up
And it is official!
Words: James Greenwood Photography: Getty Images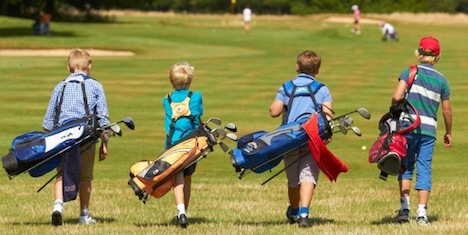 After more than a decade of year-on-year steep falls, golf participation and club membership in England has risen in the last year.
New figures from Sport England suggest that not only is the worst over for golf, but significant growth may even be coming through.
Sport England's Active People Survey has been charting the number of people playing golf since 2008. Every year since then until 2015 the number of weekly (nearly 900,000) and monthly (more than 1.5 million) golfers, and members of clubs (642,800), in England has fallen, to 740,100, 1.09 million and 488,000 respectively.
New figures from April 2015 to March 2016 show that while weekly participation has fallen slightly, both monthly participation and club membership have risen sharply, when compared with the period from October 2014 to September 2015.
The number of golfers who play once a week dropped by less than 2,000 to 738,200 (and had risen by more than 10,000 from exactly one year earlier).
The number of golfers who play once a month has risen from 1,095,600 to 1,115,800.
Its lowest figure was in 2013 when just 442,500 people were members of English golf clubs. This had risen to 477,000 in 2014 and 488,000 by October 2015.
In the next six months the average number of club members for the year had shot up to 507,100, the industry's best figure since 2012, when English golf clubs had 530,600 people as members.
England Golf says a number of its initiatives have helped boost participation and club membership.
Over 192,000 people were inspired to try golf from April 2015 to March 2016, it states, around 34,000 of those are now playing once a week, and almost 14,000 have joined clubs as a result.
The newcomers and returners to the sport were attracted by 'Get into golf' opportunities offered across the country. Of particular success was 'Golf Express', which promotes a nine-hole version of the game to encourage busy people to play more often. In its trial in Staffordshire over 4,600 nine-hole rounds were played in eight months.
Other initiatives included specific action to attract more women and girls. A total of 115 clubs offered women-only Get into golf coaching sessions and attracted 2,700 participants. Half are now playing regularly and over 600 have taken out some form of membership.
Girls Golf Rocks, a joint venture by England Golf and the Golf Foundation, was trialled in Essex and is now running in nine counties, with over 500 girls taking taster sessions and 420 going on to take coaching courses.
Almost 140,000 youngsters also tried golf through HSBC Golf Roots centres, 'Street Golf' and satellite clubs. Over 14,000 are now playing regularly and over 3,500 have joined clubs.
So it looks like golf may have finally turned a corner in the UK. Phew!
Related:
Click here or on the image below to read more about SPRINT6GOLF which has just been launched with a little help from Gareth Bale