News
Nov 5th, 2017
Get down to Regnum Carya in Antalya
The Russians aren't coming
Words: John Dean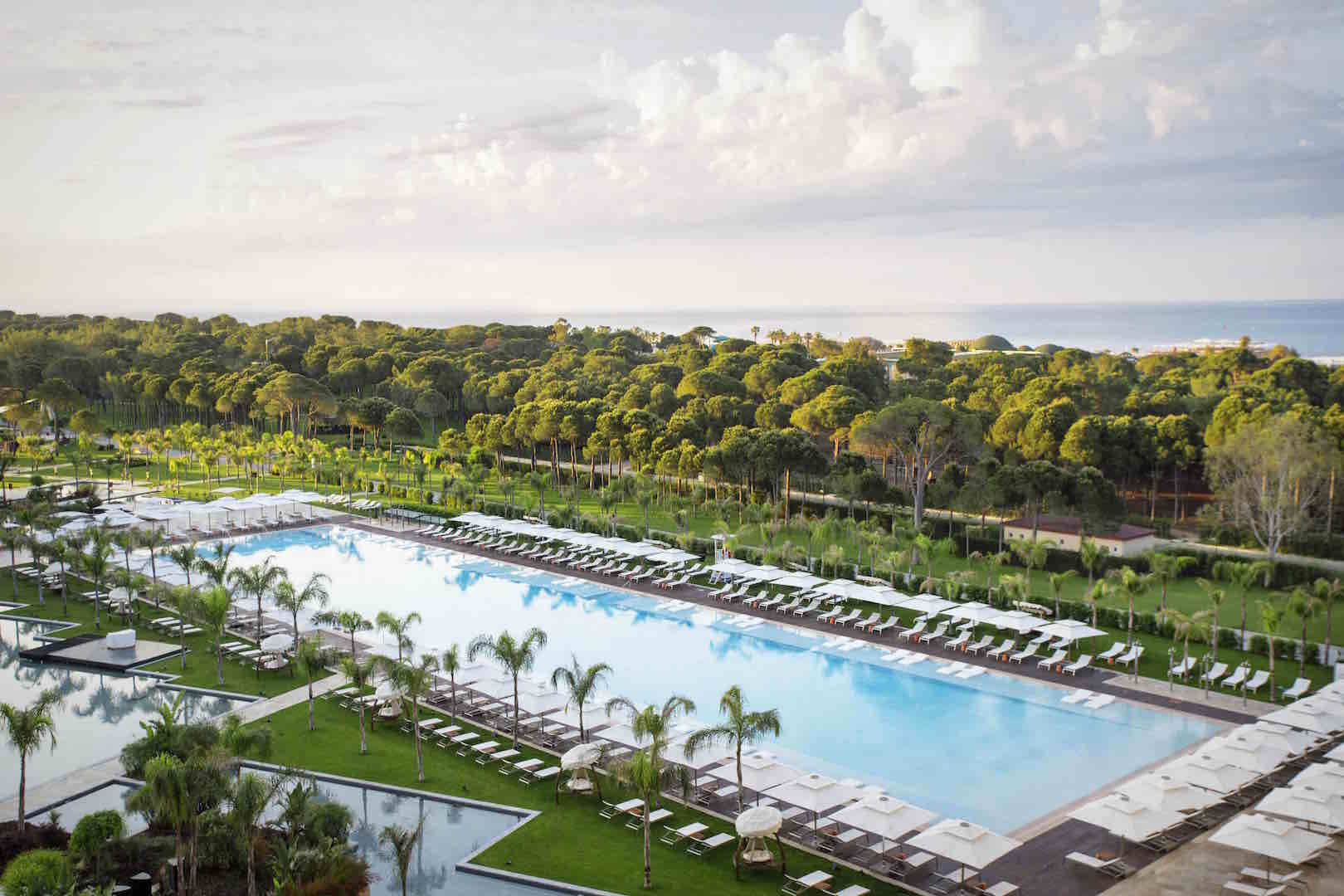 I have never before set foot in Turkey, and the recent news coming out of the country has not been exactly great. But I hate it when a county gets pilloried and shunned when there's a bit of trouble.
That's not to belittle what has happened in the country, but I think we need to have a broader perspective, and not be afraid to get out there and travel, support the local economy, and play golf whilst we're at it.
So I'm flying into Antalya to stay at the Regnum Carya Resort in Belek for a bit of R&R and some, hopefully, quality golf.
It's a four–hour flight out of London Gatwick, which doesn't really touch the sides, especially as it's a Friday afternoon. Mind you Thomas Cook don't exactly believe in leg–room, so my ideas of getting some work done in comfort are short–lived.
But you get's what you pay for, and for £50 each way I really cannot complain, even if you have to buy your own drinks and food, which keeps me safely away from the drinks trolley.
It's an easy transfer to the Regnum Carya Resort, and just twenty–five minutes after leaving the airport I'm in the lobby of the hotel, and being greeted with a cheering glass of Rose Champagne by a beautiful and charming receptionist. This is a proper soft landing, and it doesn't let up from here.
I sip my Rose in a grand foyer, which has echoes of Celtic Manor in terms of its scale. There's an impressive slab of marble with water flowing over it, which announces that the hotel was host to the G20 in 2015. This is a place built for world–leaders, and they don't do shabby, so why should we? And here we absolutely don't have to.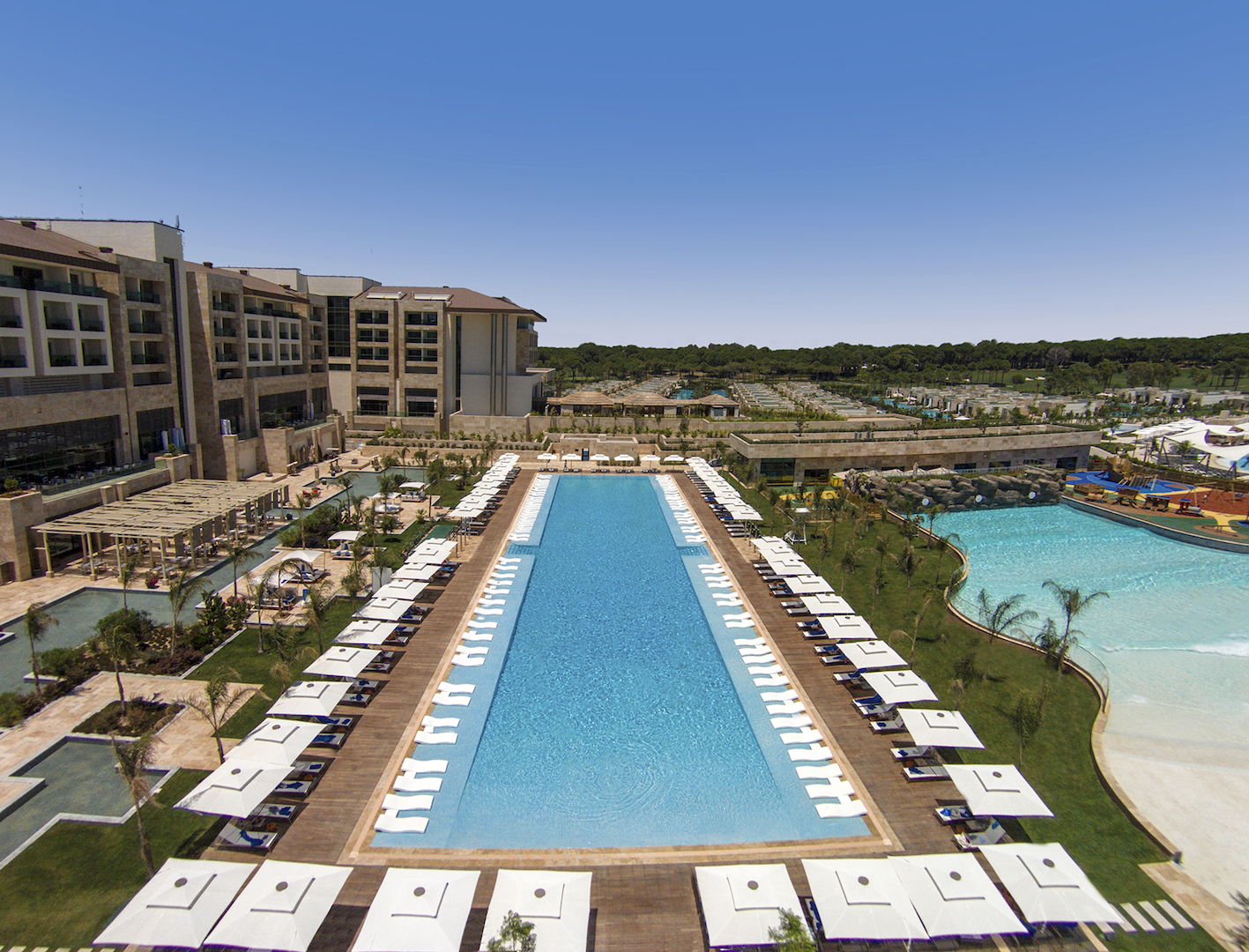 Golf resorts and global summit meetings are made for each other, and Regnum Carya joins not only Celtic Manor (NATO), but also Gleneagles (G8), and Loch Erne (G8) as a proud summit host. There's loads of space for the helicopters, and rooms a plenty – Regnum Carya has 540 to be precise.
First of all Regnum Carya is all–inclusive. There was a time when I was terribly snooty about this, and the terrible plastic yellow band that marked you out for the length of your stay. But the world has moved on, and by some considerable margin.
There is simply nothing second rate here. Check it out on Trip Advisor for yourself if you don't believe me: 493 excellent reviews, and 49 very goods. OK, so 5 people think it's terrible, but they must have either been staying somewhere else or allergic to a bit, sorry, a lot of luxury.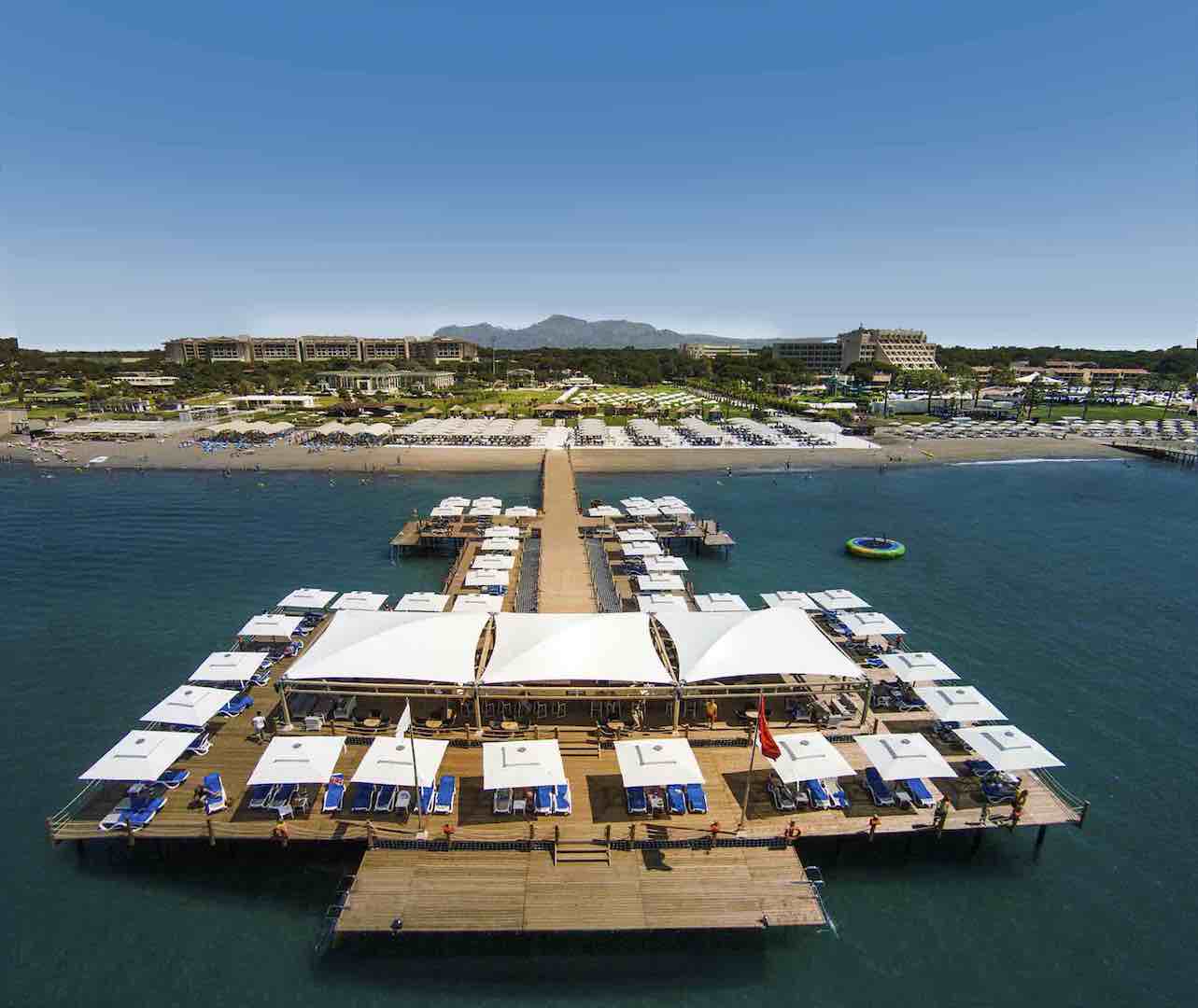 I confess that I head quite quickly to the bar, and after downing the Bloody Mary that I denied myself on the plane, I check out the rest of the bar offering.
I start talking with a group of Scots guys, and ask about the golf. But they're not here to play, and don't even like whisky. Which is a shame as they are missing out on a very nice Glenlivet for a start. And you can get a Talisker if you want to pay for the ultra–premium brands. But why would you?
Now I imagine that if I were with a group of golfing friends, and enjoying a post–round libation, boy would this place fit the bill. That's the joy, and indeed danger, of a properly upmarket all–inclusive.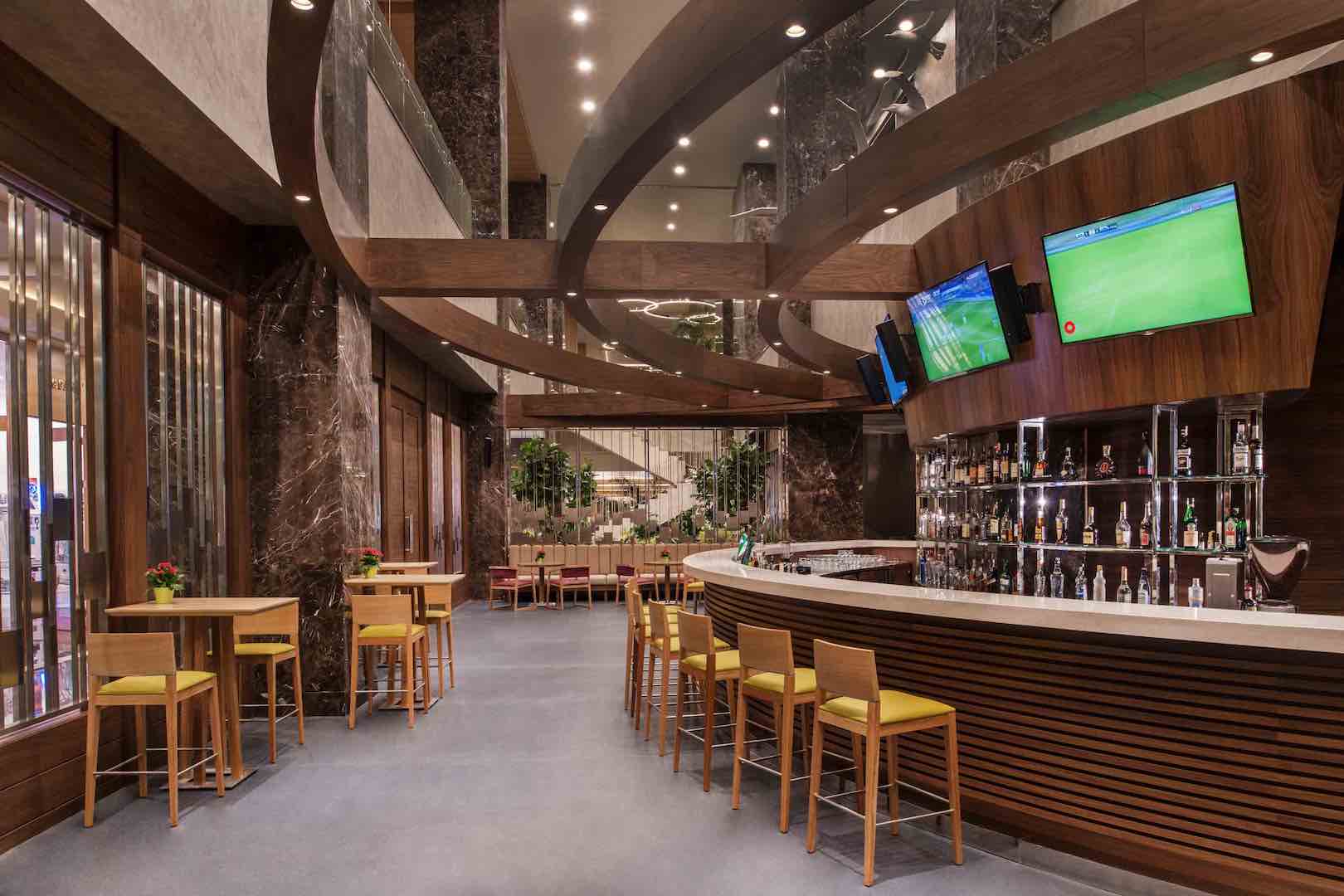 As for the rooms, they're first rate. Separate bath and shower, and a proper dressing room, which gives you that much more space and a real touch of luxury. There are two generous double beds in the room itself; so two guys sharing will not be a problem at all, unless there are snoring issues.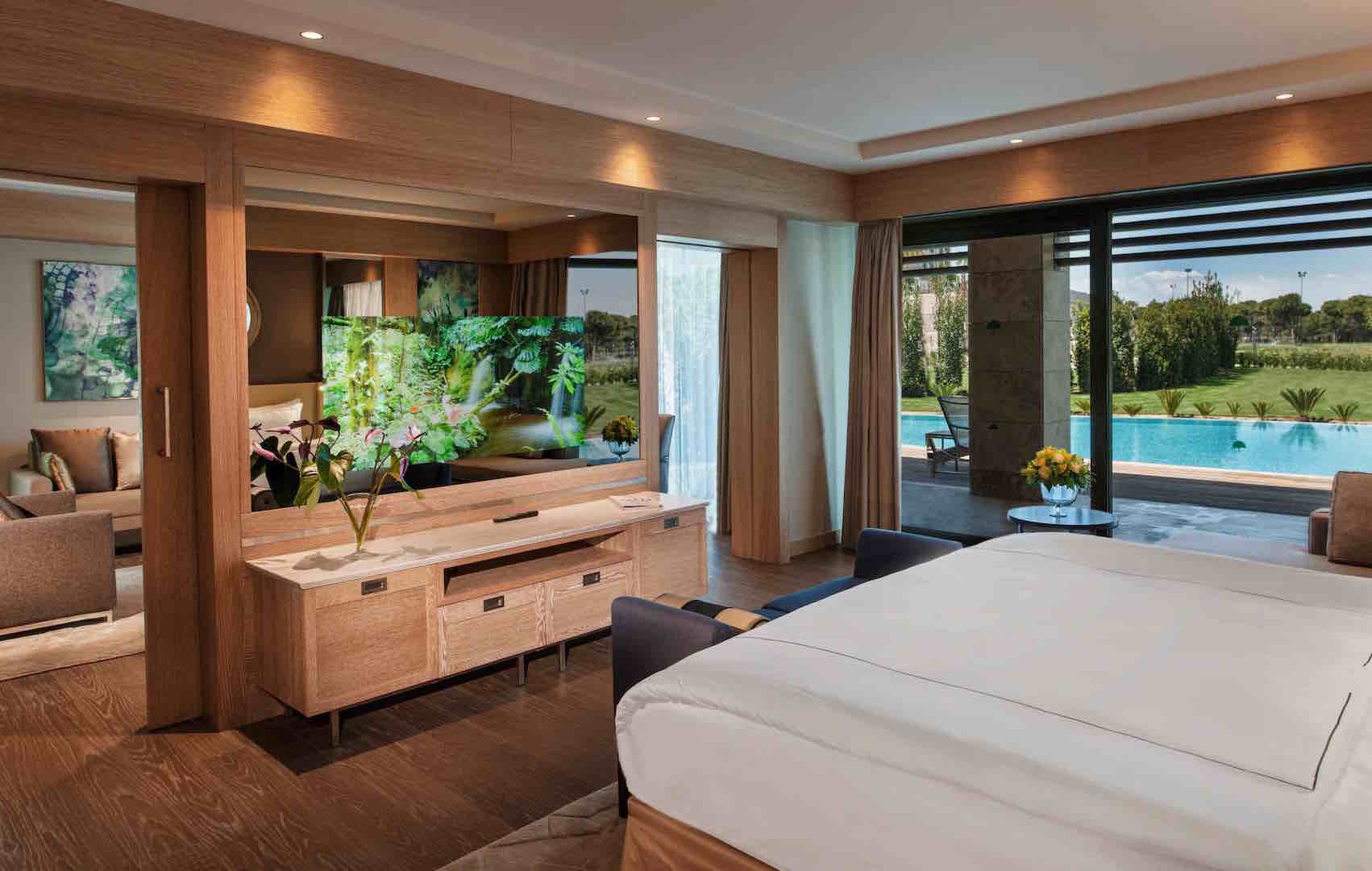 Another nice luxury touch is that there is a very well stocked bar in your room, so if the party is going to continue, it can do so here in style.
Then there's the food, and there are five quality restaurants to be enjoyed. I'm on a tight schedule, so I only get the chance to try out their new fish restaurant, which is first class. I enjoy a beautiful piece of sea bream, which falls off the bone, and I wash it down with a very nice Sauvignon Blanc from Chile. For some of the restaurants, including the fish one, you have to pay a premium, but given the great value that you are getting already, then it's worth pushing the boat out for a treat.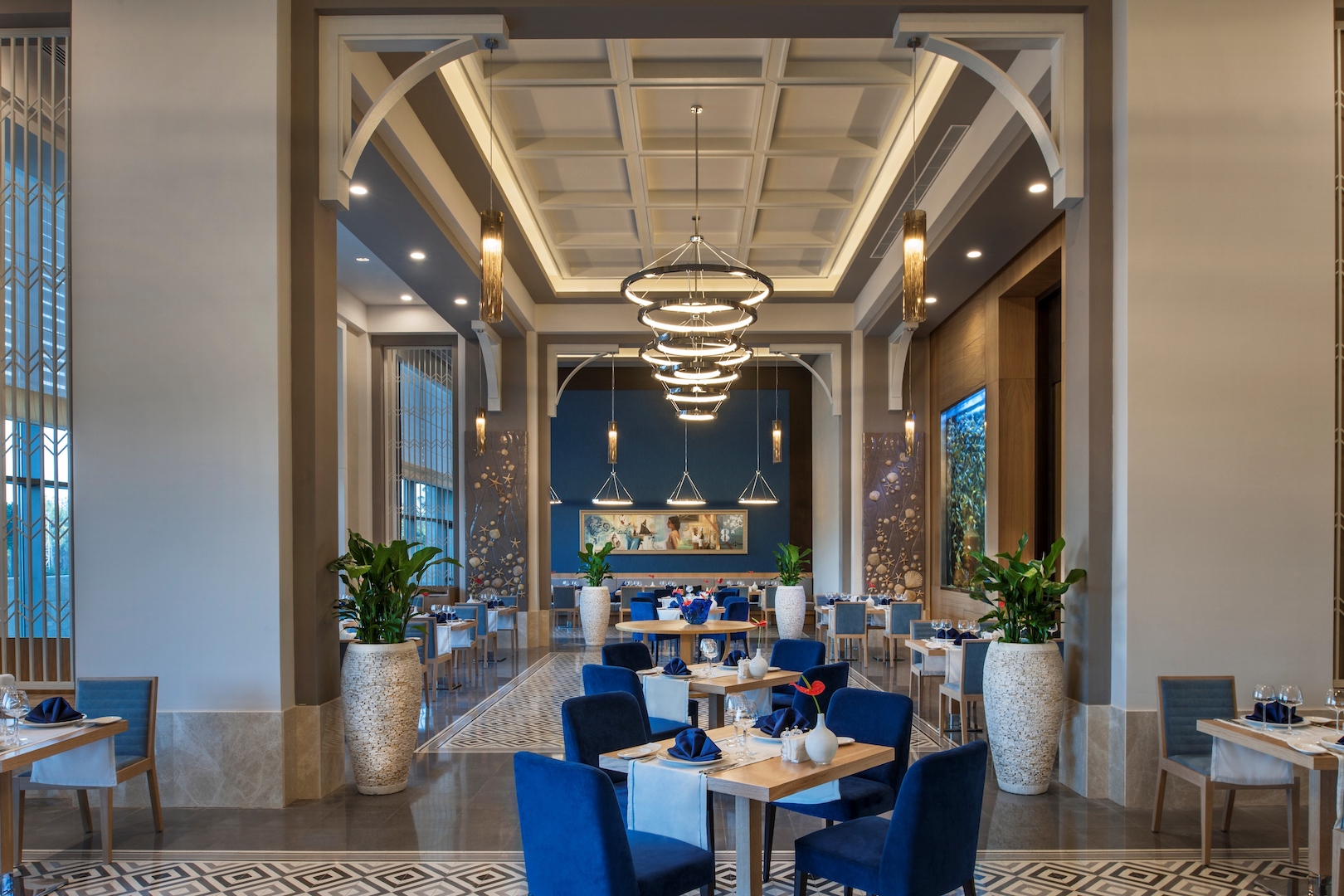 The staff are all charming, and exceptionally good at properly connecting with you. It might sound a bit trite to say that the Turks are a hospitable people, but the fact of the matter is that it is simply true.
There's no training in this, or if there is, it is just to make them confidant to be themselves: they are just very welcoming and charming people, and they are a vital important part of why the hotel works so well.
One of the hardest things to pull off for a hotel is to have scale and at the same intimacy: and I have to say Regnum manages this one of with consummate ease. With its 540 rooms, this is not a boutique experience, but it doesn't feel overwhelming or impersonal in any way shape or form.
And because the hotel areas and grounds are so extensive there is never a feeling of being crowded out. It felt that the hotel was only half occupied, but I was told that this was not the case at all.
Whilst I was here for the golf, I did get sucked into a couple of games of killer darts down by the pool bar, and got well beaten by a charming Ukrainian woman. This is a very cosmopolitan place, with holiday–makers from all over Eastern Europe.
I met up with a group from Kazakhstan, who were rather bemused when I told them that an Englishman, Tommy Fleetwood, had recently won the Kazakhstan Open. Golf was not yet on their radar, but we're working on it.
What is different this year in Turkey is that the Russians have not been coming, because of the temporary suspension of flights between the two countries, which has only recently been lifted, although charter flights are still banned. Turkey is heavily reliant on Russian tourism, so whilst they're away it's probably a great time to fill that void.
There's amazing value to be enjoyed as well. Rates start from £144 for a single Luxury Room with a golf view, and remember that's for a 5 Star all­–inclusive experience, so no wallet is required, or jacket for that matter.
For more information, just visit: www.regnumhotels.com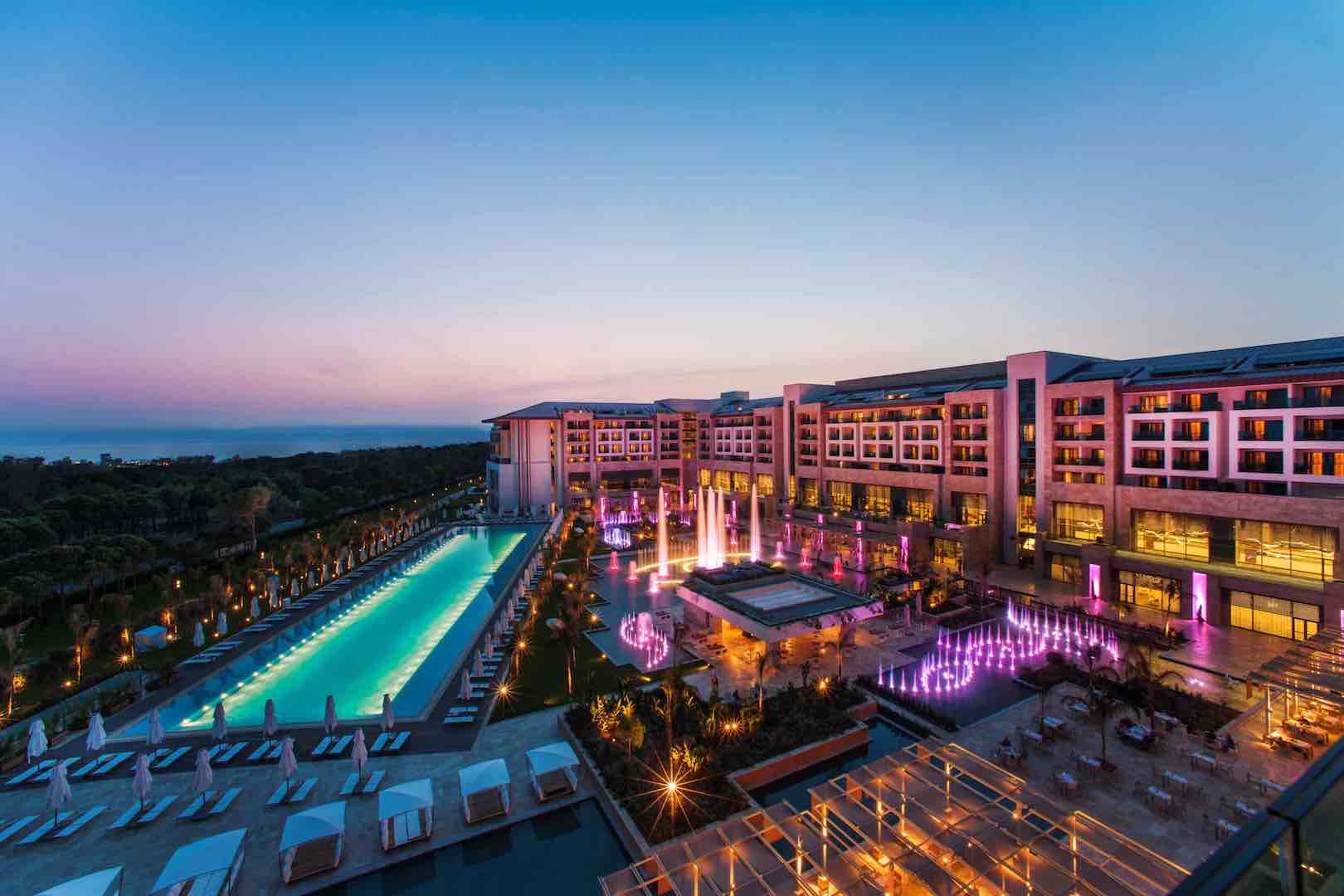 Related:
Play the Regnum Carya – Surrey heathland golf in Belek!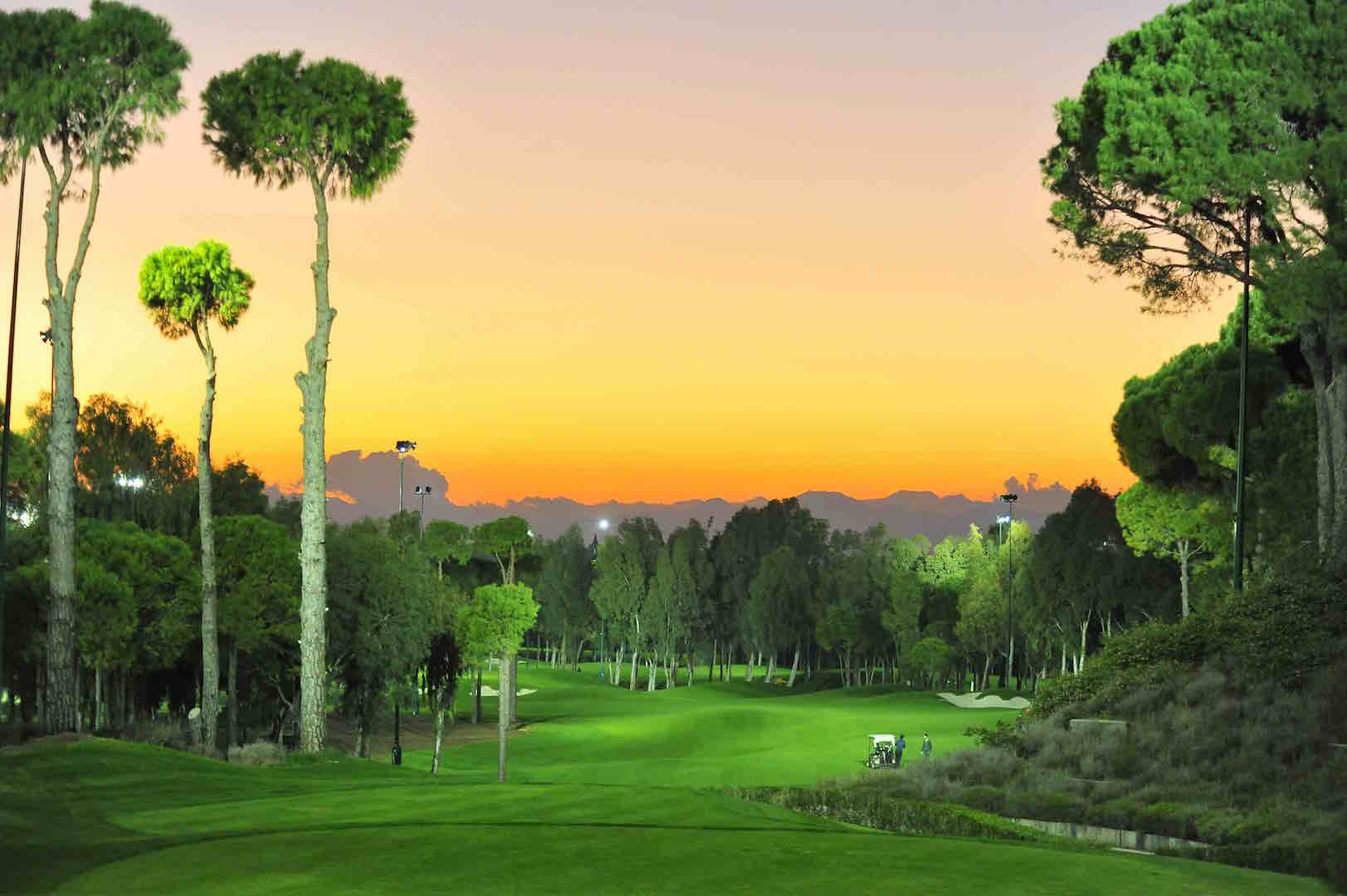 TAGS: Golf In Turkey, Regnum Carya, G20, Antalyia, News, 2017, Belek, Turkey