News
Sep 18th, 2016
Francesco Molinari takes Italian Open
Beats Danny Willett by one shot
Words: Tim Southwell Photography: Steve Read & Getty
Francesco Molinari sent the home crowd wild as he fired a final round 65 to win the Italian Open in Monza. 
Molinari started the day tied with Danny Willett at -16 but the Italian edged a thrilling finale. Molinari, part of the Miracle Of Medinah Ryder Cup team in 2012, rolled back the years, hitting one eagle and five birdies in Sunday's final round to become the first Italian to win his national Open twice since the event became part of the European Tour in 1972.
The victory was the Italian's fourth at a European Tour event and a first since the Reale Seguros Open de Espana in 2012.
Seven of the European Ryder Cup team, which includes Willett, were competing in Monza as they prepare to take on the United States at Hazeltine in Minnesota from 30 September to 2 October.
Francesco sends Phoenix crazy with this shot!
https://www.youtube.com/watch?v=9Zdk8o4cup4
Coach Dennis Pugh reveals the real Francesco Molinari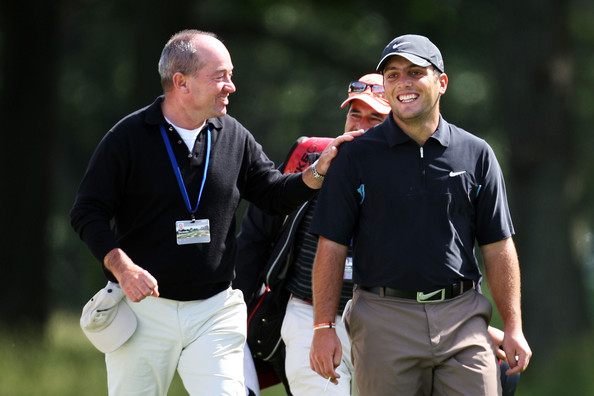 What you recall of Francesco when you first met him? 
"He was a quiet character until you get to know him because that's just his way. He thinks about things quite a lot and is quite a deep person.
He didn't quite have the consistency in those days but was a really good ball striker. He'd just turned professional and is one of the few who didn't even do the Challenge Tour; he just went straight from top amateur onto the Tour."
Did you have any specific breakthroughs
"When I met him Francesco's swing relied a lot on his hand-eye co-ordination. He had quite a lot of hand action in his back swing, which meant that when he was off his striking would go offline. Either the big block to the right or the classic counter pull to the left. The basic problem in those early days was too much wrist-action in basic terms.
We started working on balance because where he'd grown up hitting the ball with his hands, he'd fallen into the habit on standing up on his left leg with the driver
So they were the two issues that needed to be corrected. He's always had excellent rhythm and motion through the swing and I've always felt that his short game has never attracted as such credit as it's due. He was always a streaky putter but you could not fault his chipping."
What sort of work ethic does he have?
"Every time he went away he'd come back improved. He's that sort of person. Whatever work was needed, Francesco would go away and do it. There have never been any quantum leaps in our relationship, but he has gradually improved over time.
If I were to stitch together all our lessons all you would see is the gradual eradication of superfluous movement from his swing."
Has he – or does he -–take your breath away? Can you expand? 
"No. It's never got to the stage where it's taken my breath away. That would be quite something in golf. I would say that there have been three occasions that I've been very impressed by the way that he handled himself.
1) His bunker shot at the World Cup after his brother had missed the final green. That was a real pressure shot and he had no easy move to make, but played the perfect bunker shot.
2) His opening tee shot in the Ryder Cup. I knew how nervous he was as he walked out to the tee. The crowd in full voice singing 'there's only two Molinaris' and he absolutely melted it down the middle.
3) The putt he made to halve he holed to get the half point, which ended up being so crucial. He birdied the last hole. I know that he wasn't happy with his putting that week and didn't fancy it, but nonetheless stood up and knocked it in."
Can you describe his character? 
"He's very much a family man, which is an important part of Italian culture. He has good parents, a lovely wife and they've recently become parents themselves. He's a proper person and I would describe him as a very good friend to have."
Has he ever had a strop during a lesson? 
"When Francesco is not performing well he gets very angry with himself. He's certainly passionate about what he does, but he directs his anger inwards rather than at me or at his caddie, which could be a better outlet for it.
We've had a few strops out on the practise tee, but on those occasions we can take a break and go for some tea and sympathy. The tournament arena, however, offers no such respite and that is one area where we can still make progress."
What was your reaction when he told you he was moving to England?
"I thought he was very wise as there was a lot of work to do and we needed to spend as much time as possible doing it. He was very committed to being the best player he could be and the move to London proved to me his true intentions."
The result
-22 F Molinari (Ita)
-21 D Willett (Eng)
-18 N Elvira (Esp), C Paisley (Eng)
-16 D Horsey (Eng), R Bland (Eng), T Fleetwood (Eng)
Some other fellas you may have heard of:
-15 S Jamieson (Sco) 
-14 R Cabrera Bello (Spa) 
-13 M Fitzpatrick (Eng)
-12 R Rock (Eng), M Kaymer (Ger), C Hanson (Eng), C Wood (Eng)
TAGS: Italian Open, Monza, Francesco Molinari, Medinah, News, 2016