News
Nov 11th, 2016
Find new golf partners with My Circle Golf
Free on iOS and Android
Words: John Dean
Golfers in the Home Counties now have a new way of finding playing partners wherever they happen to be, with the launch of the My Circle Golf app, for both iOS and Android.
The app helps people find, connect and play with a community of like-minded golfers, based on searchable options. Whether looking for players of a similar standard, age, location or profession, My Circle Golf enables people to meet new partners, discover new courses and broaden social and business connections across
the south-east of England – all courtesy of the simple-to-use app. The app was created by keen golfer and Cambridge graduate Gian Paolo Ziletti, who had found it difficult to find fellow golfers when he first moved to the UK from Italy. Inspired by social networks, which brought together groups of like-minded people in social 'circles', the entrepreneur conceived My Circle Golf to provide the same service for golfers.
He said: "When I moved to the UK – and before I had been able to establish any social or professional circles – I was surprised to find it incredibly difficult to find golfers to play with. I'm a really keen golfer and I was frustrated. I felt that it should be simple to do because there were so many situations where golfers, like me, would be in a position where they were keen to play, but were without a partner.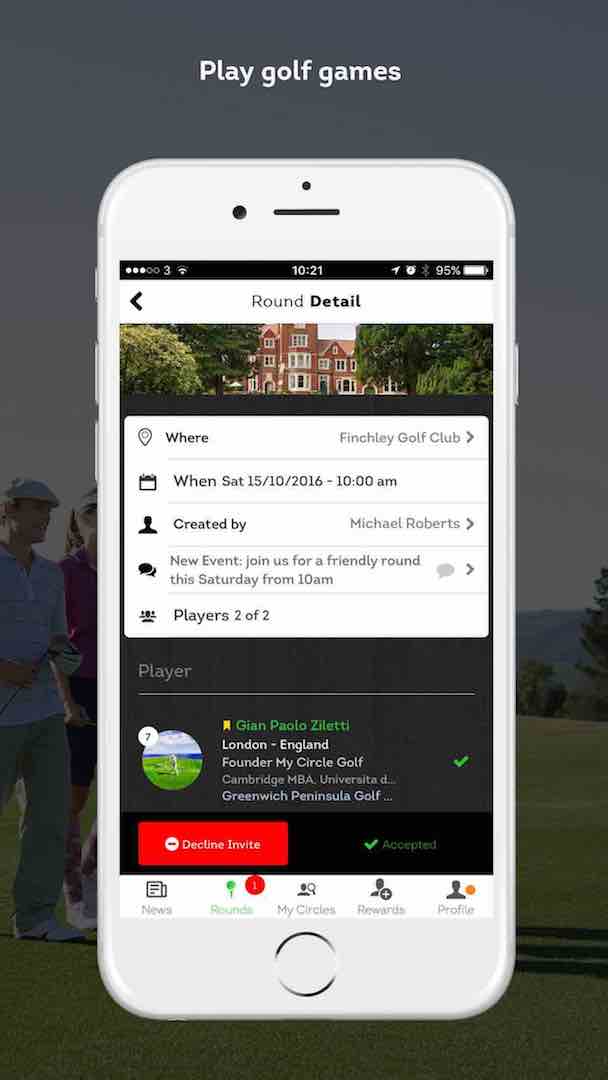 "So it began as something of a personal crusade – selfishly I wanted to be able to find people to play with. And it grew from that. Now, the finished product allows golfing enthusiasts, such as me, to expand their game by visiting new courses or meeting new partners – both of which bring new challenges and a chance to improve their game."
Ziletti added: "My Circle Golf hopes to encourage far more people to dust off their clubs, or provide help, guidance and a way into the game for those looking to try out the sport for the first time or in a new area."
Available now from the Apple app store and Google Play store, My Circle Golf is free to download. It currently provides connections and locations for people wishing to play in London and the south-east and plans for a national roll-out early in 2017.
Related:
Zepp launches industry first 'Course Mode' for golf App