News
Sep 18th, 2018
European amateur champion Celia Barquin murdered in Iowa
22-year-old man charged with murder
Celia Barquín (22), European Ladies' Amateur champion and leading student-athlete at Iowa State University, has been found murdered at the Coldwater Golf Links in Ames. A man, Colin Daniel Richards (also 22), has been charged with murder.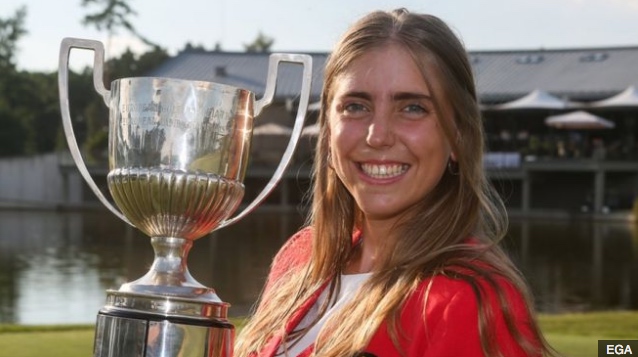 Golfers at the Coldwater Golf Links in Ames discovered an unattended golf bag on the course early on Monday and Barquín's body was found by police a short distance away.
Police in the Iowa city of Ames said they had determined that Barquín died following an assault.
"We are all devastated," said Christie Martens, Barquin's coach. "Celia was a beautiful person who was loved by all her team-mates and friends."
In a video profile of the young golfer published in April, Barquín spoke about how Ms Martens had been "like my second mom, always taking care of me".
Celia Barquín was a rising star in women's golf and her European Ladies Amateur Championship came just two months before her death. Her victory qualified her for both the British and US Women's Opens for 2019.
Described as an "outstanding team player" by the Royal Spanish Golf Federation, she was part of the Spanish team that came third and second at the 2015 and 2016 European Amateur Team Championships.
Nacho Gervás, technical director of the Spanish Golf Federation, told El País newspaper: "She was a player who was heading for the very top, without a doubt."
During her time in the US, she rose to prominence as a young golfer, winning the 2018 Big 12 university championship, and was named Iowa State Female Athlete of the Year. She had also missed the first few weeks of university life in Iowa while participating in the Youth Olympic Games in China.
https://twitter.com/EGA_golf/status/1024247736839925761/photo/1?ref_src=twsrc%5Etfw%7Ctwcamp%5Etweetembed%7Ctwterm%5E1024247736839925761%7Ctwgr%5E373939313b73706563696669635f73706f7274735f616374696f6e&ref_url=https%3A%2F%2Fwww.bbc.co.uk%2Fnews%2Fworld-europe-45558504
The head of Spain's Olympic Committee, Alejandro Blanco, spoke of his deep shock at the tragedy and solidarity with Celia Barquín's family.
Iowa State said she "was one of the most accomplished players in Cyclone golf history", referring to the university's sporting nickname.
The university's athletics director, Jamie Pollard, said: "Celia had an infectious smile, a bubbly personality and anyone fortunate enough to know her was blessed."
R.I.P. Celia.
Related: