News
Apr 16th, 2018
Edinburgh Golfer Scott's timing is one in a million
Words: GolfPunk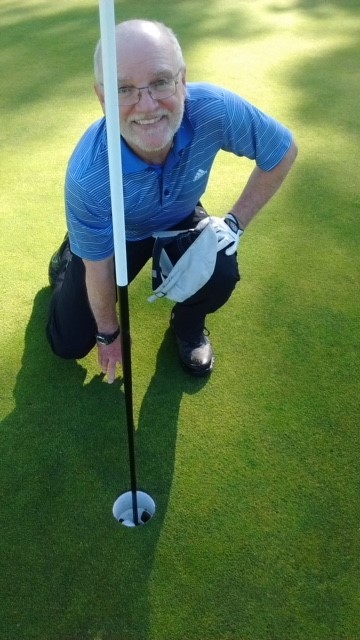 Edinburgh golfer Gavin Scott was saved from missing out on the chance to shoot for $1million and a once-in-a-lifetime trip to the Masters after playing the popular Million Dollar Hole in One (MDHIO) competition – by letting another group play through.
Scott, 62, was part of a fourball that entered the popular MDHIO par-three game at Penina Golf Resort, in Portugal's Algarve last month when he bagged his first ace in 50 years of playing golf to earn a spot in the MDHIO grand shootout final at Augusta, USA in April 2019.
But the opportunity to scoop the fantastic double prize would have been lost had his group not let a threeball through moments before the MDHIO stall was being erected on the 170-yard par-three eighth hole.
Scott, who plays off a 15 handicap and is a member of Swanston Golf Club, in Edinburgh, said: "We let the group go in front of us as we expected them to be quicker than us.
"The Million Dollar Hole in One table was only just being set up as we got to the hole, so if we hadn't have let the three of them go first we wouldn't have been able to buy a ticket to play the game. I am so glad we did, it certainly paid off for me.
"It's fantastic to get my first hole-in-one and now get the chance to win $1m. All my golfing friends have had achieved it, including two last year, and my wife, knowing how keen I was to do it had taken to calling me a 'failure' every time I came home from playing without success.
"She thought I was winding her up when I told her I did it and won a trip to the Masters for the MDHIO final, and has now taken to calling me 'champ' – especially as I have promised to take her with me. I am really excited to have the chance to play for $1m – but I'm probably more excited about going to the Masters."
Scott, a semi-retired chartered accountant, added: "My three friends all put their shots in the large, front bunker protecting the green, so I took an extra club – my rescue. I knew it was a good-looking shot that had a slight draw, but it wasn't until my friends could see it wasn't visible on the green that we all thought it might be in. I was elated.
"I always play MDHIO every time I am at one of their courses and I would definitely recommend it to other golfers. It is great value at €10 and great fun – and you get the chance to win $1m."
MDHIO's popular par-three challenge allows competitors to win a selection of golf-related prizes, from balls to pitch-mark repairers for landing on the green, while a hole-in-one at one of the 40 associated courses across Europe earns the chance to shoot for $1m jackpot.
The final takes place in Augusta during the Masters weekend in April 2019 when Scott and the other finalists will be joined by former England and Newcastle United football ace Alan Shearer, the ambassador for sister company the Million Dollar Club (MDC), who accompanied the competitors at last year's final held at the prestigious Golf & Spa Resort Grand Tirolia Kitzbühel, in Austria.
MDHIO, which has been running since 1990 in the USA and since 2000 in Europe, has steadily grown in popularity over the years with more than 50,000 people each year trying their luck at the various par-three holes at courses across Portugal, mainland Spain, Mallorca and the UK. More than 50 golfers have achieved their ace while playing MDHIO in Europe, while more than twice that number missed out by not entering and acing the hole.
MDHIO is part of Million Dollar Holdings, which recently formed an insurance company specifically for golfers called Golf Insurance 4U, offering a range of extensive policies for both adults and juniors – including hole-in-one cover.
To discover where MDHIO can be played visit www.mdhio.net/golf-courses.
You might also like:
GolfPunk Magazine Issue 2: Read FREE here!! Masters Special PLUS WIN an amazing golf break at the legendary Kulm Hotel in St.Moritz PLUS a 4-Ball at Europe's best new course, Monte Rei