News
Apr 7th, 2018
Day 2 at the 2018 Masters: the wrap
Spieth stumbles as Reed thrives
Words: James King
As Day Two draws to a close, it's testament to the renewed fervour of Tiger mania that a leaderboard featuring 6 major winners amongst the top 8 seems slightly disappointing.
Woods may have acquainted himself with some less than ideal parts of the golf course, but he's made the cut and will at least be in the field for the entire weekend. While the crowds following him on every hole might suggest otherwise, Tiger is not the only attraction, and the aforementioned Major stuffed leaderboard bodes well for a thrilling weekend's action. Let's take a look at the key talking points from today's action.
Spieth Shoots a Battling 74:
Today proved that one of the very few people who can beat Jordan Spieth at Augusta is, well, Jordan Spieth.
Danny Willett owes much of his 2016 victory to Jordan experiencing a (sorry Sergio…) Garcia-esque nightmare on the final day at the 12th, shooting a career first quadruple bogey and effectively handing the victory to Willett. While not nearly as catastrophic, today's performance has certainly made this tournament a little harder for the man who came in to today's round with a two shot lead and as a heavy favourite.
The day started pretty horrifically with a snap hook into the trees on the first resulting in a double bogey, further dropped shots at the second and seventh, and career worst 40 through the front nine. He battled back to card a two over 74, and has only dropped back to T-4. However, one is left with the feeling that if only Jordan could get out of Jordan's way, no-one else stands a chance around this course.
https://twitter.com/PGATOUR/status/982290030101057537
It's Adios Sergio:
Poor Sergio. We don't need to retread the pain of the 13 at the 15th. Suffice to say Sergio couldn't muster enough to make the cut today.
Let's not get overly downhearted, as the last two days will swiftly become just a footnote in the telling of Sergio finally claiming that Major victory. Next time we'll see him he will be presenting the winner with the Green Jacket on Sunday.
Tiger Fails to Fire:
It's looking increasingly unlikely that we're going to get the fairytale Tiger victory that many have been hoping for. A stodgy 39 through the turn and another trip to the bottom of Rae's Creek meant that at one point the worst, a missed cut, was looking like an uncomfortable possibility.
Woods found a couple of birdies to offset two more bogeys on the back nine, so he has just made the cut. At least we'll have him for the whole 4 days. And you never know…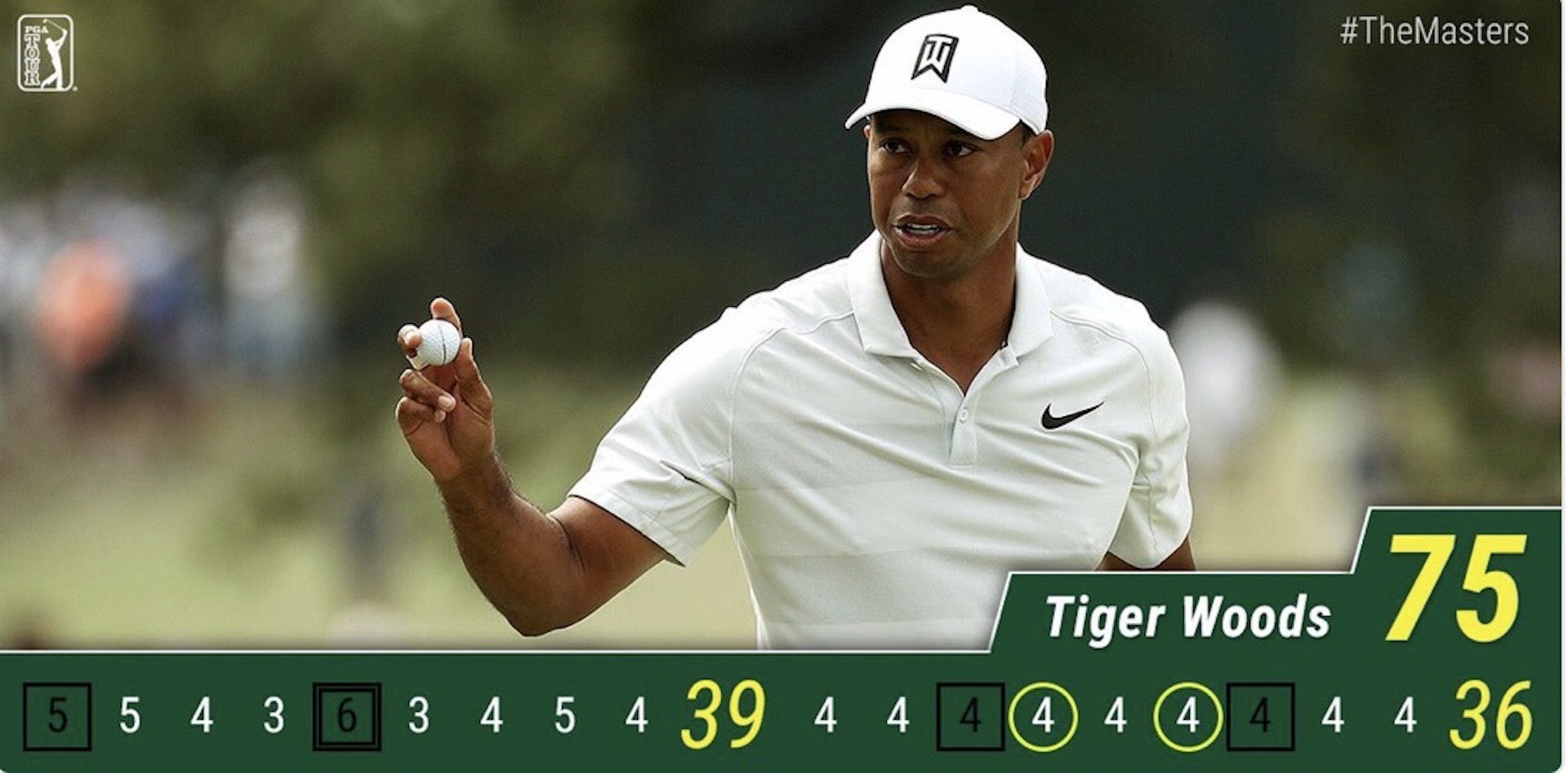 Return of the Forgotten Man: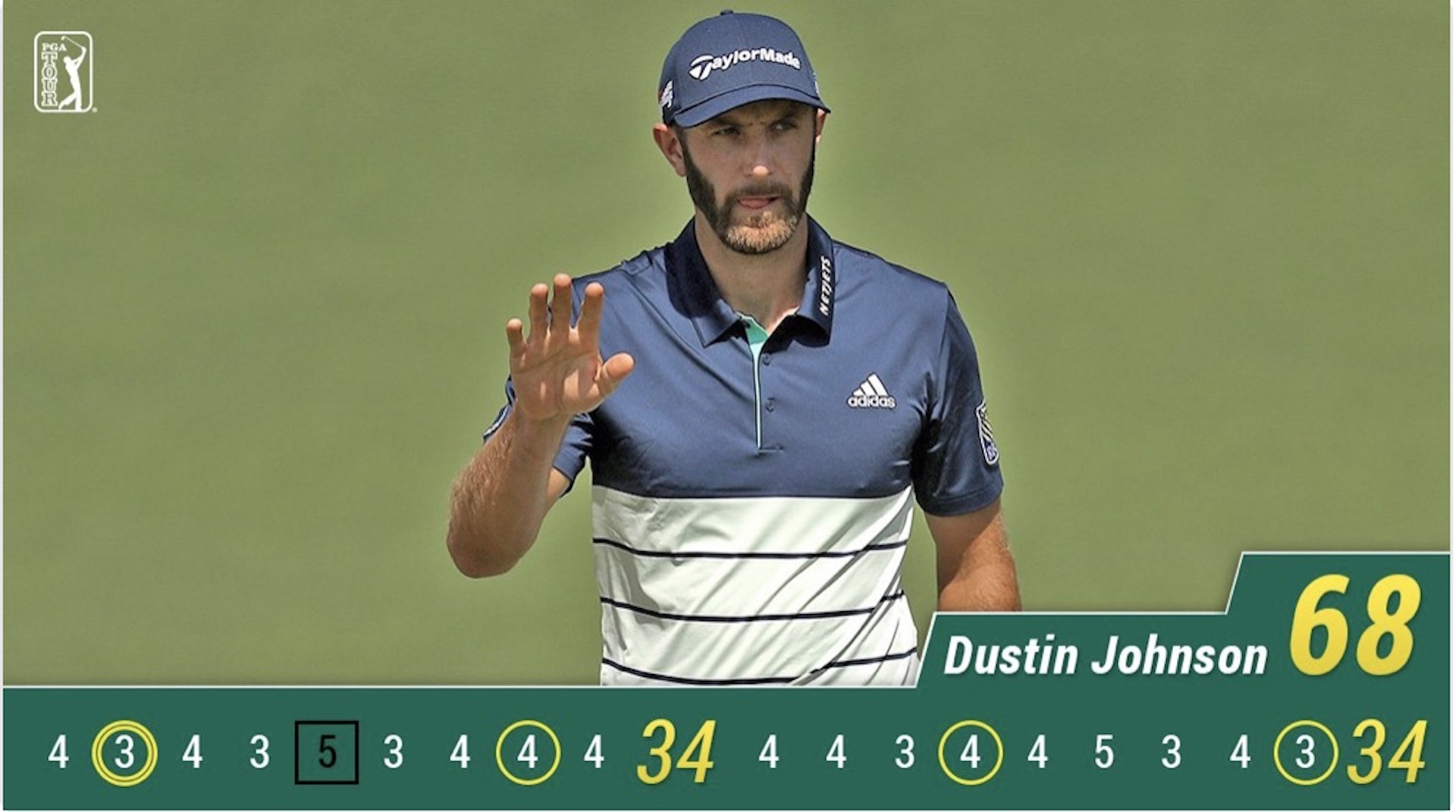 A little celebrated player has been creeping his way up the leaderboard. Hold on, I've just looked this Dustin Johnson up and it appears he's the world number one…
With all the focus on the big narratives leading up to this Masters, somehow we have not been talking about the best player in the world. A relatively uninspiring 73 on day one has meant that he remained somewhat under the radar, but an effortless 68 sees him sitting menacingly T6 with Justin Thomas.
https://twitter.com/PGATOUR/status/982295811806650371
Reed Embarks on a Birdie Blitz:
Patrick Reed is basically America's Ian Poulter. Both divide attention. Both are certainly not lacking in the self belief department. Poulter, however, could only dream about a blistering round that included 9 birdies.
Reed is a man who certainly divides opinion. You would be hard pushed, however, to find anyone who would disagree with the quality of display today.
Tomorrow's forecast is looking decidedly dodgy, but, with the front page of a leaderboard including Stenson, Johnson, Thomas, Spieth, Watson and McIllroy, this weekend is shaping up to be something of a classic.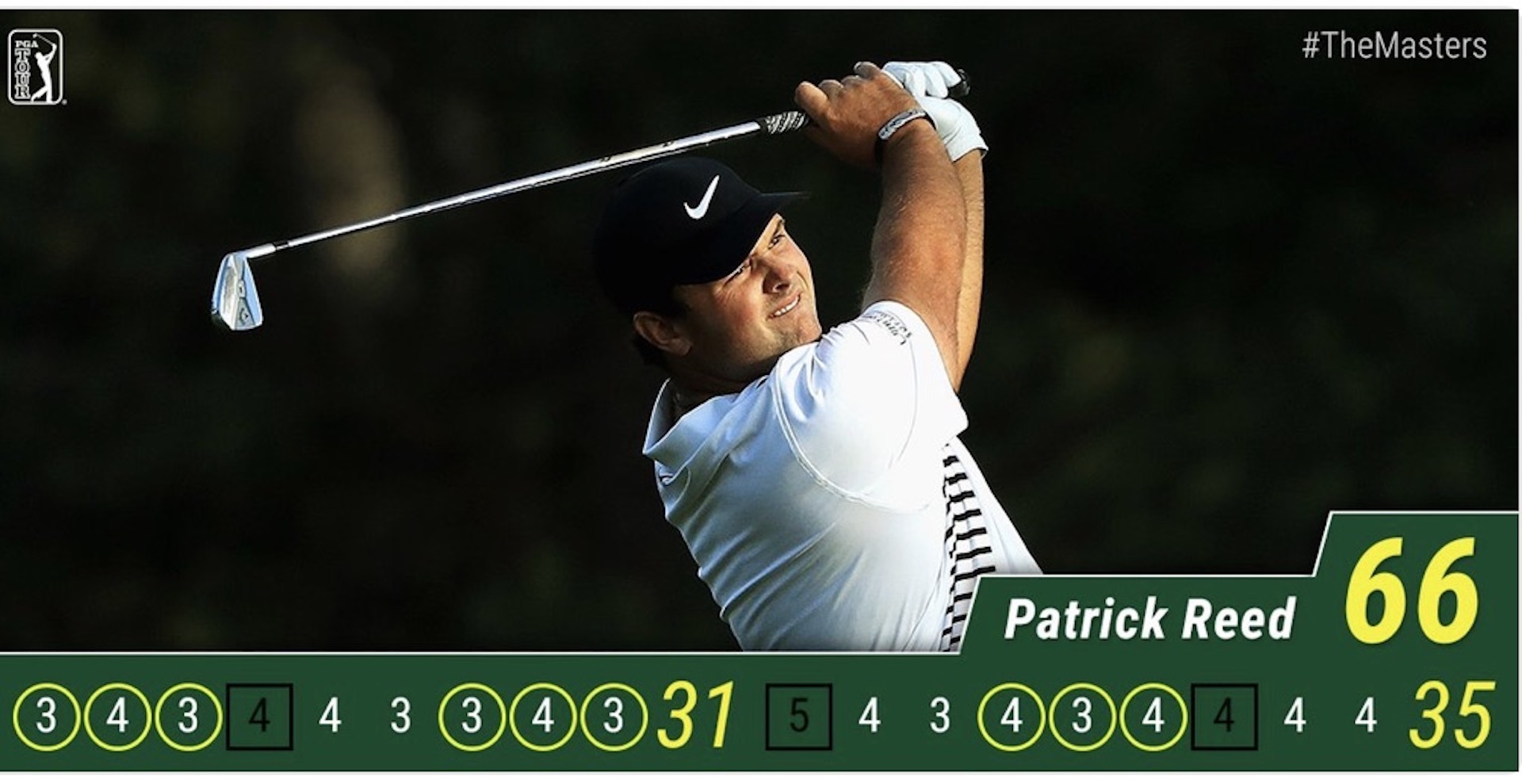 Finally, here's the highlights from Rory's round:
https://twitter.com/PGATOUR/status/982536204452216832
You might also like:
GolfPunk Magazine Issue 2: Read FREE here!! Masters Special PLUS WIN an amazing golf break at the legendary Kulm Hotel in St.Moritz PLUS a 4-Ball at Europe's best new course, Monte Rei