News
Sep 25th, 2015
Carly Shoots 66 To Fly Up French Leaderboard
Leader board: Pedersen leads after a stunning 64
Words: Kurty Hooper Photography: Getty Images
GolfPunk Golf Nurse Carly Shoots 66 To Fly Up French Leader board at -3. Pedersen leads second round after a stunning 64 leaves her -9.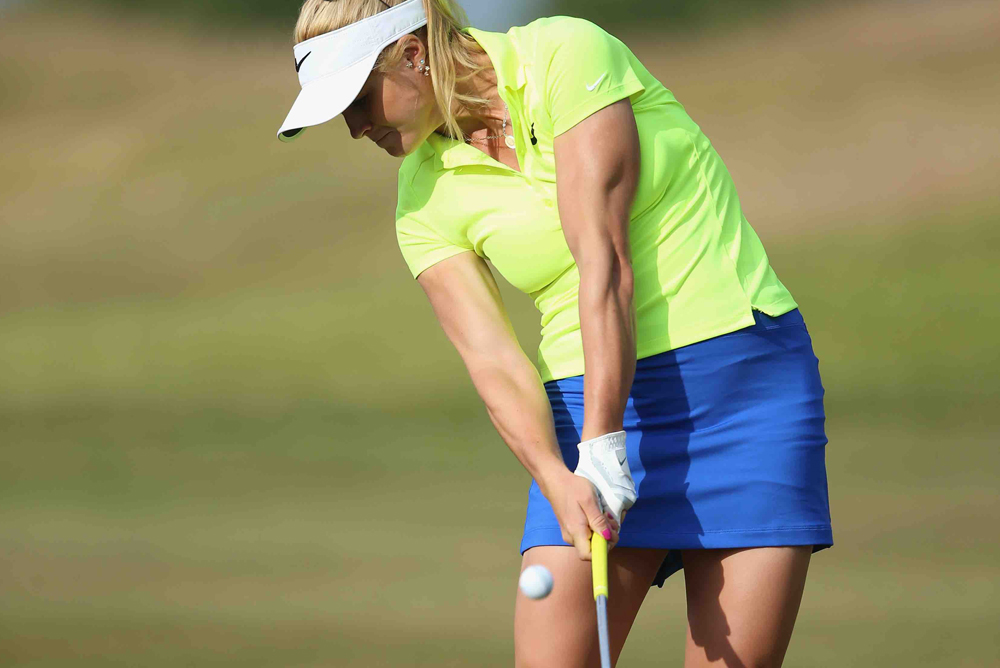 Go Carly! Go Carly!! Not that we are biased or anything...
Other news: Cristie Kerr makes her second impressive comeback in less than a week, firing a 67 to make the cut after poor first round + Charley Hull in contention at -3
Cristie Kerr makes comeback, says: "I didn't come here to be insulted, grandad" or some such...
POS
TO
START

P L A Y E R

(CLICK [+] FOR SCORECARD)

NAT
HOLE
SCORE
R1
R2
R3
R4
TOTAL
[+]
1
3
EMILY KRISTINE PEDERSEN
F
-9
67
64
   
   
131
[+]
2
2
CELINE HERBIN
F
-6
66
68
   
   
134
[+]
3
16
MALENE JORGENSEN
F
-4
69
67
   
   
136
[+]
3
1
GWLADYS NOCERA
F
-4
65
71
   
   
136
[+]
5
16
PAMELA PRETSWELL
F
-3
69
68
   
   
137
[+]
5
7
NICOLE BROCH LARSEN
F
-3
68
69
   
   
137
[+]
5
7
AZAHARA MUNOZ
F
-3
68
69
   
   
137
[+]
5
7
CHARLEY HULL
F
-3
68
69
   
   
137
[+]
5
38
CARLY BOOTH
F
-3
71
66
   
   
137
[+]
10
22
CHRISTINE WOLF
F
-2
70
68
   
   
138
[+]
10
7
TRISH JOHNSON
F
-2
68
70
   
   
138
[+]
10
47
ANNE-LISE CAUDAL
F
-2
72
66
   
   
138
[+]
10
7
DEWI CLAIRE SCHREEFEL
F
-2
68
70
   
   
138
[+]
14
7
JOANNA KLATTEN
F
-1
68
71
   
   
139
[+]
14
3
MARION RICORDEAU
F
-1
67
72
   
   
139
[+]
14
3
MARIANNE SKARPNORD
F
-1
67
72
   
   
139
[+]
14
22
GIULIA SERGAS
F
-1
70
69
   
   
139
[+]
14
3
CATHRYN BRISTOW
F
-1
67
72
   
   
139
[+]
19
55
FABIENNE IN-ALBON
F
E
73
67
   
   
140
[+]
19
22
KLARA SPILKOVA
F
E
70
70
   
   
140
[+]
19
22
STACY LEE BREGMAN
F
E
70
70
   
   
140
[+]
19
72
GEORGIA HALL
F
E
76
64
   
   
140
[+]
19
22
CARLOTA CIGANDA
F
E
70
70
   
   
140
[+]
19
68
BETH ALLEN
F
E
75
65
   
   
140
[+]
19
22
KATIE BURNETT
F
E
70
70
   
   
140
[+]
26
7
LIZ YOUNG
F
+1
68
73
   
   
141
[+]
26
22
AMELIA LEWIS
F
+1
70
71
   
   
141
[+]
26
38
URSULA WIKSTROM
F
+1
71
70
   
   
141
[+]
26
47
ELEANOR GIVENS
F
+1
72
69
   
   
141
[+]
26
22
MINEA BLOMQVIST
F
+1
70
71
   
   
141
[+]
26
16
NINA HOLLEDER
F
+1
69
72
   
   
141
[+]
26
16
JUSTINE DREHER (A)
F
+1
69
72
   
   
141
[+]
26
61
CRISTIE KERR
F
+1
74
67
   
   
141
[+]
26
38
MARGHERITA RIGON
F
+1
71
70
   
   
141
[+]
35
7
ISABELLE BOINEAU
F
+2
68
74
   
   
142
[+]
35
38
STACEY KEATING
F
+2
71
71
   
   
142
[+]
35
22
JADE SCHAEFFER
F
+2
70
72
   
   
142
[+]
35
38
SOPHIE SANDOLO
F
+2
71
71
   
   
142
[+]
35
47
CAROLINE AFONSO
F
+2
72
70
   
   
142
[+]
35
22
VALENTINE DERREY
F
+2
70
72
   
   
142
[+]
35
55
FLORENTYNA PARKER
F
+2
73
69
   
   
142
[+]
35
38
CAMILLA LENNARTH
F
+2
71
71
   
   
142
[+]
35
38
SALLY WATSON
F
+2
71
71
   
   
142
[+]
44
61
LUCIE ANDRE
F
+3
74
69
   
   
143
[+]
44
47
BECKY MORGAN
F
+3
72
71
   
   
143
[+]
44
55
REBECCA ARTIS
F
+3
73
70
   
   
143
[+]
44
16
AMY BOULDEN
F
+3
69
74
   
   
143
[+]
44
55
WHITNEY HILLIER
F
+3
73
70
   
   
143
[+]
49
22
LAURETTE MARITZ
F
+4
70
74
   
   
144
[+]
49
47
STEPHANIE NA
F
+4
72
72
   
   
144
[+]
49
61
INES LESCUDIER (A)
F
+4
74
70
   
   
144
[+]
49
38
HOLLY CLYBURN
F
+4
71
73
   
   
144
THE CUT
-
53
 
 
ALEXANDRA VILATTE
CUT
5
71
74
   
   
145
-
53
 
 
HOLLY AITCHISON
CUT
5
70
75
   
   
145
-
53
 
 
MAHA HADDIOUI
CUT
5
70
75
   
   
145
-
53
 
 
STEFANIA CROCE
CUT
5
70
75
   
   
145
-
57
 
 
NANNA KOERSTZ MADSEN
CUT
6
73
73
   
   
146
-
57
 
 
VIKKI LAING
CUT
6
72
74
   
   
146
-
57
 
 
BREE ARTHUR
CUT
6
70
76
   
   
146
-
57
 
 
PATRICIA SANZ BARRIO
CUT
6
69
77
   
   
146
-
61
 
 
ARIANE PROVOT
CUT
7
77
70
   
   
147
-
61
 
 
BECKY BREWERTON
CUT
7
76
71
   
   
147
-
61
 
 
DIANA LUNA
CUT
7
72
75
   
   
147
-
64
 
 
ANN-KATHRIN LINDNER
CUT
8
77
71
   
   
148
-
64
 
 
HANNAH BURKE
CUT
8
75
73
   
   
148
-
64
 
 
MARIE FOURQUIER
CUT
8
75
73
   
   
148
-
64
 
 
REBECCA HUDSON
CUT
8
74
74
   
   
148
-
64
 
 
SOPHIE GIQUEL-BETTAN
CUT
8
74
74
   
   
148
-
64
 
 
FIONA PUYO
CUT
8
72
76
   
   
148
-
70
 
 
CHLOE LEURQUIN
CUT
9
76
73
   
   
149
-
70
 
 
HANNAH RALPH
CUT
9
75
74
   
   
149
-
70
 
 
SOPHIE WALKER
CUT
9
74
75
   
   
149
-
70
 
 
MARIA BALIKOEVA
CUT
9
73
76
   
   
149
-
74
 
 
EMILIE PIQUOT
CUT
10
80
70
   
   
150
-
75
 
 
KYLIE WALKER
CUT
11
74
77
   
   
151
-
76
 
 
LEIGH WHITTAKER
CUT
13
70
83
   
   
153
 
DQ
 
 
MATHILDA CAPPELIEZ (A)
 
 
 
 
 
 
 
 
W/D
 
 
EVA GILLY (A)
 
 
 
 
 
 
 
 
RETD
 
 
ALBANE VALENZUELA (A)
 
TAGS: News, 2015, Lacoste Ladies Open De France, Carly Booth