News
Jul 3rd, 2016
Bowditch breaks 80 shock-horror
And then gets drugs tested
Words: John Dean Photography: Getty Images
Steven Bowditch shot a plus two 72 in the second round of the WGC- Bridgestone Invitational, and got drug tested for his troubles.
It was the first time in five attempts that a WGC event this year, and his performance didn't go un-noticed, as the very next day, Bowditch was notified that he was to appear for a "random" drug test.
Australian Bowditch is currently 169th in the Official World rankings. He's made nine cuts this season in 21 events, but has still pocketed $406,891. It's small beer on the Tour, but still worth turning up for.
Despite his many recent poor performances, it was only back in 2105 that he won the AT&T Byron Nelson with a brilliant final score of 259, -18 under.
Back in March of this year, Bowditch became the first man since 1983 to shoot four rounds in the 80s at a PGA event as he ended the World Golf Championship on 37 over par.
The Australian had a closing round of 12-over-par 84 at Doral, but picked up $48,000 (£33,700) for finishing 65th.
Bowditch, who completed his final round in two hours and 12 minutes, said: "I shot 37 over par and still made a paycheck. All's not that bad."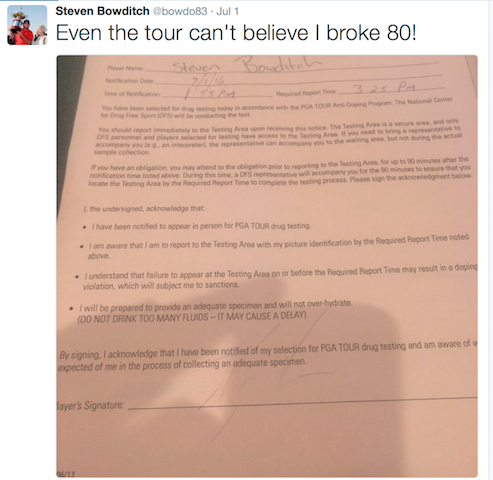 Related:
Click here or on the image below to read more about how to earn $50,000 for a single shot