News
Mar 14th, 2017
Augusta cuts field for Par-3 contest
Booooooooooo
Words: Tim Southwell Photography: Getty Images
David Duval, Ian Baker-Finch and Rich Beem are amongst the ex-tour players who will miss out at this year's Masters Par-3 contest due to a change in eligibility rules.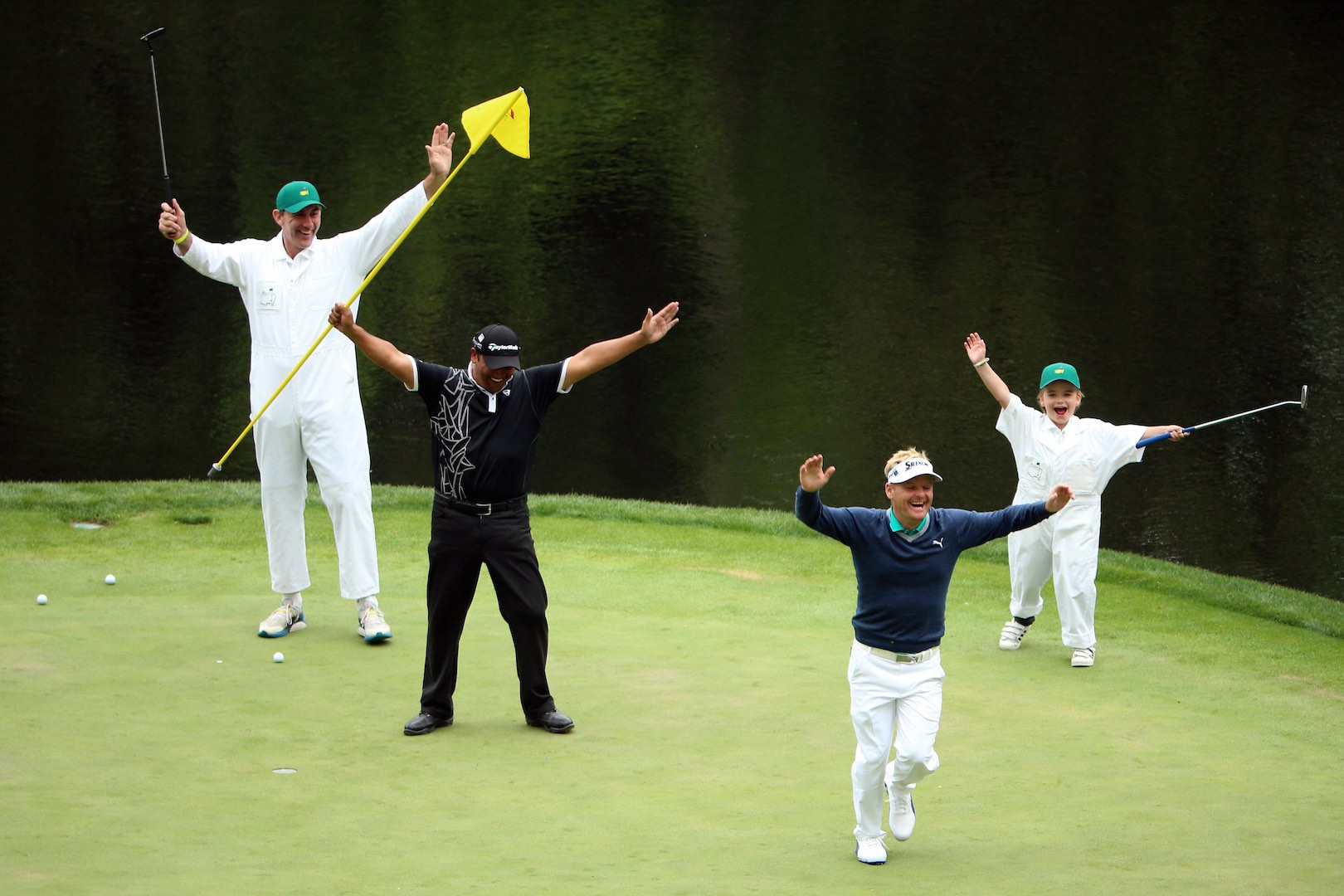 "Yay, we don't have to do this next year..." Cambo and Kjeldsen get their letters...
Rather than simply start the Par-3 tournament earlier, thus allowing the field to remain the same size and make a lot of people's years, Augusta has clamped down on entrants, sending letters to its honorary invitees telling them the extremely poplular Par 3 Contest will only be open to players in the field and past Masters champions.
"It's sad," former Open champion David Duval said. "But I understand it. Maybe there's not enough spots in the Par 3." "Or maybe they could just start it earlier?"
Anyone who wins a major will still be eligible to play in the Masters for the following five years. When the five years is up, these major winners who have not won the Masters become "honorary invitees," along with all past U.S. Amateur champions.
Up until now this has given them the same privileges as ex-Masters champs throughout the week until the tournament kicks off proper on the Thursday. The new directive states that these players are no longer permitted to us the practice facilities or play any practice rounds.
"As a person and an honorary invitee, I'm disappointed because it was my favorite day of the year," said former Open champion Ian Baker-Finch. "I loved it. I'll still be there, though, and I'll watch like everyone else."
The real losers here will be the would-be pratice partners of these seasoned Masters players. There is a lot for an Augusta debutante to learn from playing nine practice holes or indeed the par-3 contest with someone like Duvall, Baker-Finch and Beem, all of whom have a unique knowledge of the course which they pass on year in, year out.
Augusta is notorious for being something of a Pandora's box for first time players. What we see on TV is nothing like the reality. The vast inclines and elevations that create so much confusion for players is all flattened out on our TV screens. The players need all the initial help they can get. And preferably from a fellow compatriot, someone who wants you to do well, rather than someone who is going to be teeing it up against you. That is no longer an opiton.
You can't knock the Masters, however,: They know how to look after, not only their own champions, but the winners of any major. Anyone whops bagged a major at any time receives special access at Augusta: Two clubhouse badges, $1,000 spending money (seriously) and a special gift to commemorate their attendance.
The Par 3 course at Augusta National was built in 1958 and in 1960 the very first Masters Par 3 tournament got under way. Sam Snead won it. It's a truly great day, with players' kids, grand kids and other halves getting involved – hitting shots (badly normally), donning the white caddie jumpsuits and interacting with the crowds.
There are normally a few aces and the crowd goes nuts. Last year Rickie Fowler and Justin Thomas hit consecutive aces when playing together. Everyone went mental.
Check this out! A record 9 aces in one year!!
https://www.youtube.com/watch?v=P6K1i6Wrf_g
The Masters had 89 players in the field a year ago, and it has not exceeded 100 players since 1966. Compared to the Open which typically has 156 players teeing it up, it's not exactly a massive field. But that's part of Augusta's charm I guess, it's a bit more intimate than other majors.
It's not great news for the TV analysts either. A lot of them liked to get out on Monday and play the course in order to re-familiarise themselfves with the various nuances, and any new course alterations. The best they will get now is to walk with a group but not hit any shots. Well, that's what they have requested anyway.
Still, all this Masters talk has got my gander up. Less than a month people....
Related:
GolfPunk's Unique Augusta Course Guide....