News
Feb 28th, 2017
Arnold Palmers shoes fetch how much?
$66,000 if you're asking
Words: James Greenwood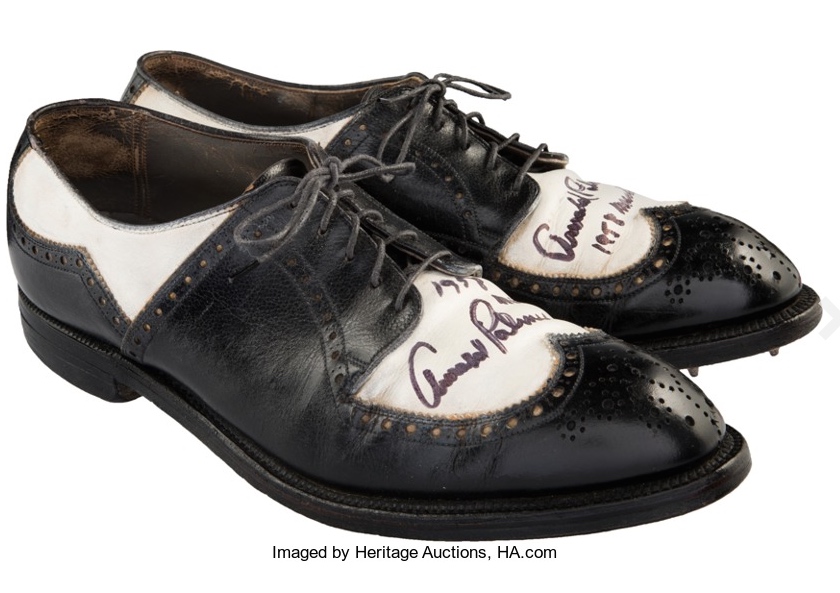 Arnold Palmer's shoes from the 1958 Masters have been sold, or should that be soled, for a staggering $66,000 at auction.
Palmer's win at the 1958 Masters was his first of four green jackets and first of seven majors overall. It was not without controvery either, as Palmer played two balls at the 12th – one for par and one for double bogey. He got to keep the par and win when a double bogey would have put him into a play off.
"There was never a question in my mind that I wasn't right about the 12th hole," Palmer told ESPN in 2008. "I was very confident that I was right and I played with that confidence."
The FootJoy wingtip shoes from Palmer's controversial win at Augusta National in 1958 were given to a pilot of Palmer's and signed by him in 2004. They had an original estimate of $15,000.
According to Ryan Carey, co–owner of Green Jacket Auctions: "You could have gotten these shoes for $5,000 any time in the last 20 years. But Palmer's death created a category of people scrambling to get pieces associated with him."
Just like a great artist, everything related to Arnold Palmer will go now for a super premium. But $66,000 for a pair of old FootJoys is still really pushing it. Now where's that signed glove he once gave me???
Related:
Here's something more modern from FootJoy – and rather more affordable