News
Nov 8th, 2015
Angry Kangaroo
Chases down golfers
Words: The Brigadier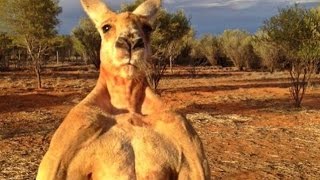 A peaceful afternoon on the golf course came to an abrupt end when a very aggressive, territorial kangaroo chased down two golfers.
James Macklin and his friend Connor Reeves were out on the fairways at Harvey Bay Golf Club in Queensland, when the kangaroo attacked.
Macklin was set upon by the angry kangaroo, and made his escape back to his golf cart. But within minutes the kangaroo was back, and this time chasing down Reeves.