News
Aug 3rd, 2018
American Golf crown UK and Ireland Long drive champions
From Europe's strongest long drive field
Words: GolfPunk
American Golf and Callaway welcomed Europe's strongest Long Drive field to Chester Racecourse on Thursday to do battle for the 2018 American Golf U.K. Long Drive Championships. From a field comprising Europe's elite long drivers, new long drive stars in the making and returning American Golf championship favourites, Sweden's Emil Rosberg (Under 45), Scotland's Ilona Stubley (Ladies) and Ireland's William Hunt Tyrell (Over 45) came out on top in the three categories.
With 2017 champion Dan Konyk going out in the seeding rounds, the competition threw up surprises from the start and into a strong headwind, consistency was hard to find, as eventual winner Emil explains, "I struggled this morning. I started with 6 OB and then only one in the next 6 balls, but it came later in the day and I just found it. It's kind of how I do Long Drive!"
But one ball in play was all that was needed to progress, a feat matched by runner up James Tait, as he sent a monster drive into a strong headwind to top the seeding with 369 yards.
Emil then found his form, sailing through the matchplay quarter and semi finals with 2-0 victories, including the longest ball of the day at 388 yards. That set up a final with 2017 finalist James Tait, who had hit a similar vein of form, progressing with 2-0 wins and a longest drive of 384 yards.
The final lived up to expectations, with James taking the first set and Emil responding to take the second. That set up a sudden death final set which Emil took 370 to 354. Along with the American Golf U.K. title Emil won qualification for the World Championships in Oklahoma and feels that he has a good chance next month, saying, "It feels absolutely amazing to have qualified for the world championships. It's my third year in a row now so I have a bit of experience and look forward to going and representing American Golf."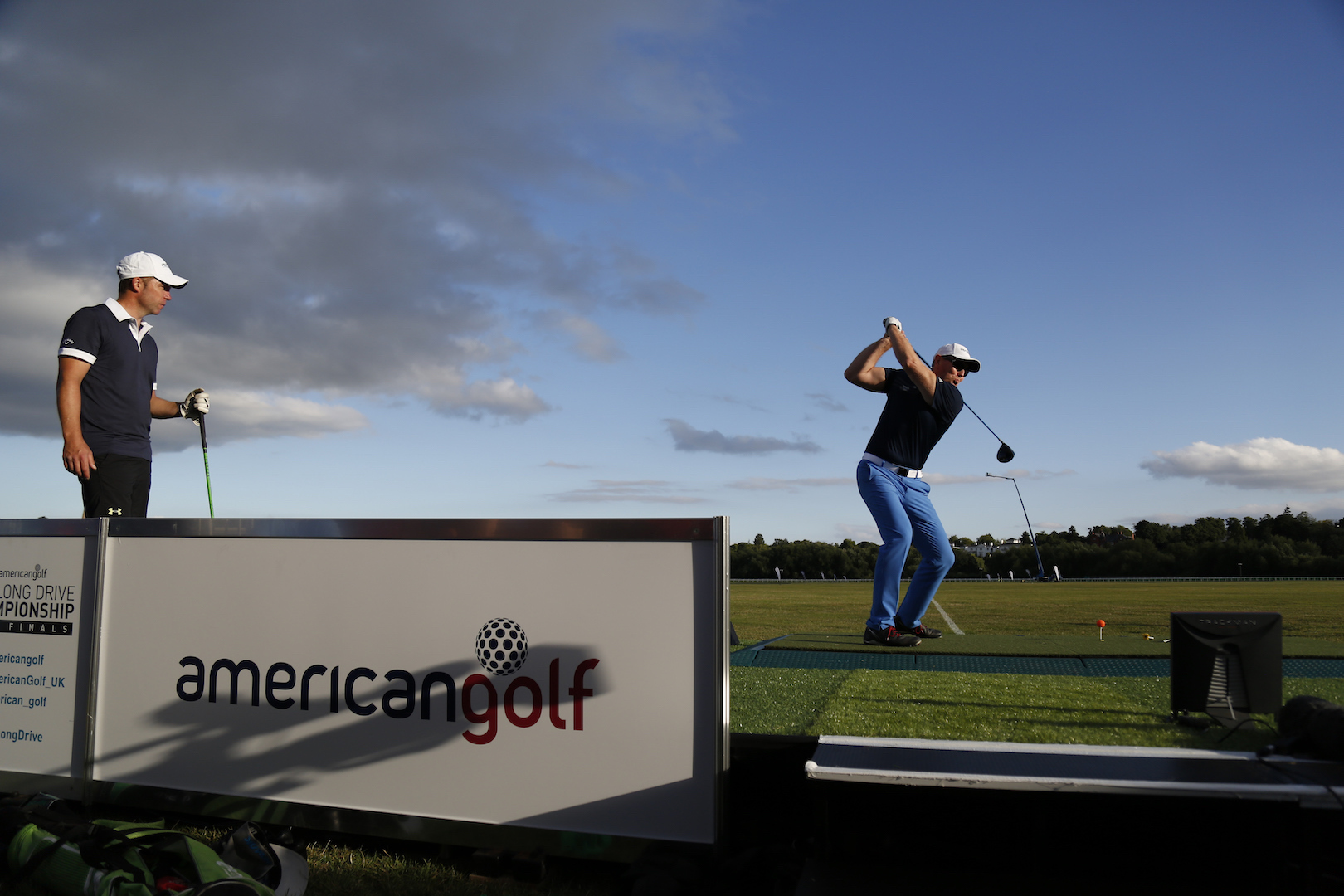 The Ladies title was hotly contested, with stand out competitors, 2015 & 2016 champion Rebecca McGinley and 2017 Champion Ilona Stubley, being pushed hard by youngsters Olivia Rael Brook and Abbi Gallagher Rowlands. The four lined up in the semi finals with Ilona hitting 290 yards to beat 16 year old Abbi, who was competing for her 4th straight year, and Rebecca matching that with 290 to take out Olivia.
The final was a tense affair with Ilona looking to match Rebecca's record of two U.K. titles, a feat she managed after taking the first set 296-283 and the second set 300-292. Ilona showed remarkable consistency all day but shone in the final hitting long and straight, pulling out the longest of the day into a slight headwind to take the win. After leaving the stage, Ilona was delighted with her achievement, she said, "I'm very pleased. I think it means more to me winning this one than last year. Last year was such a whirlwind between qualifying and getting to the final but this year I've put a lot more work into it and with the help of my trainer, Alex at Golf Fit, I've come in so well prepared."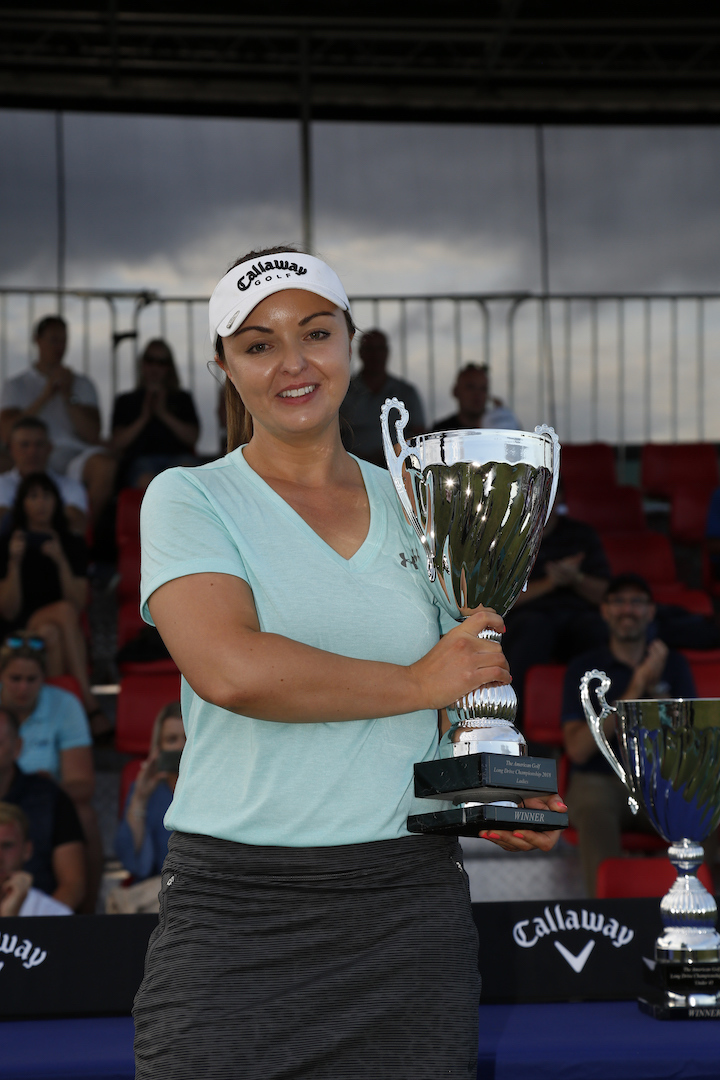 And on her prospects for the World Championships she continued, "I'm going to keep on working in the next month leading up to the World Championships, in the gym and hitting balls. I can't wait to get there though. Last year I didn't know what to expect, but now I know what the competition is about and I'm definitely a lot better and stronger."
In the final category, the Over 45's saw one man dominate proceedings from start to finish. William Hunt Tyrell, from Gorey in Ireland led the way from the seeding round, hitting consistently long throughout. He met a tough challenge in the semi-finals against 2015 champion Steve Kent who took him to a third set before taking on Gavin Beddow in the final.
The big Irishman returned to the championship after the disappointment of hitting 413 yards last year but not finding enough consistency in his game. He said, "It's absolutely brilliant. After last year's finals I've focussed on training hard 5 days a week. I took it serious, got some help from Long Drive coach Lee Cox and left no stone unturned."
And that hard work paid off when he took the first set with a drive of 354 yards. But he was then reigned back in through Gavin's consistent hitting in the second set to take it to the decider. William remained composed though, and in a marked change from 2017, sent out a series of enormous hits to take the final set and the title.
After the winning set he confessed to his inspiration in those final moments, "I wanted it so much this time after last year. I can see my girls, their faces, and they're saying 'get the cup daddy, so we can put the chocolate in it!'"
William now progresses to the World Championships where he feels he has unfinished business, commenting, "I'll take a week off now and then focus on the World Championships. I was there in 2001 and in 2004 when I hit one of the best balls on the day but the consistency wasn't good. Now working with Lee Cox, he's given me the nuts and bolts to keep it consistent. I hope to do well. I'm not afraid of the stage. Another month of training in consistency and technique and I hope to do well out there representing American Golf. I'm sure we'll enjoy tonight first!"
In their first year of sponsorship of the event Callaway have been integral to its success and had a real boost when they saw the competitors take to the stage, as Nathan Dennis, Retail Marketing Manager at Callaway Golf explains, "We're delighted to have been the sponsors of the American Golf U.K. Long Drive Championship and even more so to see Emil and Ilona take two of the three titles using Callaway clubs. This really was a collection of the biggest hitters in Europe across all three categories, so to see so many players using Callaway Jailbreak technology to unlock their distance potential was hugely satisfying."
Related:
Aberdeenshire – golf's undiscovered land of links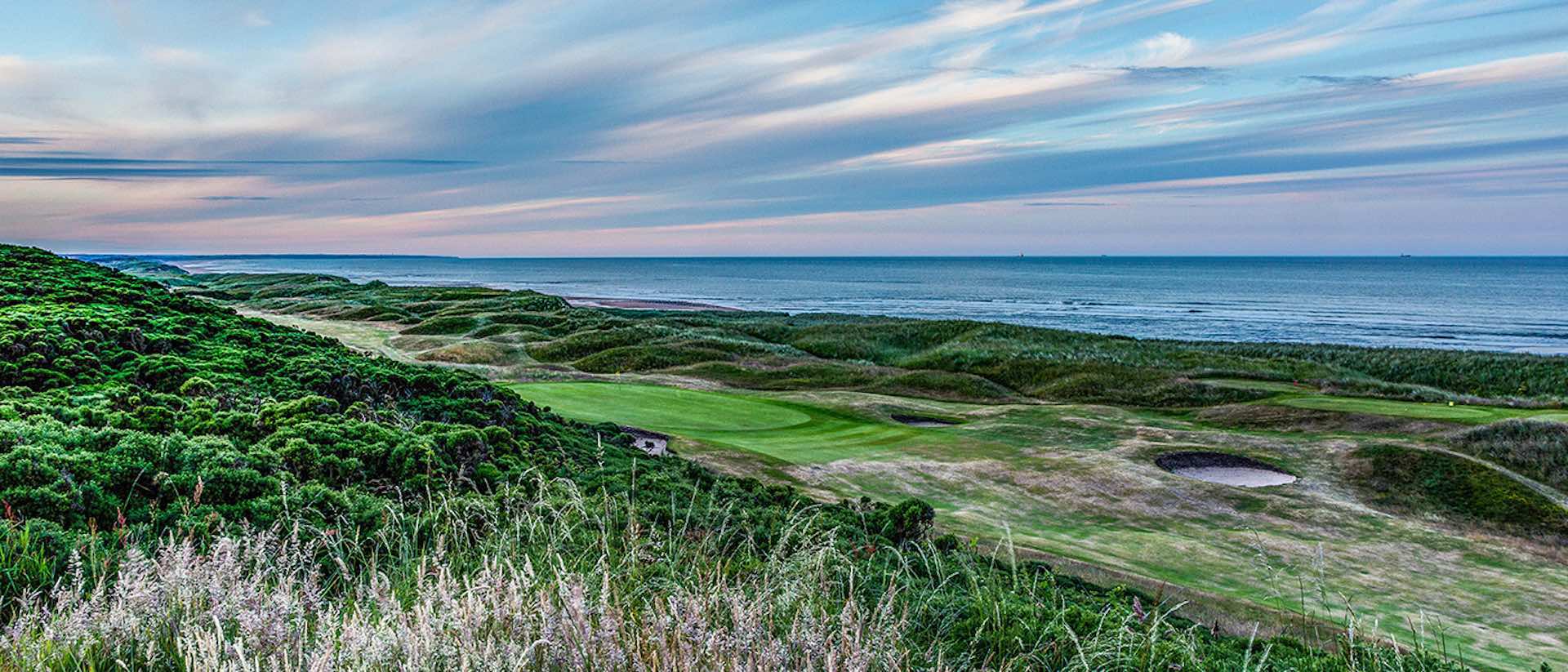 TAGS: American Golf, Long Drive Championship, Tournaments, Players, News, 2018