News
Jul 24th, 2018
2018 The Open GP Wrap
GP's take on Francesco Molinari's maiden major victory
Words: Thomas Kershaw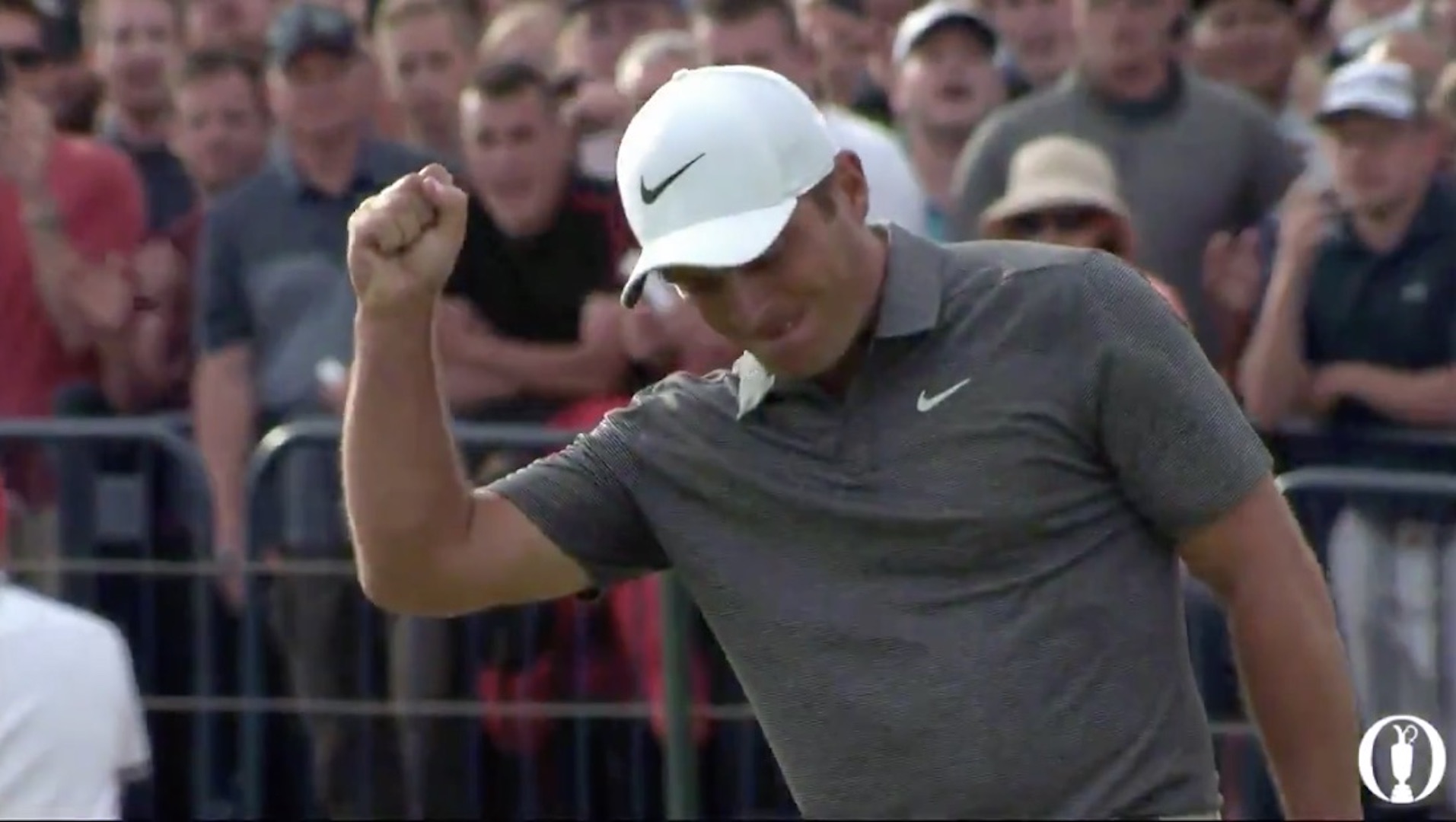 After three days where the Angus breeze barely whispered against Carnoustie's tobacco-burnt fairways, on the fourth and final day it blustered with familiar gusto.
The august names and overnight leaders withered and another messianic final day ensued but Francesco Molinari remained remarkably clinical securing both his, and Italy's, first major championship.
https://twitter.com/TheOpen/status/1021091883462922241/video/1
After a night of woe-consoling wine, it was Eddie Pepperell who held the clubhouse lead for many an hour after scoring a magnificent four-under 67 and might have had to stop himself uncorking once more as leaders Spieth, Schauffele and Kisner scored a combined 11-over on their respective front-nines.
But Molinari continued to plod along robotically, parring every hop - the only man in the final-day field to remain bogey-free throughout. His tee-to-green play resembled an archer's target practice and when things did, very rarely, go awry, his recovery was excellent.
https://twitter.com/TheOpen/status/1021682949949935621/video/1
The Italian's pursuit however remained largely undetected by those gawping at the lodestone bubble surrounding his playing partner Tiger Woods. Two-under through the front-nine, the fifteen-time major winner was the only man not just to survive the wind's havoc, but to veer into it head-on.
Sitting atop the leaderboard after 63 holes at -7, there seemed something ethereal about his Fight of the Century return - just seventeen months on from his mugshot being plastered across the world's press.
It's always an uncanny incidence when a man who once so dominated their field, when returned to that pedestal finds himself unsure.
After a miraculous shot from the fairway bunker on the 10th, it seemed as though he could overcome any test Carnoustie could inflict but on the eleventh, a fluffed flop forced a double bogey and another dropped shot followed. Despite a Leonidus-like comeback, Tiger's last punches had already been thrown.
https://twitter.com/TheOpen/status/1021393732661403649/video/1
Very much the consistent and full-bodied Brunello to accompany Woods' Bistecca Alla Fiorentina spectacle, suddenly Molinari found himself thrust into pole position.
Both McIlroy and Rose, the new crowd consensus favourites, had eagled the par-5 14th to take the lead but Molinari's birdie on the same hole moved him to -7.
Unfazed and persistently resilient, he ceaselessly marched on to the subtle encouragement of his caddie, Pello Iguaran.
And so he approached the 18th. The hole which so infamously tonsured the hopes of Jean Van de Velde and very nearly Padraig Harrington.
But finally, its trappistine sentence was lifted. A deft wedge finished within ten-feet of the pin and he holed the birdie-putt tot rapturous applause. There was no Constantino Rocca-like beating of the turf, nor was there even a jubilant shout.
In fact, it was almost as though Molinari was struck by stage fright, in total disbelief oh his achievement. He even remained on the practice green half-heartedly in case Schauffele, who bogeyed the 17th, holed his approach on 18.
He needn't have feared. Italy finally had its much-deserved major champion, who climbs to no.6 in the world rankings and cements an automatic berth in the European Ryder Cup team.
He may not have bubbled with charisma through his second language when lifting the trophy, but his unblemished card was nothing short of handsome. Perhaps now his achievement has finally sunk in.
Related: