LPGA Tour
Dec 13th, 2020
Shibuno holding on at US Women's Open
Only four players in red figures heading into the final round
Photography: USGA/Chris Keane/Robert Beck/Simon Bruty
Nobody said winning a U.S. Women's Open is easy. It's a 72-hole test of nerves, pressure, tough course conditions and one of the best fields in golf.
And when Mother Nature throws a curveball, the challenge only gets super-charged. A late Friday afternoon storm that dumped four-tenths of an inch of rain on Champions Golf Club turned Moving Day into a day of survival.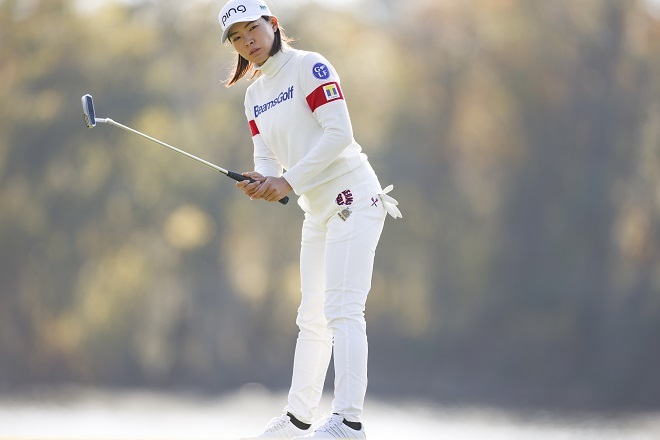 Under-par scores on the 6,635-yard, par-71 Cypress Creek Course were about as scarce as hen's teeth. None of the 19 golfers who began Round 3 on Saturday in red figures managed to break par, including 36-hole leader Hinako Shibuno (74). By the day's end, only four players were in red figures through 54 holes: Shibuno (4-under), Round one leader Amy Olson (3-under), Moriya Jutanugarn and Ji Yeong Kim2 (2-under).
In fact, only two of the 66 players who made the 36-hole cut broke 71 today: Hae Ran Ryu (70) and Kim2, a U.S. Women's Open rookie who moved from a tie for 47th to a share of third after a bogey-free 67 that included a chip-in birdie on the par-5 ninth hole, her last of the day.
Changing weather conditions was the major story on Saturday. A damp, chilly and overcast morning morphed into sunshine by late afternoon. Players were also challenged by occasional mud on their balls from the wet fairways and a different wind from the first two rounds, which were contested on the club's Cypress Creek and Jackrabbit courses due to the field size (156) and limited daylight.
After all the leader board volatility, Shibuno enters Sunday's final round with a golden opportunity to win a second major in 16 months. Not bad for someone making her first U.S. Women's Open start and competing in just her fifth major. The 22-year-old from Japan won the 2019 Women's British Open at Woburn by shooting four rounds in the 60s.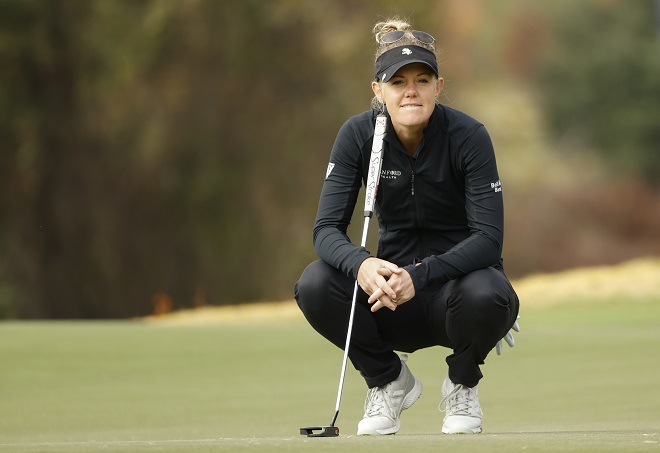 That won't happen this week after her 74 on Saturday. Yet the opportunity to become the first player from Japan to hoist the Harton S. Semple Trophy is very much within reach. Thirty-three years ago, Ayako Okamoto, a legend in Japan, was the last player from that golf-crazed country to carry a 54-hole lead into Sunday in this championship. She wound up losing a three-woman playoff in 1987 at Plainfield (N.J.) Country Club to Laura Davies (JoAnne Carner was the third player).
Nicknamed "Smiling Cinderella" for her on-course demeanour and underdog disposition, Shibuno seems to possess the right mindset for tackling the heat of Sunday at a major. Even an opening-hole bogey didn't faze her on Saturday. She would make three more while converting just one birdie putt on the par-5 fifth.
"I feel like it's either a great poker face or she's that smiling assassin," said former world No. 1 and two-time major champion Lydia Ko, who is five strokes back.
"I feel like I smile quite a lot out there, but I'm like pretty grumpy compared to her. You saw her at the British Open, I'm sure, going into that Sunday there might have been doubts because not many people have heard of her compared to some other players. But she showed them who is boss and she's clearly doing that right now."
Added amateur Kaitlyn Papp, who was grouped with Shibuno: "Her demeanour was great. She was really neutral the whole day, never got too high or too low, depending upon how she did on a certain hole. I think that's what impressed me the most about playing with her."
Shibuno's closer pursuer, however, is Olson, the 28-year-old is seeking her first professional win. The 2009 U.S. Girls' Junior champion rebounded from a second-round 72 on the Jackrabbit Course to card an even-par 71.
This is the third time she will play in the final group of a major, following the 2018 ANA Inspiration and 2018 Evian Championship, where she double-bogeyed the 72nd hole to lose by one stroke to Angela Stanford.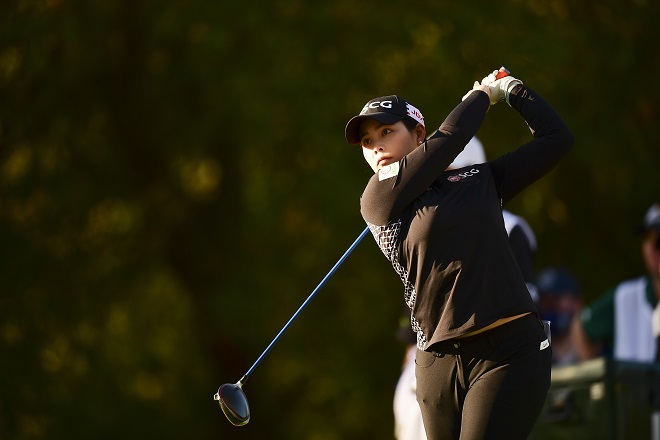 Olson nearly made her second eagle of the week – she aced the par-three 16th on Thursday – with the same club (8-iron), stuffing her approach on the 386-yard 17th hole to within inches for a tap-in birdie.   
"Obviously, your mental fortitude and perspective are extremely important and you can never get too high, you can never get too low," said Olson. "I've definitely had some times of adversity already this week and I'm proud of how I've bounced back and just never given up."
Moriya Jutanugarn, the older sister of 2018 champion Ariya Jutanugarn, would like to make some history on Sunday by making them the first siblings to win the U.S. Women's Open. Brothers Willie and Alex Smith won the U.S. Open in 1899 and 1906/1910, respectively.
Two other sets of sisters have captured USGA titles: Margaret and Harriot Curtis both won the U.S. Women's Amateur, and World Golf Hall of Fame inductee Hollis Stacy (3 U.S. Women's Opens/3 U.S. Girls' Juniors) and Martha Leach (2009 U.S. Women's Mid-Amateur).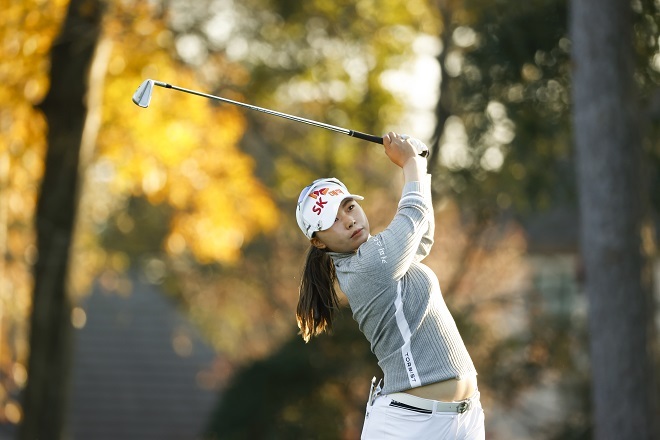 Midway through her second nine, Jutanugarn, who played with Ariya and hometown favorite Stacy Lewis, reached four-under for the championship, only to bogey the 14th and double-bogey the 17th.
Kim2 would be the second consecutive player from the Republic of Korea with a numeral in her surname to win the title. The 24-year-old owns two victories on the LPGA Tour of Korea.
Besides Ko, 2018 U.S. Girls' Junior champion Yealimi Noh, Megan Khang and Papp are in the group that sits at even par, four back of Shibuno. Khang and Noh are seeking their first professional wins.
---
And another thing...