LPGA Tour
Nov 23rd, 2020
Kim cruises to Pelican Women's Championship win
As Stephanie Meadow equals her best LPGA finish
Photography: Getty Images
The 12th career LPGA Tour title for Sei Young Kim was never in doubt as she shifted into cruise control for the final round of the Pelican Women's Championship presented by DEX Imaging and Konica Minolta securing a three-stroke victory on fourteen-under-par overall.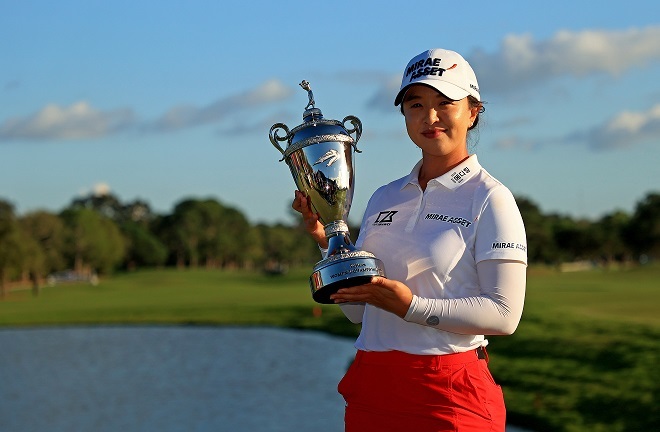 "Win is always great, feels great," said Kim, who signed for an even-under par 70 at Pelican Golf Club. "I'm very happy to win my 12th tournament, after winning the major tournament. It means a lot to me.
"My friends sprayed champagne; they put it on my head, t-shirt and everything feel like take a shower in champagne. I'm still smelling, yeah, then drink a little bit."
Kim's lead was cut to three shots over Ally MacDonald when she bogeyed the par-three 9th but that was the closest the American would get to the leader. A birdie from Kim at the 14th moved her further ahead and despite bogeying the last, she won comfortably.
"Ally [McDonald] was going really good, it could be she chase me," Kim said. "When I turned after the ninth hole, I was a little bit pressure before I made the birdie. After hole 14, little more comfortable and then good feeling back."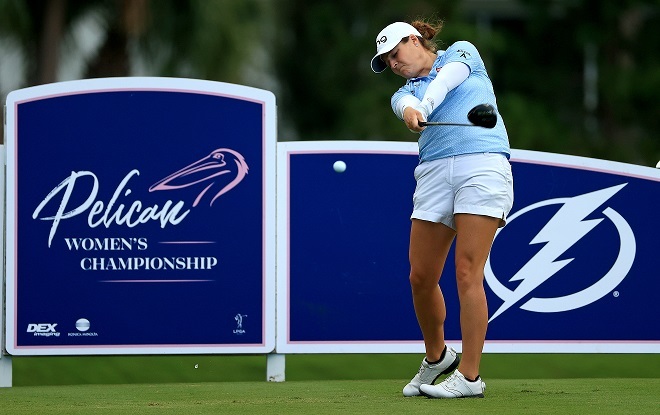 The win breaks a tie for third with Jiyai Shin on eleven all-time wins list of players from the Republic of Korea. She now trails only Se Ri Pak (25) and Inbee Park (20). Kim also jumps to No. 18 on the LPGA Tour career money list with earnings of $9,799,895.
Ally McDonald who was coming off her first career LPGA Tour win at the LPGA Drive On Championship—Reynolds Lake Oconee, closed with a two-under 68 to finish alone in second.
"Once we got to a point, I just tried to take Sei Young out of it and play a little tournament within the rest of the field. She got out to such a big lead on the last few holes," said McDonald, who closed with her fourth birdie of the day on the final hole.
"I'm really happy with how I played, made some great up and downs. That shot on 18, for me, is probably one of the best shots I've ever hit, just under the circumstances and everything. So I'm really pleased. Obviously following a win to get another second and be in contention, that's all I can ask for."
The week at Pelican Golf Club was somewhat of a grind for Stephanie Meadow, but the reward for her efforts was a third-place finish. After a bogey-bogey start in the final grouping alongside Sei Young Kim and Ally McDonald, Meadow recovered to record a final-round 69 to to take sole ownership of third. The result ties her career-best performance, matching that at the 2014 U.S. Women's Open.
"I think just a lot of hard work paying off. Obviously, it's important to thank everyone that has gotten me here. It's not just me. There is a huge team behind me. My fiancé [Kyle], my coaches, Terry, Debby, my sports psych who is amazing," said Meadow.
"It has been a long journey, but a great one and you learn so much about yourself. Golf is one of those things where you always feel like you can do better, but I'm pretty satisfied where I'm at right now."
Austin Ernst and Lydia Ko tied for fourth at 8-under overall to round out the top five. Four individuals ended in a tie for sixth at -7, including nine-time LPGA Tour winner Brooke Henderson.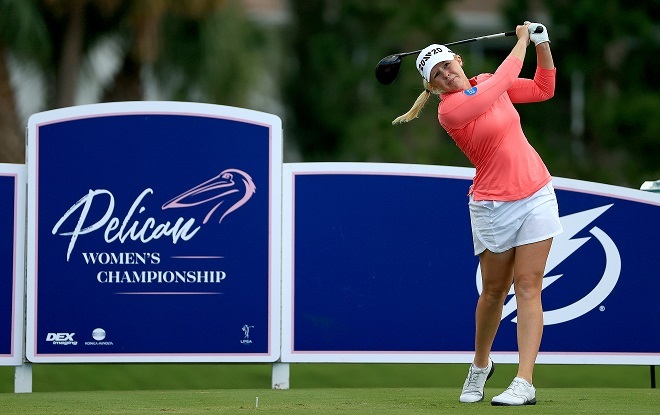 Throughout the four rounds of the inaugural Pelican Women's Championship presented by DEX Imaging and Konica Minolta, $50 was donated to BayCare's Morton Plant Hospital Women's Services for every birdie that was made as part of the tournament's "Birdies for Babies" charitable program.
All proceeds go to provide car seats to families in need as well as education on how to install and use the car seat correctly. According to the CDC, motor vehicle injuries are a leading cause of death for children in the United States, with proper car seat usage a major contributing factor.
A total of 932 birdies were made at Pelican Golf Club this week for a total of $46,600 to BayCare, the founding partner of the Pelican Women's Championship and the event's official exclusive healthcare system. BayCare also supports the tournament's volunteer program that enlists hundreds of volunteers to run the annual championship.
---
And another thing...