LPGA Tour
Jan 25th, 2021
Jessica Korda wins Tournament of Champions
American wins at first sudden-death playoff hole
Photography: Sam Greenwood/Getty Images
American Jessica Korda drained a 25-foot birdie on the first sudden-death playoff hole to defeat Danielle Kang and win the 2021 Diamond Resorts Tournament of Champions.
Korda shattered the tournament scoring record with a four-day total of twenty-four-under 260, beating the previous mark of fourteen-under set by Eun Hee Ji in 2019. The win also came the day after Korda shot the fifth 60 in LPGA Tour history.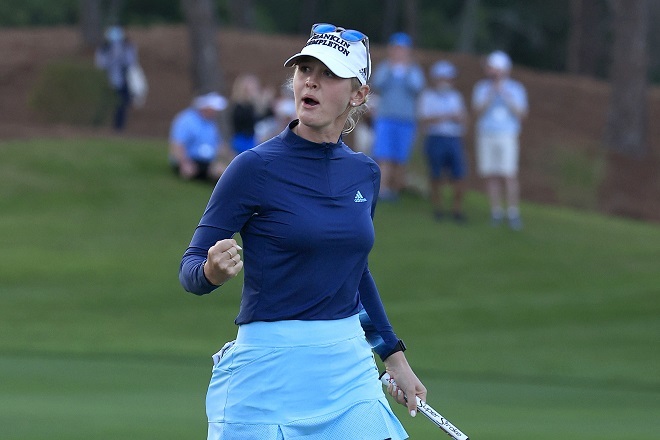 "I didn't have great numbers all day. I was in between shots all day. It was just frustrating because I wanted to be aggressive, but then I wasn't," said Korda, who shot 66 on Sunday. "And then kind of just said, You know what? Forget about it. Just stick to your process and be aggressive when you can and take those opportunities. But having those putts roll in definitely helped."
After starting the day two strokes behind Kang, Korda's birdie at the par-3 16th pulled the pair into a tie at the top. The duo swapped birdies at No. 17 and both players left their birdie putts short on the par-3 18th.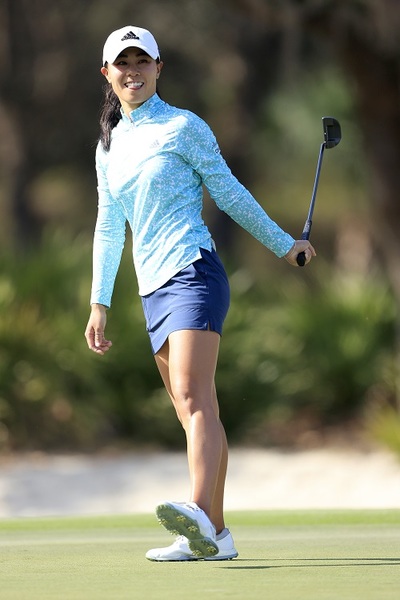 Going back to the 18th tee for the playoff, Korda and Kang both hit the centre of the green. Korda hit first and punctuated the long birdie putt with an emphatic fist pump reminiscent of a classic Tiger Woods moment.
Kang's birdie attempt tracked left from the moment she hit the putt, giving Korda her sixth LPGA Tour victory and fourth in her season-opening event.
"Everyone says low expectations, but I always expect, I don't show up to a tournament just to show up," said Korda, who earned her first victory with her parents, retired tennis stars Petr Korda and Regina Rajchrtová, in the gallery. "I'm too old for that. This is my 11th year. I know I've won a lot first week out."
Korda again displayed her absolute mastery of the second nine at Four Seasons Golf and Sports Club Orlando, carding Sunday birdies at 13, 14, 16 and 17 for a four-day total of -22 over the closing nine holes. But when asked what it was about those nine holes that suit her, Korda could not come up with an answer.
"Honestly, I have no idea. I wouldn't be able to tell you other than I hit it close and dropped some putts," she said.
Korda's younger sister Nelly Korda shot Sunday's low round of seven-under 64 and finished third at twenty-two-under. Defending DRTOC champion Gaby Lopez tied for 11th at eleven-under.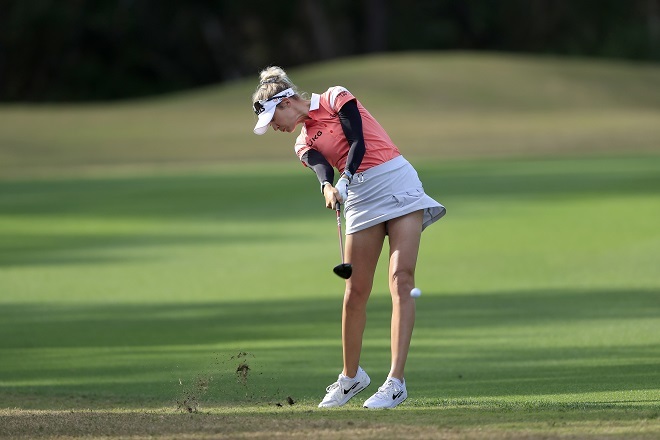 In the celebrity competition, former tennis player Mardy Fish ran away with the tournament, earning an eleven stroke victory at +158. Wounded Warrior Chad Pfeifer was second at +147, while two-time MLB All-Star pitcher Mark Mulder was third at +145.
"Super happy with the way I played. I don't know what I won by, but it was tough to sort of follow along. It was nice," said Fish, who could have the Kordas younger brother Sebastian Korda, an up-and-coming tennis pro, on his Davis Cup team.
"Just sort of kept going along today and playing our balls instead of theirs and worrying about where they are and stuff. Just trying to get it in as quick as possible and see where we were on the back nine."
Two-time defending celebrity champion John Smoltz finished seventh at +138 and 72-time LPGA Tour winner Annika Sorenstam was ninth at +134. The celebrity competition is played under a Modified Stableford scoring system.
---
And another thing...