LIV Golf
Aug 17th, 2023
LIV Golf Plans to Allow Players to Be Traded Between Teams in 2024
Organisation plans to implement a US-style player trading system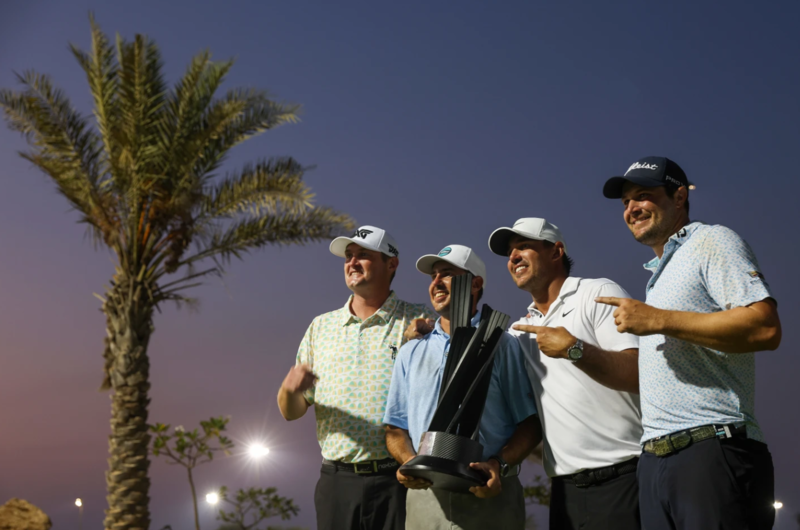 It has been reported that LIV Golf will allow player trades via a transfer window and trade deadline in 2024. Per Sports Illustrated, the initial plan had been to introduce transfers for its 12 four-player teams from the outset but the idea took a back. According to the report, that is set to change next year, with the introduction of player trading similar to US sports such as NFL and MLB.
VIA Sports Illustrated
Golf is one of the few sports where a trade deadline is not part of the conversation, but that will change in 2024 when trading will be available among the 12 LIV Golf teams.
LIV is still feeling its way on what its rules and regulations will be, and while the trade aspect was going to be part of its program from the beginning, they delayed it in order to focus on the more important aspects of launching a new tour.
But as the team aspect eventually will differentiate LIV Golf from other professional golf tours, it's important that the league go all-in on supporting the team idea. Trades are part of that.
While there had been player movement after LIV's first year in 2022, it all occurred after the season ended via free agency.
Instead, the two players are unhappy with each other, and the team did not benefit from the internal fissure that went public.
"It's gonna be a reason of not getting along," RangeGoats GC captain Bubba Watson said of trading players. "This guy can help us or I'm buddies with this guy, or all the team's friends with this guy."
The reasons may vary but if a particular player can make a difference, then the team must at least look at a potential move.
According to LIV officials, the 2024 season will feature a transfer window and a trade deadline.
The plan for trades would state that a player(s) would have to agree to the trade and that the league would have to sign off on it as well as the teams.
"I can't speak for everyone, but what I can say is that if it comes time to where someone's not performing well, and it's been enough time to try and get given that opportunity to play well and it's not been done, I will make a decision based on that," Crushers GC captain Bryson DeChambeau said.
But what can a team offer in a trade? In other sports you are likely taking on a contract already negotiated and while you could renegotiate that contract, many times a trade is for immediate help toward a playoff run and nothing more.
In other sports like basketball and football, trades sometimes happen due to the malcontent of the player with the team or vice versa.
But a LIV trade, since there are only 12 teams and 48 players, may take on a different dynamic.
Clearly money will drive many of the decisions, either via an immediate payday for a player or the prospects of a larger pot of gold down the road with success at the team level and potential deals and endorsements due to those successes.
"It'd be money and an opportunity to be a part of something new, unique and special," DeChambeau said. "And another opportunity to impact the game of golf in a unique way that's never been done before."
Peter Uihlein was not traded after the 2022 inaugural season, but became a free agent when Brooks Koepka told the former U.S. Amateur champion late in the year that he was going to be replaced by Wolff.
The 33-year-old eventually landed with the 4 Aces when Talor Gooch left to join the RangeGoats.
"I mean, it's no different than any other sport, right? Baseball, football, basketball, guys get traded (though) you obviously build a rapport with your squad," Uihlein said. "But at the end of the day, if your franchise thinks they can do better, then they have to make hard decisions, and it's just business."
And when he was being courted by the likes of 4 Aces captain Dustin Johnson and Watson, Uihlein had to weigh many options.
"It's everything—it could be monetary, it could be travel, it could be anything," Uihlein said. "There's a lot that one team can give you that another team potentially can't. The RangeGoats might have a little bit more to offer than the Cleeks right now just based on the value of the franchise."
Read the full article on the
Sports Illustrated website
.
---
And another thing...