Lifestyle
Jun 3rd, 2018
The Nest at Pelican's Landing
Members Delight in 36 Holes of Newly Renovated Fazio Golf
Words: The Golfin' Guy Photography: The Golfin' Guy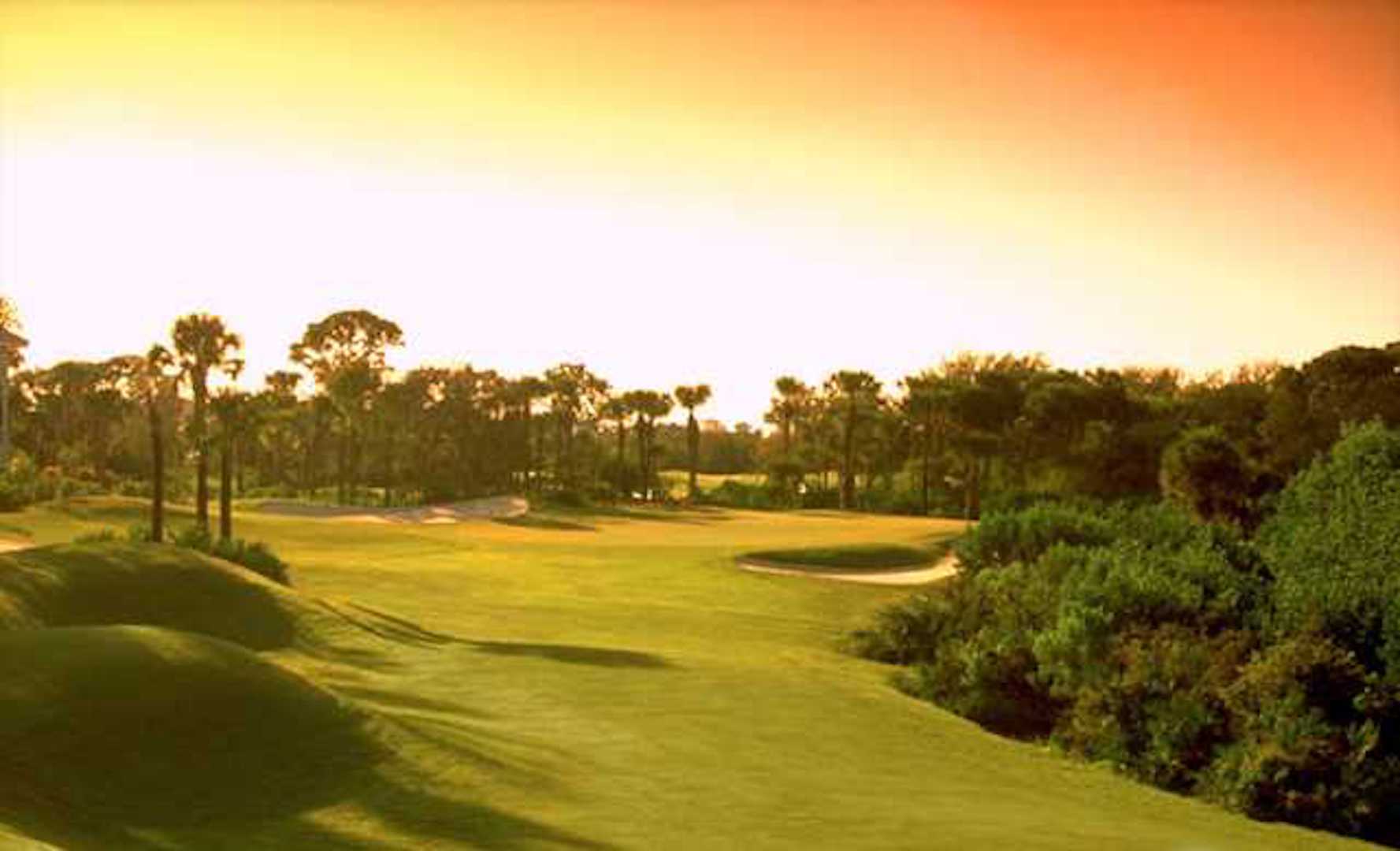 Flash back to 1985. The golf industry is on the rise and the real estate market in Florida is booming. As northerners reach retirement age, their mind is set upon moving to Florida and playing golf into their twilight years. All is good in the Sunshine State.
Two popular resorts in Southwest Florida back in the late 1980's were the Naples Registry – now Naples Grande Beach Resort– and the Ritz Carlton. These resorts were booming, especially during "the season," January through April. Nearby golf courses could make a profit just by booking guests from these two resorts.
With that in mind, the community of Pelican's Landing was born. It all started with the building of Pelican's Nest golf course, designed by golf course architect Tom Fazio specifically to serve the needs of the nearby Ritz Carlton and Registry hotel guests. The course was an instant hit and garnered Fazio his first appearance on any of Golf Digest's prestigious "Best of" lists; Pelican's Nest golf course debuted at #3 in the publication's Best US Public Courses. As expected, Pelican's Nest golf course grew quickly in popularity, so the developer started to purchase the surrounding land, and in 1989, Pelican's Landing emerged as one of the premier residential golf communities in Southwest Florida.
The Nest - as it is affectionately referred to by residents and members alike – features 36-holes of championship golf as well as all of the other amenities discerning members have come to expect. In fact, both The Hurricane Course and the Gator Course are recognized nationally as two of the finest golf facilities in Southwest Florida and come highly recommended by experts and golfing aficionados alike. The Pelican Landing community includes single-family homes, villas, coach homes, garden condominiums, mid-rise condominiums and bay-front high-rise condominiums; prices range from the $200's to over $3 million.
The last two years at The Nest have seen a lot of change, all for the good. Both golf courses have undergone complete renovations and are in the best shape ever. Fairways are plush, bunkers are well manicured and contain soft, fluffy sand and the greens roll fast and true. " Both courses at Pelican's Nest been recognized every year since 2001 by Audubon International, as a "Certified Audubon Cooperative Sanctuary" a real testament to their membership's efforts to protect and enhance the environment.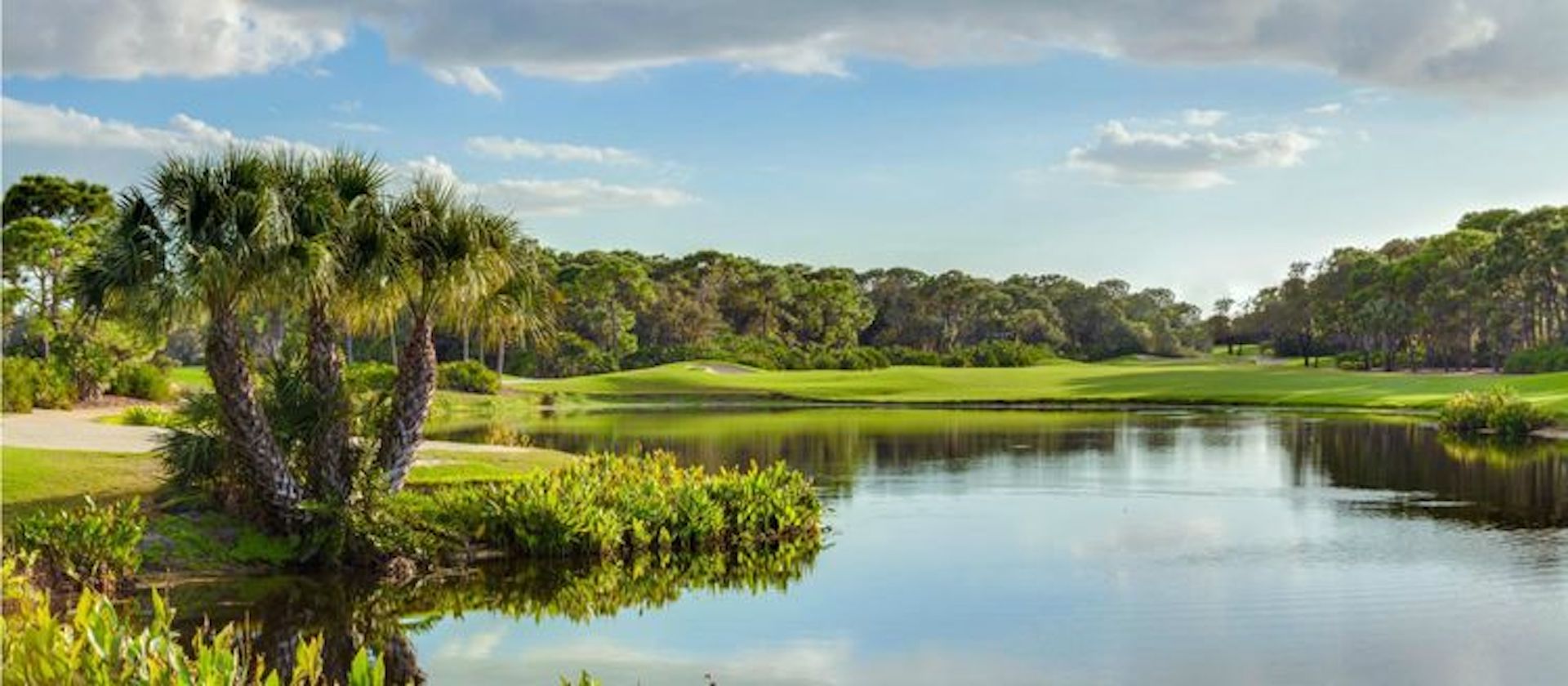 In renovating The Nest designer Jan Bel Jan created a "course within a course." Bel Jan was involved in the original construction of the Hurricane Course. These "scoring tees" eliminate a lot of the fairway hazards and make each course a lot easier to manage and navigate your way around. While the championship tees are identified with Roman numerals, the scoring tees are identified with an "S" and have their own scorecard. Many members use them on a regular basis and comment on "how much more fun the game has become" since they started incorporating them into their weekly rounds. After all, lower scores mean happy members!
The Gator Course at The Nest
The Gator Course is an exciting 18-hole regulation that plays 7,042 yards from Tee I to a par of 73, highlighted by three par fives on the back nine. The course rating is 74.3 with a slope rating of 139. Seven sets of tees make The Gator enjoyable for players of all skill levels and abilities; just be sure to pick the tees that best match your skills.
The Gator Course winds its way through protected wetland marsh areas and forests of live Florida oaks and scrub pines.
The most memorable hole on the Gator Course is Number 8, a par 4 that plays 408 yards from Tee II. It's the number one handicap on the Gator layout, and for good reason. It's a long and narrow hole with the fairway sloping towards the rough on each side. Even with a good drive in prime position down the right side, most players will be hitting a long iron, hybrid or fairway wood into the green. The green is long and narrow and is guarded in front by a large grass bunker which requires you to carry the ball onto the putting surface, eliminating the possibility for the senior-friendly bump and run. Also, the green is relatively flat, which may help you gain a stroke; or at least not give any more away! Par is an outstanding score here.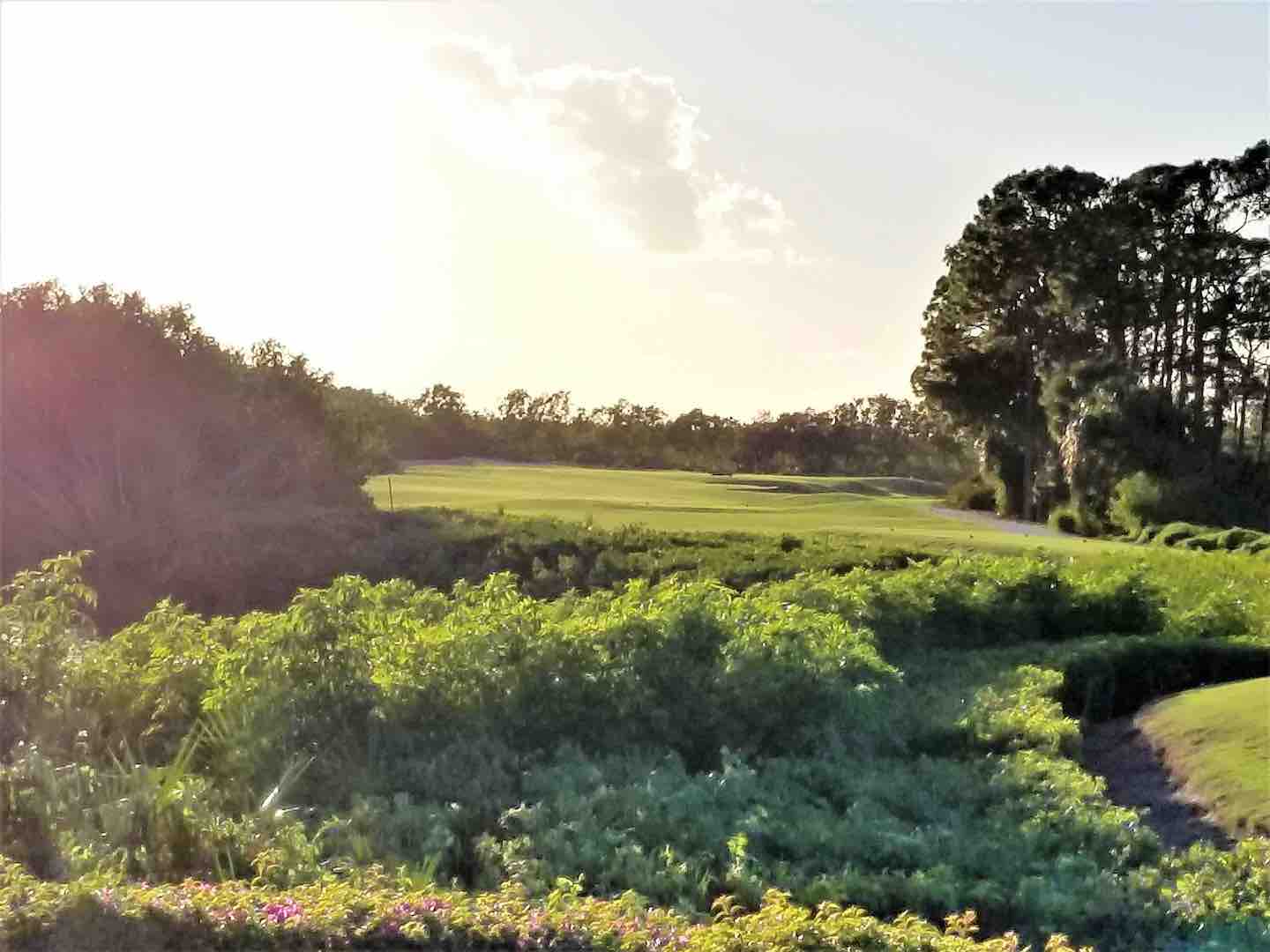 The Hurricane Course at The Nest
From the back tees, the par-72 Hurricane Course plays 6,808 yards, with a course rating of 73.6 and a slope of 139. Most golfers will find that Tee IV at 6,075 yards will give them all the golf they can handle and still leave with a little dignity intact. There are 7 sets of tees available for men, women and juniors. The bottom line is that whether you're a seasoned golf professional or are just picking up a club for the very first time, there's a set of tees that will help you enjoy your round. As your game improves, you can take on more of the course.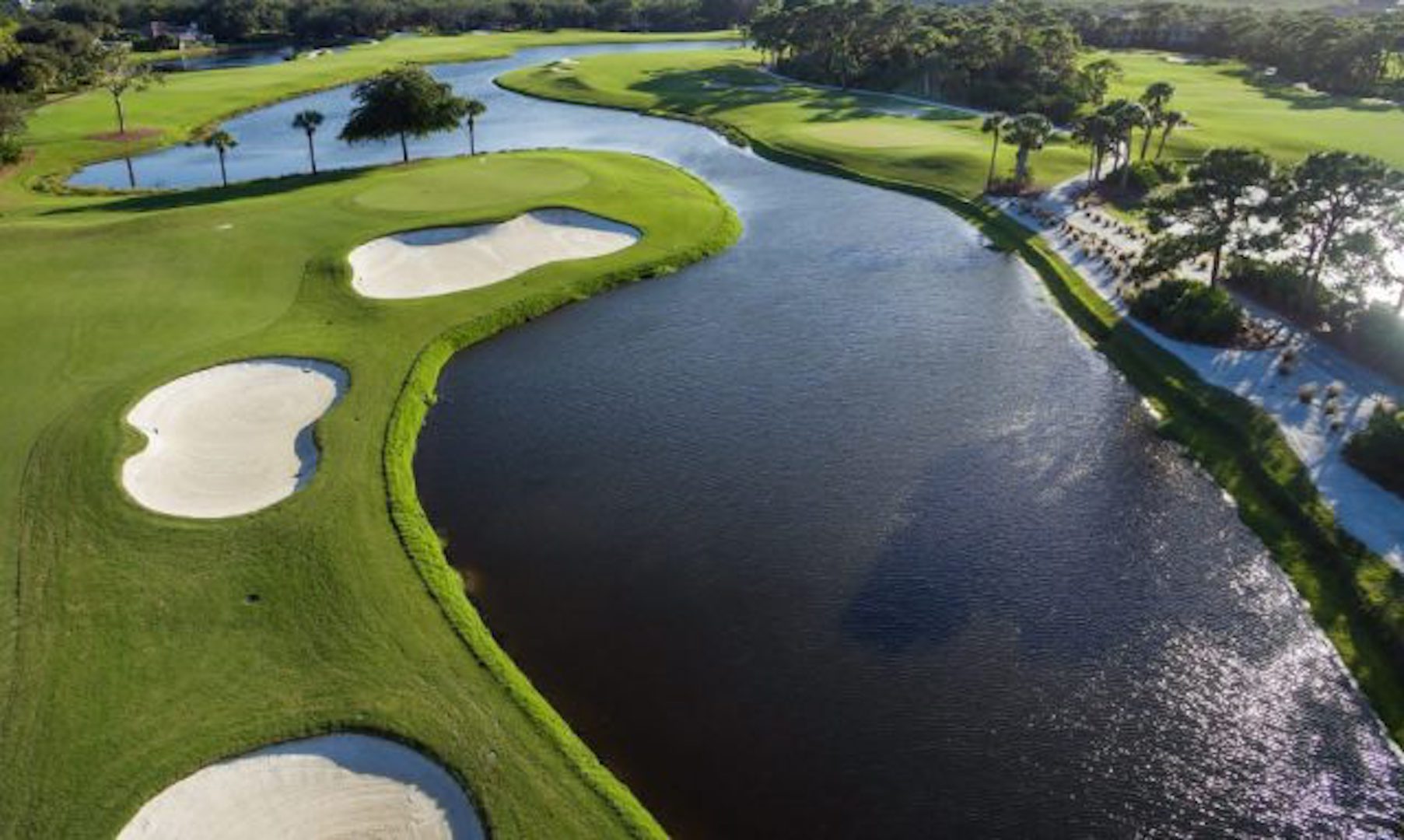 Although the slope rating doesn't reflect it, most members consider The Hurricane Course the more difficult of the two. Hurricane winds its way around Spring Creek and the boundaries on the back nine are dictated by brackish marshes and natural thickets of mangroves along the Gulf estuary. You'll also encounter groves of native Florida oaks and pine trees as you make your way around the layout.
The Hurricane Course features several memorable holes, but nothing more memorable than the last two holes on each side. Number 8 (Temptation) is a par 5 that plays 488 yards from Tee III and offers two ways to play the hole. Option A is the riskier of the two and requires a tee shot down the right side of the fairway, bringing the water into play if you push your shot too far right. A good drive down the right side will give you an opportunity to get home in two. Number 9 (Moonscape) is a lengthy par 4 (408 yards from Tee III) around a lake. This hole was given its name by Gary Player, who said the humps and hollows of the hole reminded him of the surface of the moon.
On the back 9, Number 17 (Spring Creek) is a short Par 4. At a mere 332 yards, the trick here is to keep your tee shot in play. The fairway is guarded by hazards on either side. Consider leaving the driver in the bag and hit something that will find the fairway. This will leave a short chip shot into an open green protected by a lone bunker on the right. A great opportunity to make birdie! Number 18 (Teaser) is a par 5 that plays 498 yards (Tee III) and is one of the best finishing holes of golf in southwest Florida. The hole is a dogleg right around a lake with a narrow landing area. A good drive down the right side will present a good opportunity to go for the green in two. It's about a 220 yard carry over water to a relatively flat green. If you play it as a three-shot hole, be sure to avoid the sand that protects the green on either side. This hole provides a fitting end to a great round of golf.
Also of note is the first hole; after all, how many times do you start your round out with a par 3?
The Nest also boasts some pretty impressive practice facilities including a full length driving range where you can hit every club in the bag; trust me, you'll need them all. There's a short game area complete with practice bunker in a separate area near the 18th green as well as a good size practice putting green. The driving range is conveniently located a short walk from the clubhouse.
After your round, be sure to visit the Thirsty Pelican Lounge & Grill Room or have a drink on the veranda, which offers an expansive view of Spring Creek and the finishing hole on the Gator Course. Either venue will provide a great opportunity to unwind after a round or to visit with friends over cocktails and dinner. The view at sunset is breathtaking.
The Club
These days, a private golf club cannot rest on the laurels of the course alone. The Nest has a very active and engaging membership; some of the most social people I have ever met. It's a family-friendly atmosphere that keeps things lively with a number of events, many centered around golf. There are also themed nights in the restaurant such as Pasta Night every Wednesday, a Seafood Buffet every Friday and Prime Rib Night every other Thursday. The dining is incredible and Chef Cameron Hord and his culinary staff serve up some unique yet tasty dishes such as Wonton Pork Belly Tacos and a French Onion Grilled Cheese sandwich. For dinner try the Seafood Louis salad or the Chicken Mariana. These unique dishes will amaze you.
Although the Nest features 36 holes of spectacular golf, members need more than just a great golf course. The Nest delivers by putting together a very active social calendar for their members full of programs and the events that are unrivaled by any other country club in the area. Each event has a well thought out theme; many are centered around special days such as Valentine's Day, Easter and Mother's Day.
One program that has become very popular among the membership is "Tuesday Talks," a series of presentations designed to capture, engage, educate and entertain. Upcoming topics include media matters, Southwest Florida's natural environment and how to build and sustain a great baseball club, presented by a representative from the Boston Red Sox.
The Tea Time Book Club is also very popular at The Nest and already has a full schedule of events set up through the middle of next year. New members who are avid readers will want to check this out.
This is just a small sample of all that The Nest has to offer its members. Best of all, you don't have to be a resident of Pelican Landing to Join "The Nest." For more information or to plan a visit, contact A. J. Szymanski – Director of Membership Sales at (239) 992-7782 or by email: sales@pelicansnest.org. You can also visit them online at www.nestgolf.com
You might also like:
GolfPunk Magazine Issue 2: Read FREE here!!