Ladies European Tour
Sep 5th, 2021
Stark in charge at Creekhouse Ladies Open
Swede takes a three-shot lead into the final day
Photography: Mark Runnacles/LET
Maja Stark will take a three-shot lead into the final day of the Creekhouse Ladies Open after a third round score of 71 (-1) kept her advantage intact.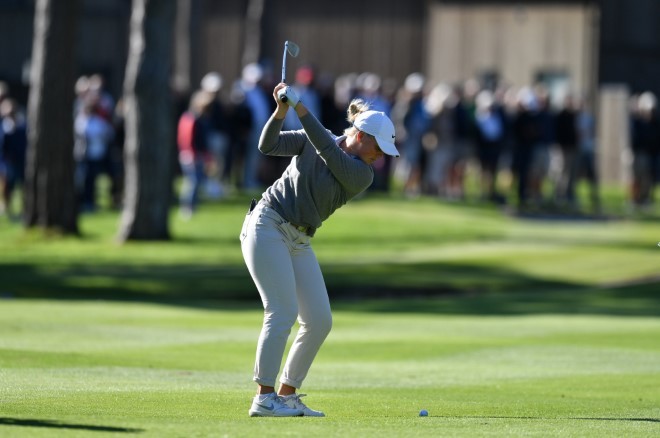 Four birdies and three bogeys during her round was enough for the Swede to lead the way after 54 holes in Åhus and keep the rest of the field at bay heading into the last 18 holes of the tournament. 
Things could have been even better for the 21-year-old - having been five shots ahead of her nearest challenger with three holes remaining - but two bogeys in the final stretch saw her come back towards the chasing pack as the day drew to a close. 
"It was tough out there today," Stark said. "At the end of the round I wanted to hit some solid shots but unfortunately I made a bogey on the last.
"It didn't really surprise me because I've been having trouble with my short wedges the past couple of weeks, but overall I'm happy with the day."
The day got off to a perfect start for the 2017 Ping Junior Solheim Cup player with a birdie on the par-four second, although that was soon negated by a dropped shot on the sixth. 
But back-to-back birdies on the 7th and 8th were enough to see her complete the front nine in 34 shots (-2), before picking up another shot on the 10th to see her go as low as ten-under-par.
And it looked as if the recent PGA Championship By Trelleborgs Kommun winner was going to head back to the clubhouse with double digits next to her name, only for two dropped shots on the 16th and 18th to shorten her lead heading into the final day. 
But despite her disappointing end to her round, Stark is soaking up the occasion as she continues to excel on home soil.
"It feels good to be playing in Sweden with the crowd here. It's good to see all the kids coming out watching and trying to inspire them is what motivates me.
"I feel calm heading into tomorrow, I feel like if I was going to mess up someday it was going to be today because now I know I can keep my lead and I can play even though I'm really stressed and terrified of something going wrong. 
"Seeing as I shot -1 today I feel I can do the same tomorrow or even better, so today gave me a sense of calm."
Race to Costa del Sol leader Atthaya Thitikul is Stark's nearest challenger heading into Sunday's action, with the Thai star ending her round with a birdie on the 18th to finish with a score of 71 (-1) to find herself three shots back with a round to play. 
It was a rollercoaster ride for the 18-year-old at Kristianstad Golf Club, with five birdies and four bogeys seeing her move up and down the leaderboard throughout the day, before ending on a high to edge closer to the top of the standings. 
"I feel really good about my irons today, but I missed some tee shots which made it a challenging day for me today, but I'll take a score of one under.
"I love this course so much, there's loads of trees and the grass is green, but today was challenging with the strong winds." 
Stark's compatriot Linn Grant is also in contention heading into the final day in her homeland, although the 22-year-old struggled with the blustery conditions on the first day of the weekend and had to ultimately settle for a score of 73 (+1) to leave her on -4 overall. 
On a day where only five players shot a score better than par, Grant was far from alone in her troubles around the course on Saturday, with a succession of pars a theme of her round, punctuated by two birdies and three bogeys. 
Nevertheless, the newly turned professional - who finished second in last week's Didriksons Skafto Open - is eager to right the wrongs in her quest to get her hands on the trophy on Sunday. 
"I'm a little frustrated today," she said. "I couldn't really find the shots on the course, but I saved a few pars which I'm grateful for. I feel like I need to head to the range now and find something ahead of tomorrow. 
"I'm going to go out and have a good time tomorrow, I'm going to play my game and hopefully we'll see the birdies roll in. I'm not going to force anything I'm just going to go out and have fun."  
Sitting a further shot back is Lydia Hall and Carmen Alonso, who were a shot over and under par respectively, with the Spaniard recording a score of 71 for the third successive day in Åhus. 
The duo will be primed to pounce on the final day if the opportunity arises, while Alana Uriell will be looking to turn things around after a third round score of 76 (+4) saw her slip down to sixth spot on one-under overall. 
Christine Wolf, Pernilla Lindberg and Felicity Johnson all sit on level par at the three-quarter mark in Sweden to share seventh spot, while Sanna Nuutinen rounds out the top ten one shot into the black.
On a tough day with the blustery conditions on course, Manon De Roey (-2) and Karolin Lampert (-1) caught the eye with solid scoring throughout the day and are locked with Steph Kyriacou and Agathe Sauzon on two-over heading into Sunday. 
---
And another thing...