Ladies European Tour
Oct 16th, 2021
Nelly Korda grabs the lead at Aramco Team Series
As Team Bronte Law hold a narrow lead entering the final day
A scintillating early morning 66 by Nelly Korda gave the world number one a one-shot lead heading into Saturday's final day at the Aramco Team Series – New York.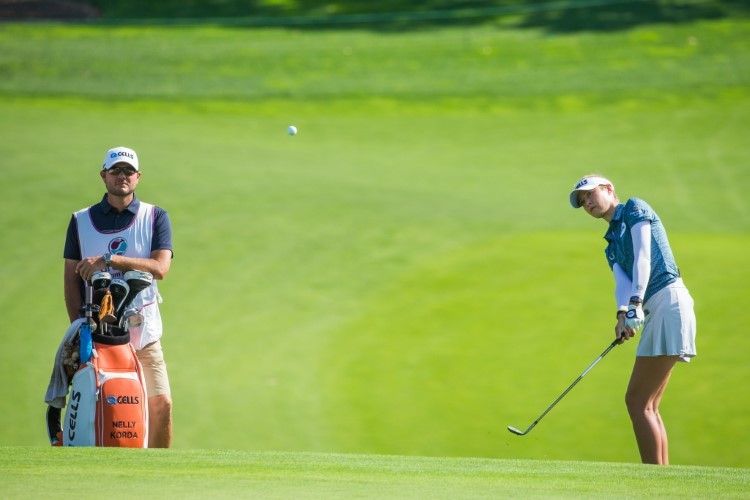 The Olympic gold medalist sits top of the pile in the event's individual scoring category at nine-under-par. Alison Lee – who bagged her first win as a professional in the Aramco Team Series' Spain event in August – is alone in second, with fellow Americans Danielle Kang, Lindsey Weaver and Pia Babnik of Slovenia all one shot further back.
In the tournament's pro-am team format, the British trio of Kelsey MacDonald (SCO), Amy Boulden (WAL), and captain Bronte Law (ENG) – playing with Jordan Ziegler, president at Glen Oaks Club, this week's host course – followed Thursday's opening fifteen-under total by going one better to lead on thirty-one-under with one round left to play.
Speaking after her round, Korda said: "I holed out on number four and that gave me a lot of confidence and I made a couple of birdies from there on in. I made a mistake hitting driver on 18 and had a bad lie, then I tried to be smart and couldn't get out of the rough. I hit some solid wedge shots which I stuck close and had short birdie putts. Tomorrow I'll go with the flow, stick to my game plan and see how it goes."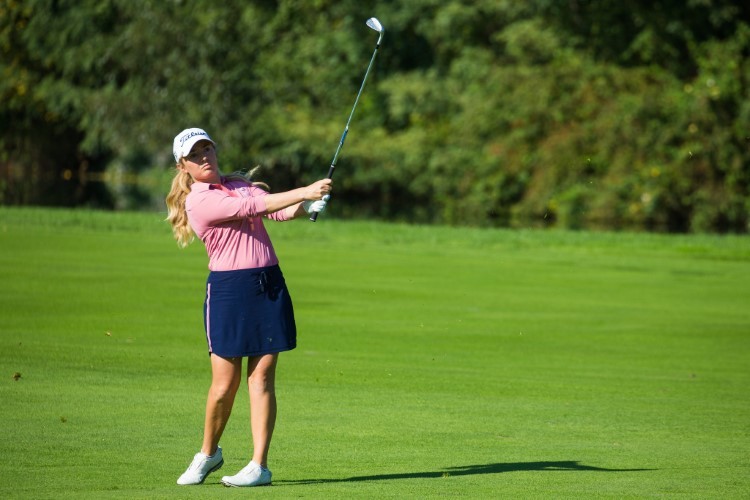 She continued: "I like the event. It's easygoing as you're not just playing for yourself. It's new but I enjoy it a lot. You get to bond with the girls you play with, which I enjoy a lot. The tension is a little lighter out there in a sense with the team format I guess – if you make a mistake, it doesn't matter so much. It loosens you up and is fun."
Asked what the key was to a second consecutive low-scoring performance in the ATS – NY's team format, where the lion's share of the tournament's $1million prize-fund goes, Bronte Law responded: "Kelsey MacDonald! We know exactly the shot of the day as well: her putt on 16 – I've never seen a putt like it in my life. She played awesome today. As a team, we also gelled really well again today. When one of us wasn't birdieing a hole, the other one was. We played really well and maybe we can go one better tomorrow."
Advancing on MacDonald's heroic birdie putt – which the Scot herself admitted would have finished 10ft past had it not found the hole – team-mate Amy Boulden explained: "It was at the back of the green, downhill, and so fast it's almost impossible just to keep the ball on the green from there. Bronte and I were behind the pin watching it and just knew it was going in! It was incredible."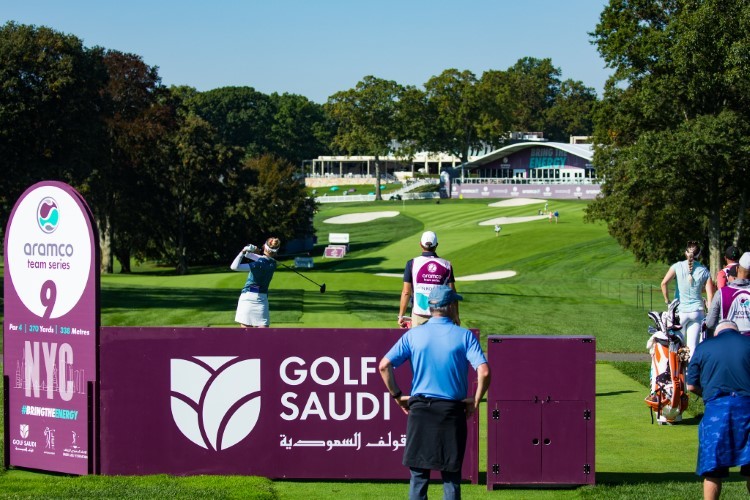 Team Pace – Lee-Anne Pace (RSA), Christine Wolf (AUS), Karoline Lund (NOR) and amateur Michael Muenchow – sit one shot off the lead on thirty-under, with Day One leaders Team Strom – Linnea Strom (SWE), Jenny Haglund (SWE), Lucie Malchirand (FRA), amateur Cho Minn Thant – and Team Jessica Korda – the US world number nineteen, Karolin Lampert (GER), Lina Boqvist (SWE), and amateur Alexandra O'Laughlin – both on twenty-nine.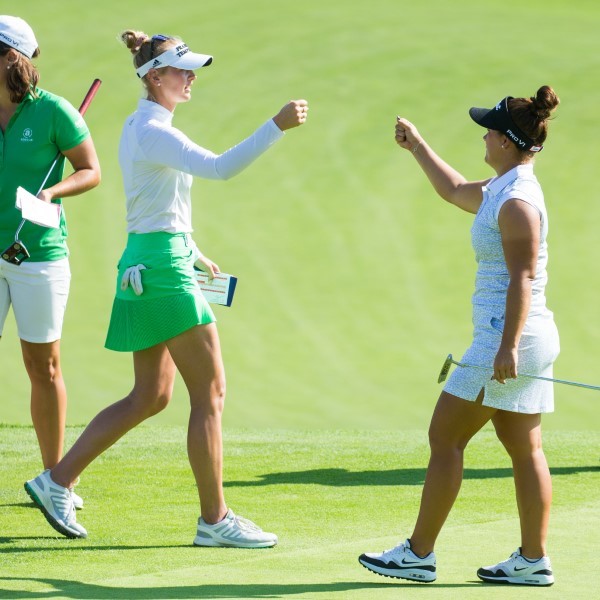 Jess Korda said: "Today was very much a team scramble. Early on we birdied the first four or five holes, with someone making a birdie on every other hole. Then we had a lot of clutch pars. It was a complete team effort. We have a good time together out there so tomorrow we'll just try and keep it loose and see what happens."
The Aramco Team Series – New York finishes Saturday at Glen Oaks Club, Long Island. Tickets are free, with fans simply having to register at
www.aramcoteamseries.com
to attend.
---
And another thing...