Ladies European Tour
Jul 4th, 2022
Maja Stark wins Amundi German Masters
Swede seals fourth title on the Ladies European Tour by one stroke
Photography: Tristan Jones/LET
Sweden's Maja Stark sealed a fourth title on the Ladies European Tour (LET) winning the Amundi German Masters by one stroke.
After beginning the final round in second place, the 22-year-old didn't get off to the best of starts at Golf & Country Club Seddiner See with a bogey on the first.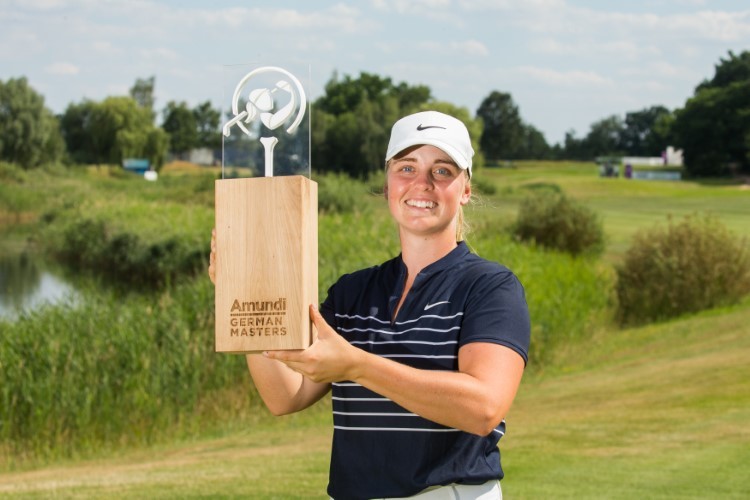 But Stark soon made up for it with birdies on the 2nd and 8th, before dropping another shot on the 9th to make the turn in even-par.
It was down the final stretch where the Swede impressed sinking a birdie on the 17th before leaving her second shot on the 18th just millimetres short for a tap-in birdie to triumph with a total of fifteen-under-par.
"I was so nervous on 18 because I thought I had no chance of winning it after I messed up on 16 and I thought what am I doing? I won't have anything to do with this and then I finally made a putt on 17," said Stark.
"I could barely feel my hands on the 18th tee box, but I thought just go and I had a good drive and there was nothing to lose really. It has been a frustrating round for sure, I don't think I've ever hit a putt like this and I'm happy it's over."
Stark carded rounds of 68 (-4), 68 (-4) and 67 (-5) on the first three days to put herself in contention and had local caddie Leon alongside her for the final round.
She added: "My caddie was really good! He is 15 years old. He has a 0.6 handicap, he is from here and he was perfect. He did nothing wrong all day, I'm super impressed."
Germany's Leonie Harm and Sweden's Jessica Karlsson finished in a tie for second place one shot behind the winner on fourteen-under-par.
Karlsson, who had led from the front, had a great start to her final day rolling in birdies on the first, fourth and eighth holes to put herself in pole position.
Bogeys on the 10th and 12th brought the Swede back to the pack, but she extended her lead with a birdie on the 13th before two bogeys in her final two holes meant she finished in second place – her best-ever result on the LET.
While Harm finished as the leading German carding a bogey-free final round of 68 (-4) to equal her best-ever result on Tour.
"Maja is a fantastic player, so when she is on it, I guess we all just have to watch and learn," said Harm. "I'm proud of my own round too because in the warm-up that wasn't quite guaranteed. I wasn't hitting great shots warming up and I spoke to my caddie and said today is going to be a grind.
"Then suddenly, I was sticking them close and making very few mistakes into the greens which meant I kept my scorecard pretty clean, and I could take advantage of the chances I had.
"I was just trying to play my personal best shot for shot and enjoy the moment of playing well in front of German crowds which was really cool. It's great that we get inspired by our home crowds supporting us and that's great for women's golf."
Four players finished in a share of fourth place on thirteen-under-par with German duo Polly Mack – whole holed her second shot on the 18th – and Olivia Cowan alongside Sweden's Linn Grant and Scotland's Laura Beveridge.
Two-time LET winner Esther Henseleit ended the tournament in T8 on twelve-under-par with Morocco's Ines Laklalech, after the duo produced rounds of 67 and 68 respectively, and Czechia's Klara Spilkova rounded out the top 10 on nine-under-par.
In the 2022 Race to Costa del Sol, Stark has overtaken compatriot and friend Grant and leads the standings once again with 2,252.50 points.
Grant is second with 2,105.64 and Sweden's Johanna Gustavsson completes the top three with 1,755.33 points while the rest of the top 10 stays the same as before. Harm now sits in 12th place with 774.44 points while Karlsson has moved up to 41st, the full standings can be found here.
---
And another thing...