Ladies European Tour
Jun 4th, 2021
Dimmock leads the Jabra Ladies Open
Defending champion leads field by one at Evian Resort Golf Club
Photography: Tristan Jones/LET
Annabel Dimmock started her title defence in fine style shooting a 67 on the opening day of the Jabra Ladies Open at Evian Resort Golf Club.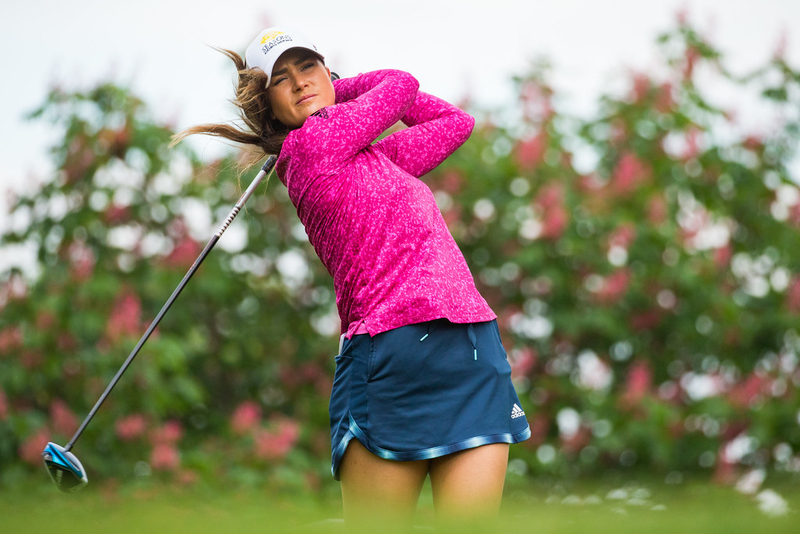 The defending champion, who has her dad on the bag this week, sits at the top of the leaderboard with a one-shot lead over Germany's Olivia Cowan.
The 24-year-old was out on the course early and picked up where she left off in 2019 making five birdies and only dropping one shot to leave her four-under-par after the first day.
"It was weird, I didn't really have any expectations today. Last week I wasn't hitting it great, and I didn't have great form, but I feel that's almost helped me to go out there and have fun," said Dimmock, who turned professional in 2015.
"I think it channelled good vibes from before, remembering some of the shots and it turned me around and gave me a bit of a boost knowing I won here last time I was at this tournament. I'm happy with my day."
Sitting in second on the leaderboard is Cowan, who finished 20th on last season's Race to Costa del Sol, with the 25-year-old carding a 68 including five birdies and two bogeys.
A group of five players are tied for third – two shots adrift of the leader – including France's Lucie Malchirand, who won the 2021 Ladies Italian Open.
The 18-year-old became a member of the Ladies European Tour (LET) and turned professional on the eve of the Jabra Ladies Open.
In her first start as a professional, Malchirand carded a round of 69 including three birdies and one bogey and is excited for the future ahead.
"It's amazing, I'm so excited and it's my first event as a professional! I'm a little bit less stressed and I'm more calm. I really know the course here and I like it, it's amazing to play here," Malchirand said.
"I looked at the LET schedule and thought it would be really fun and I'm so excited to travel and get to know new competitions and new people. It's the first round so we'll see but it would be amazing to win, and I want to do it. I will try to do my best and I'll do the same things as usual."
Malchirand is joined by fellow two-time LET tournament winners France's Anne-Lise Caudal and Scotland's Kylie Henry, Thailand's Atthaya Thitikul – who is the LET's youngest ever winner – and Slovenia's Pia Babnik, who is the youngest member of the LET.
Six players are tied eigth after carding 70 (-1) on the opening day including Brazil's Luiza Altmann, Australia's Whitney Hillier, Morocco's Maha Haddioui, France's Camille Chevalier, Finland's Krista Bakker and Spain's Laura Gomez Ruiz.
---
And another thing...