Ladies European Tour
May 26th, 2022
De Roey on home soil for Mithra Belgian Ladies Open
In form Belgian looking forward to teeing it up at Naxhelet Golf Club
Photography: Tristan Jones/LET
Manon De Roey is riding the wave of her first LET win and looking forward to teeing it up in her home country at the Mithra Belgian Ladies Open. It was less than two weeks ago when the Belgian clinched her first LET title winning the Individual crown at the Aramco Team Series – Bangkok.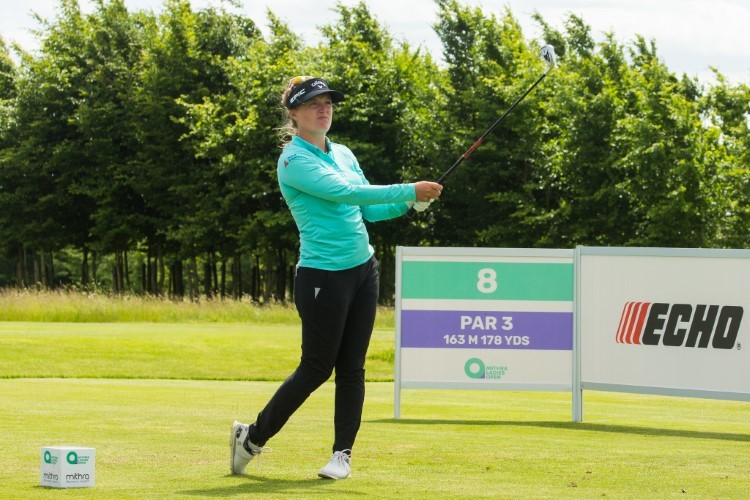 And after following her victory up with a T7 finish at the Jabra Ladies Open, De Roey is revelling the chance to play in her home country.
"It is great that we have a tournament in Belgium again! I have played here a couple of times on the LET Access Series, but it is great to have an LET event in Belgium," said the 30-year-old.
"It is quite far from my house this course, but I'm still having the home feeling and I hope a lot of people come out to watch.
"I waited a long time for my win. A lot of people have said to me 'finally!', but it is not that easy to win. I'm very happy with it and I have a lot of confidence coming into this week.
"Last week at Jabra the course is tough so I'm glad I conquered it. I haven't really had time to celebrate yet because we're on the road with the Tour, but next week I have a week off so I will probably do something then."
Naxhelet Golf Club is the venue for the Mithra Belgian Ladies Open, a GEO certified course that focuses on sustainability.
And the Belgian believes the course is in great condition and ready for the 54-hole stroke play tournament.
"A few weeks ago, I came here to play with my coach. The conditions were slightly different, but right now the course is in incredible condition and the greens are really nice," she continued. "I'm looking forward to this week.
"Here they have a lot of local products, and they have their own bees and beehives to make honey. I think it's great and it is a great opportunity for the LET to be here on an eco-responsible course and to grow the tournament for the future."
Despite being at home De Roey, who is third in the 2022 Race to Costa del Sol, is not putting any pressure on herself to add another victory and she is just hoping to enjoy the week ahead.
Especially knowing the support she will get from the home fans and the fact she has her boyfriend on the bag.
"I'm not going to put too much pressure on myself, I'm going to take it as a normal tournament week on the LET," she explained.
"I know a lot of people will come and watch and expect me to play well, but I'm just going to focus on my own game. I hope I play well and finish high enough, but I'm just going to play my own game.
"My boyfriend is caddying this week and I'm very happy. He doesn't get to see me play that often because he has his own company, but it is nice that he can caddy for me this week and just to have all the support from the Belgians is really nice."
De Roey will tee off in round one from the 10th alongside England's Laura Davies and Belgian amateur Savannah De Bock, who was part of the winning European PING Junior Solheim Cup team last year.
"I'm playing with a very talented Belgian the next two days – Savannah – she has high standards for herself. I'm excited to play with her because I have never seen her play and we also have the same coach," she added.
"I have played with Laura a couple of times; she is so nice and a legend. The ball striking that she does is incredible and I'm very happy to play the next two days with her."
Plenty of winners from the 2022 season who will be teeing it up with Lee-Anne Pace (Investec SA Women's Open), Maja Stark (Women's NSW Open), Meghan MacLaren (Australian Women's Classic – Bonville), Linn Grant (Joburg Ladies Open) and Manon De Roey (Aramco Team Series – Bangkok).
While three of the top four in the 2022 Race to Costa del Sol are in the field with Sweden's Stark, who leads the standings, Belgium's De Roey, and Argentina's Magdalena Simmermacher battling it out to add more points to their tally.
The first round begins at 8.30am local time on Friday 27th May at Naxhelet Golf Club.
---
And another thing...