Ladies European Tour
Aug 20th, 2020
Davies delighted to be at Royal Troon
Historic 40th appearance at the AIG Women's Open
Words: GolfPunk Photography: R&A
Dame Laura Davies is relishing the opportunity to strike the opening tee shot at Royal Troon and mark her historic 40th appearance at the AIG Women's Open.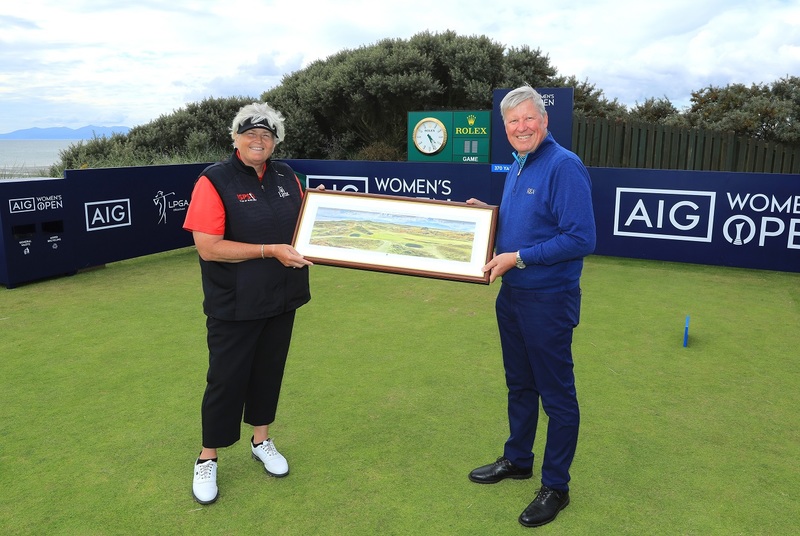 Ahead of starting proceedings at 6.30am this morning, Davies was presented with an official painting of the famous 'Postage Stamp' 8th hole by The R&A's Chief Executive Martin Slumbers to celebrate the occasion and her longevity.
Davies began her run in the event as a 16-year-old amateur in 1980 at Wentworth, quickly going on to win the Women's Open in 1986 at Royal Birkdale in only her second year on tour.
Now the Englishwoman will follow Colin Montgomerie, who struck the first ball at Royal Troon's staging of The Open in 2016. 
The 56-year-old, who teed off in the company of Northern Ireland amateur Olivia Mehaffey and Canada's Alena Sharp, said, "It's a great honour. Martin mentioned that Monty had done it at The Open and I didn't hesitate to say 'yes'. I'm just delighted to have enjoyed longevity in my career.
"I'll be nervous on the tee, not just in the circumstances but also with the predicted strong wind, so it's going to be tough. I'm looking forward to it and I hope I hit a good one.
"It's an early start, but I'm hoping we can get out there and maybe have a decent start. The condition of the course is about as good as I reckon you could have a links golf course."
Martin Slumbers added, "I think it's a great honour for Laura, she is the finest female golfer of her generation. Forty times playing in this event is a tremendous achievement and I wouldn't put it past her to be hanging around there on Sunday.
"We've done this at The Open for the last few years, started it here with Colin. I think the first tee shot of the championship is something to really celebrate and I couldn't think of a better person to hit that tee shot tomorrow morning." 
For Stacy Lewis, it is also a special week. Having won last week's Aberdeen Standard Investments Ladies Scottish Open at The Renaissance, she is now feeding off her memories of 2013 Women's Open success at St Andrews in 2013.
The American said, "It's just a championship I love. I love the history of the game, all the history of all these golf courses. You think about how long they have all been here and how long the game of golf has been played here; it's just really cool.
"Links golf is a different type of golf, and you really have to learn it. It does take a couple of times of coming over here and playing to really understand."
Commenting on how significant it is to be playing this week, the 35-year-old added, "It's important for women's golf that we are playing, and just so thankful that the Scottish government allowed us to come over and The R&A for hosting our championship. I think it shows their commitment that they are making to women's golf for the future."
---
And another thing...