Ladies European Tour
Sep 18th, 2021
Boutier leads the way in Bordeaux
Solheim Cup star looking strong heading into the final round
Photography: Tristan Jones/LET
Celine Boutier holds a one-shot lead heading into the final day of the Lacoste Ladies Open de France after a second round score of 66 (-5) was enough to put her into the ascendancy at Golf Club de Medoc.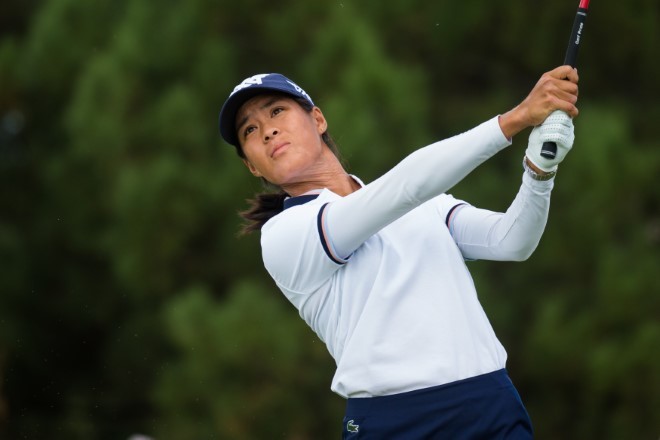 The two-time Solheim Cup winner looked full of confidence around the fairways and greens in Bordeaux on Friday, with seven birdies in her round enough to take her to -8 overall heading into Saturday's action. 
Three birdies in her first four holes of the day set the 2018 Australian Ladies Classic champion on her way on day two, as she kept her name around the top of the leaderboard for the rest of her round. 
After heading out in 33 (-3), Boutier picked up the pace with three more birdies in five holes following the turn putting her at nine-under overall, only for a bogey on the last draw her back towards the chasing with 18 holes left to play. 
"It's tough to finish like that but I've got to take the positives out of today - I played much better than yesterday throughout the round so that's always a positive," Boutier said. 
"I gave myself much closer birdie opportunities compared to yesterday, and it wasn't windy at all today so it was much easier to make committed decisions and hit the right shots. 
Boutier's score of eight-under leaves her one shot clear of a trio of players ahead of Saturday's action, with Kylie Henry, Magdalena Simmermacher and Virginia Elena Carta all locked on seven-under after 36 holes. 
But the eyes of the locals were firmly on home favourite Boutier on Friday, with the 27-year-old keen to soak up the energy of her keen following throughout the week. 
"I wasn't expecting this many people to come out and support me, it's always nice to have a crowd to play in front of," she continued.  
"It would be unbelievable to win here this week, this tournament has always been so special to me because it's my home country, but I've got to try and keep that out my mind tomorrow - there's still a lot of holes to play so nothing is done yet." 
It was Simmermacher who had set the early pace on day two in Bordeaux, with the Argentinian posting an early score of 67 (-4) to move her to -7 overall, and lay down a marker for the afternoon groups heading out. 
The recent Olympian had birdies on her first and fifth hole of the day - with a bogey sandwiched in-between on the third - as she took her time to get going around the greens. 
And it looked to be a similar story on the back nine with birdies on the fourth and sixth counteracted by a bogey on seven, only for a brilliant eagle putt on the ninth seeing her finish her round in the perfect fashion and rocket her into the clubhouse lead. 
Simmermacher - who finished second in this event last year - said: "I think I had a good day, it was great to make the long putt to finish with an eagle, but there were a lot of ups and downs in the round.
"I was struggling a bit with my driver but when I got it on the fairway I was making birdies so it was a good round. I enjoy this course, it reminds me of home a little bit so I feel comfortable. 
"I feel like I'm playing my best golf of the season, I finished second in Skafto and shot nine-under last week so I'm just trying to go as low as possible and try to get my first win."
Alongside Simmermacher sits Kylie Henry, after the Scot fired in one of the rounds of the day with a scintillating 65 (-6), with seven birdies and a single bogey to her name. 
The 35-year-old - whose last victory on Tour came at the 2014 German Ladies Open - started her day in the best possible manner by picking up a shot on the first, before four birdies in five holes around the turn saw her momentum start to build. 
It could have easily unravelled for the Glaswegian after playing into the hazard on the 14th where she dropped her only shot of the day, but she kept her cool to recover with two birdies in the next two holes to leave her a shot off the lead with a round to play. 
"It was a really solid day of golf, I'm really happy with my game," Henry said. "I know the course well and enjoy coming back to play here, it suits a longer hitter and the greens are perfect as well so that's always enjoyable. 
"It's a nice bonus to birdie the first, but the more satisfying are the ones toward the end of the round. It was nice to bounce back after bogeying the 14th, I'm really happy to finish so well when you have such a momentum-buster like that. 
"I'm delighted with where I'm at, I haven't had the best past six weeks but I'm delighted to be playing well this week - I really feel like my game is coming back together again." 
Carta finds herself one shot off the lead for the second successive day after a second round score of 68 (-3), with the Italian continuing to impress in her first year as a professional. 
The 24-year-old was four-under after just five holes on Friday, with birdies on the 11th and 13th, before making her second eagle in as many days on the par-five 14th. 
Bogeys on the 16th and the eighth looked to have derailed her challenge somewhat, but another birdie on her final hole of the day left her looking ahead to the final day in France. 
"It was a good day overall but I struggled a bit with my irons on the back nine - I had to play from the lake on eight and didn't give myself too many birdie chances," Carta said.  
"It was great to get another eagle as well, I'm full of positive vibes right now, I'm happy to be here and happy that my game is going well. 
"It's amazing to be so close heading into the last day, I'm playing well at the moment and I hope it's going to be a good day tomorrow."
Elsewhere, overnight leader Anais Meyssonier is tied for fifth spot with Lydia Hall, with the Frenchwoman shooting 70 (-1) to take her to six-under for the tournament, while her group partner for Saturday shot 66 (-5) with just a single bogey to her name throughout the day. 
The trio of Leticia Ras-Anderica, Maja Stark and Olivia Cowan sit in a tie for seventh on five-under, while Karoline Lund rounds off the top ten on four-under after a level-par round on Friday. 
Jessica Karlsson also caught the eye on Friday after equalling Henry's round of 65 (-6) for the day, with the Swede now sitting in a five-way tie for 11th spot on three-under, alongside Gabriella Cowley, Tvesa Malik, Madelene Stavnar and Pauline Roussin Bouchard. 
TAGS: Ladies European Tour, Lacoste Ladies Open De France, Celine Boutier, 2021
---
And another thing...