Ladies European Tour
Sep 8th, 2021
Boulden returning to scene of her triumphs
Welshwoman is delighted to be playing in Switzerland
Photography: Mark Runnacles/LET
Returning to the scene of victory is always a special moment and Amy Boulden is excited to be back in familiar surroundings at the VP Bank Swiss Ladies Open.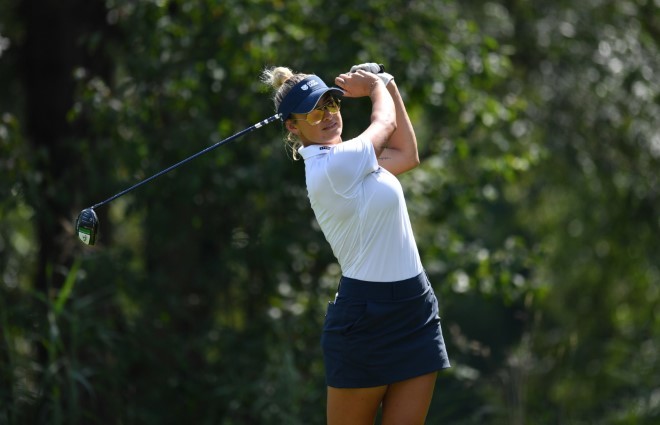 The Welshwoman produced rounds of 70, 65 and 64 to secure a three-shot victory at the 2020 edition of the tournament at Golfpark Holzhäusern. 
Boulden especially enjoys Switzerland as it was also where she clinched a title on the LET Access Series at the 2014 LETAS ASGI Swiss Ladies Open. 
"Switzerland is just my favourite country in the world, I've got really good memories here after my LETAS victory in 2014 and my LET win last year," said the 2014 LET Rookie of the Year. "As soon as I turned up here in 2020, I felt comfortable and happy here on the golf course, so it was a great week from start to finish. 
"It's a nice feeling to be back, I've been struggling a little bit over the last couple of months with my game, and I'm starting to feel a lot better about my game, and it's come at the right time playing this week as I feel comfortable and confident around this golf course."
The LET winner will begin the defence of her title at 8.00 am local time with Marianne Skarpnord and Stephanie Kyriacou alongside her. 
Despite a rocky start to the season, Boulden has begun to see results improve on the course and believes her game is trending in the right direction. 
The 28-year-old hopes being in a place that she knows well and where she has succeeded before will spur her onto another good finish this week. 
She added: "I'm looking forward to enjoying the week and reliving the memories from last year. It was an amazing feeling, I had my close friends on Tour supporting me through the last nine holes.
"It's all about getting my confidence back up now, I feel my game is trending in the right direction, and I'm starting to see some really good signs, so hopefully I can bring that this week."
Swiss star Kim Metraux finished in third place at last season's tournament and is looking forward to a week back in her homeland. 
Having family and friends being able to watch her was an experience the 26-year-old will cherish forever and she can't wait to get going this week. 
"It was definitely one of my favourite weeks of the year last year, being able to compete at home and have fans coming to watch and see some familiar faces as well, so it's a great feeling to be back here," said Metraux. 
"It was a dream week for me and hopefully I can get it going again this year, so there's definitely lots of good memories coming back to this place, I really enjoy playing this course and it's in great condition."
Over the summer, Metraux achieved a dream when she became an Olympian and represented Switzerland at the Tokyo 2020 Games at Kasumigaseki Country Club.
And performing well this week would be another highlight for the Swiss player, but she is making sure she isn't putting any pressure on herself. 
Metraux added: "It was a great experience representing my country and playing on that amazing course, it was in incredible condition and the greens were perfect, it was the best course I've ever played on.  
"It would be massive to win this week, finishing third last year was incredible, so I can't imagine how good winning would be. But I don't want to put too much pressure on myself and just enjoy the week."  
Another star returning to the VP Bank Swiss Ladies Open with hopes of replicating last year's results is Australia's Kyriacou. 
The 2020 LET Rookie of the Year finished second behind Boulden in last year's competition and enjoys the course at Golfpark Holzhäusern. 
After ending the Creekhouse Ladies Open in T14, her ninth top-20 finish of the 2021 season, Kyriacou is looking forward to the week ahead. 
"I didn't have the week I wanted to last week, but it wasn't my worst result. I love this course though and I love Switzerland, there's something about the course that really suits my eye," said the Australian, who sits second in the 2021 Race to Costa del Sol. 
"I feel like I didn't really hit bad shots last week I think it was just a difficult course, but I think I'm hitting the ball well and I still have confidence heading into this week, so it's not really a big issue in my game right now."
---
And another thing...