Golf Bedlam
Nov 2nd, 2016
Tiger Woods to return at Hero?
Or he is still on the 'missing' list?
Words: Tim Southwell Photography: Getty Images
So it's official. Again. Tiger has confirmed when he's coming back. Again.
Last time he threatened a return was the Safeway a month or so ago. Until, that is, Tiger said his game 'wasn't there'.
Just where he's left it remains a mystery. He looked under his bed. He looked down the bottom of the garden. He asked around the neighbourhood if anyone had seen a 14-time major winner wandering about. He put posters up on lamp posts: But still he couldn't find it.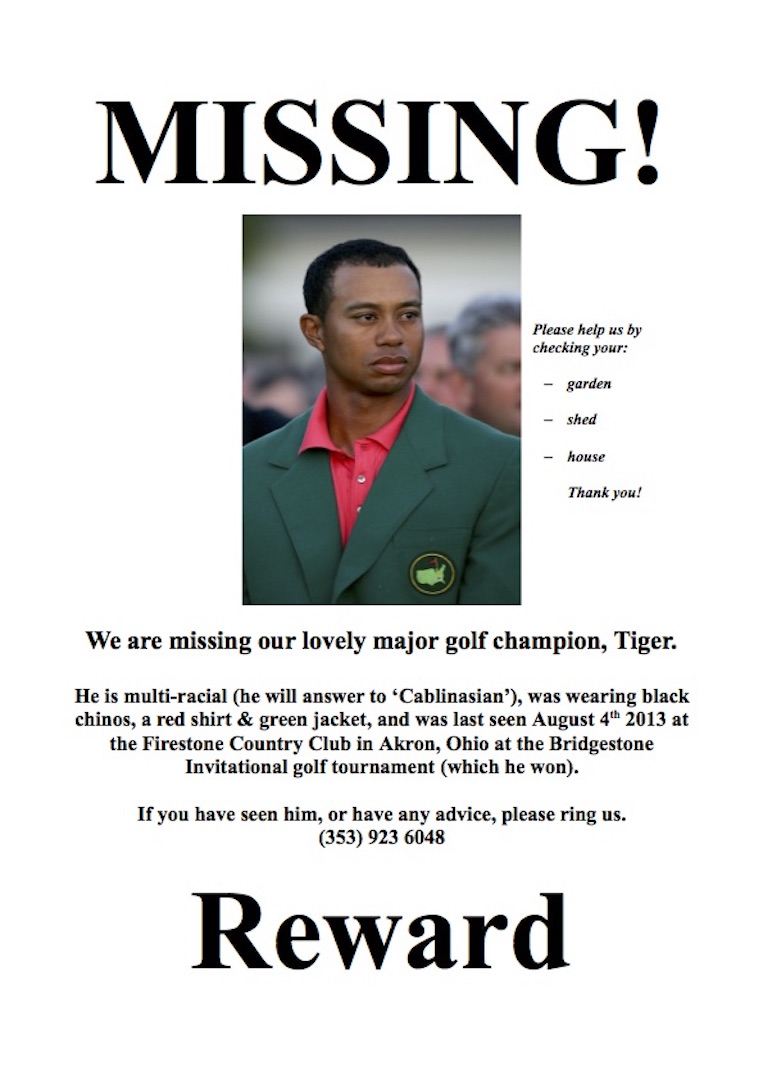 It seems as though Tiger's leaflet campaign has paid off. No one has actually seen Tiger's game as such, but we are reliably informed that the little bundle of joy was reunited with its ecstatic owner some time last week. The family have asked for privacy at this stage while everyone gets to know each other again.
Anyway, in all seriousness this is great news as Tiger has confirmed he will end his 16-month absence from competitive golf next month at his own Hero World Challenge in the Bahamas.
Tiger, 40, has been missing from the course since undergoing a pair of back operations last September, cancelling several planned comebacks.
The 14-time major winner now intends to take part in the event he hosts and has won on five occasions, telling www.pgatour.com: "I am excited to make my return at the Hero World Challenge at Albany and play in this terrific tournament."
Woods, who will line up in a strong 18-man field including defending champion Bubba Watson, continued: "I am excited to make my return at the Hero World Challenge at Albany and play in this terrific tournament. This is our 18th year, and every year we put together a top field that showcases the best golfers from the previous season.
Woods has not competed since last August, in the Wyndham Championship, a month after which he underwent a microdiscectomy. A second clear-up procedure followed in October and a planned return to action in "early 2016" was soon revised.
He later shelved those plans, declaring himself physically healthy but suffering from a game that was "vulnerable and not where it needs to be".
Other notable appearing at Hero World Challenge, include three of this year's major winners Dustin Johnson, Henrik Stenson and Jimmy Walker, as well as world number five Jordan Spieth.
As for Tiger's elusive 'mis-firing glutes', the search goes on...
Related:
The Tiger Of Wall Street: TGR takes on New York