Golf Bedlam
Nov 26th, 2015
Pro shoots 92 at Australian Open
Not the worst score recorded by pro though...
Words: Daniel Owen
I've just come back from a top secret launch in Dubai. Playing with different clubs, on jet lag, in the desert, I had an absolute dog of a round. But I'd have fancied my chances of beating 92 if I'd added it up. Poor Weiyu Zhu didn't at the Australian Open
Starting with a triple bogey 7 and finishing with a quadruple bogey 8, the 26 year old from China had one of those days. Managing only four pars and a birdie, Zhu was 21 over par for the day around The Australian Golf Club. 
Now it's a bad day at the office, but it's not the worst score ever recorded by a pro. In 1974 Mike Reasor shot consecutive rounds of 123 and 114 at the Tallahassee Open. Reasor had made the cut, but then decided he needed to chill out a little, and went for a horse ride. However the horse got spooked and crashed him into a tree. Torn rib cartilege, damaged knee ligaments, separated left shoulder. These weren't small injuries but he decided to play on, as anyone who played all four rounds at the Tallahassee got an exemption into the Byron Nelson Classic.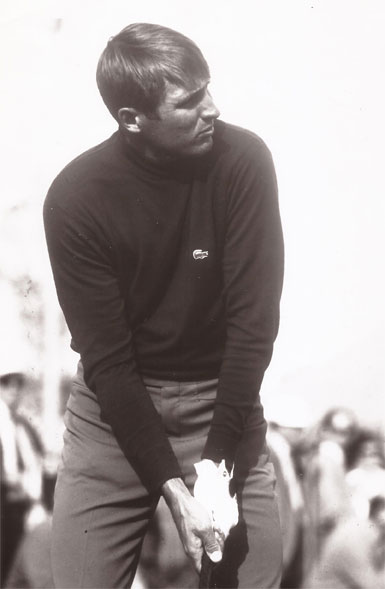 He played the third and fourth round swinging with just his right arm, keeping his left arm immobile by tucking his left hand into the belt of his trousers.
At the time Reasor had this to say. 
"You should have seen them laughing on the first tee. I stepped up with a 5-iron and barely got it to the ladies tees.
"I think the fact that I made it around that course is commendable. I almost didn't make it going up the hill on 16. I was woozy there. I've got all kinds of medications in me".
In fact he only used a 5 iron all the way around. For all the effort he went through to play the Byron Nelson, his injuries were too bad, and he didn't play for over a month. We reckon if Zhu had only used a 5 iron, he'd have probably broken 90.
TAGS: Mike Reasor, Weiyu Zhu, Australian Open, Byron Nelson, Golf Bedlam, 2015