Golf Bedlam
Jan 23rd, 2017
Golf In The Movies: Tony Soprano
Bada Bing! Bada Boom! Tony wields a club in The Sopranos
Words: Tim Southwell
Bada Bing! Bada Boom!
Tony wields a club in episode seven, series three, of The Sopranos...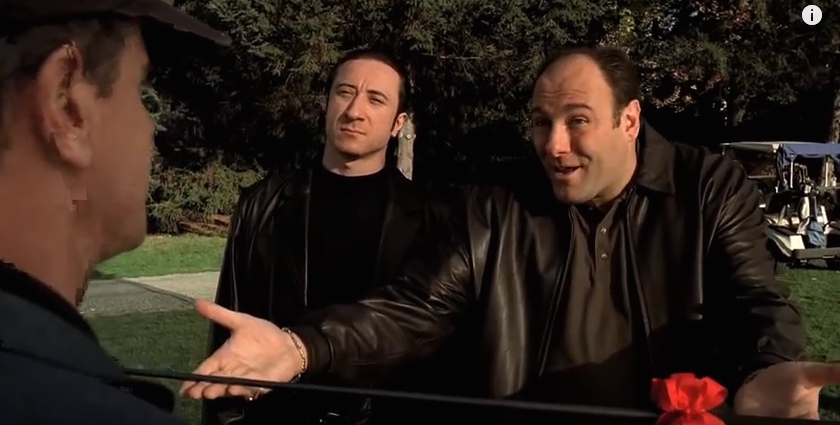 Tony's uncle Junior is battling cancer. His surgeon, Dr Kennedy, recently successfully removed a malignant portion of his stomach. However, after going into remission, the cancer recurs and Kennedy advises further surgery. Tony urges Junior to get a second opinion, which he reluctantly does.
When Kennedy finds out about this he decides not to continue treating Junior and stops taking his phone calls. Junior tells Tony he can't get hold of Dr Kennedy anymore. Tony – needless to say – is less than pleased. He catches up with Kennedy on the golf course.
The Scene:
On a beautiful private parkland course, Dr Kennedy is preparing to play his approach shot from the side of a water hazard. He shouts to his playing partners who stand a little way up the fairway.

Kennedy: Watch and learn Phil, watch And learn...
As he lines the shot up Tony and Furio come crashing through the undergrowth in a golf cart. Tony is carrying a driver with a red bow tied around it. They screech up to Kennedy, stopping right in front of his ball.
Kennedy: What are you doing?
Tony: Hey Doc! It's me, Tony? Corrado Soprano's nephew?
They get out of the cart. Furio stands menacingly behind Tony.
Kennedy: Do you belong to this club?
Tony: (Pleasantly) Me? Ah, no no no. I came here to see you.
Kennedy: Well if it's about your uncle, you'll have to call my office.
Tony: Well, you might need a new secretary. I don't think you're getting all your messages.
Kennedy looks them up and down uneasily, but Tony's tone is still cheerful as he produces the gift- wrapped driver.
Tony: Oh... for you.
He holds it towards Kennedy, who looks at it but doesn't move to take it.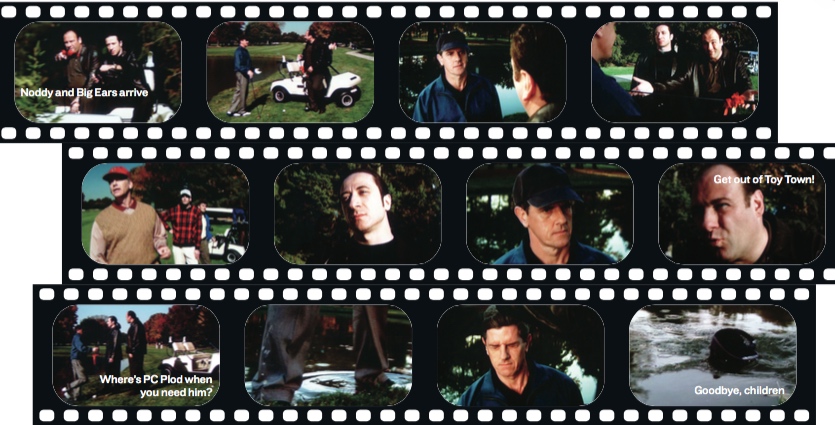 Tony: Titanium. I use one. Added ten yards to my drives.
Kennedy: Thanks. But I really can't Accept it.
Tony: For everything you've done for my uncle...
Kennedy nods but stands his ground. He won't take the club.
Tony: (Still cheerful) Anyway, what am I going to do with it? I already got one and Mr Williams here...
He indicates Furio, who is staring right at Kennedy .... he don't play. Right?
Furio: Stoopid fucking game!
Tony: What am I going to do with it?
He offers the club again.
From up the fairway Kennedy's playing partners, concerned, take a few steps towards them.
Partner: What is it Jack?
Tony: He'll just be a minute.
Kennedy waves his friends back. Tony thrusts the driver at him again, more aggressively this time. Kennedy forces a laugh.
Kennedy: Well, I could use a little extra distance...
Tony: Who couldn't?
Kennedy takes the club.
Tony: You know my uncle? He's having a bad reaction to that chemo...
Tony and Furio step closer to Kennedy, forcing him back and right onto the edge of the water hazard.
Kennedy: That... that happens all the time. There's nothing I can really do.
Furio: You know, there are worse things that can happen to a person than cancer...
Tony: My uncle thinks he's going to die. He's convinced of it. Now you know how old people are with their superstitions. He thinks it's because he went against you.
Tony and Furio advance further towards him. Kennedy steps back and into the water. He looks scared, and resigned, now.
Kennedy: I'm just a surgeon. That's all.
Furio: You got a bee on your hat...
He smacks Kennedy's golf hat off of his head and into the water.
Tony: Show that man the respect he deserves. Answer his phone calls.
Kennedy looks down. He takes out a little dictaphone.
Kennedy: (Into dictaphone) Cheryl, make sure Mr Soprano is scheduled for Tues...
Tony knocks it out of his hand and into the water.
Tony: Just remember it.
Tony and Furio get in the golf cart and drive off leaving Kennedy standing there ankle-deep in water.
Or you could just watch it here:
https://www.youtube.com/watch?v=jQsSQtgnndw