Golf Bedlam
Feb 13th, 2018
Goat caddies are back in Oregon!!
Just don't look them in the eye...
Words: GolfPunk
Goats. Is there anything they can't do? Not only do they look totally cool with their "What you lookin' at?!' stare. Not only can they climb trees if it takes their fancy (see below), but now they have turned their hooves to caddying.
https://www.youtube.com/watch?v=gEaAmUDEiGo
7 Holes and a goat anyone? That's what's on offer at Silvies Valley Ranch in Seneca, on its new 7-hole course. Goats will take care of your golf clubs, tees, balls and even an ice cold beer.
The new McVeigh's Gauntlet golf course, which is set to open in July, knows a good Bovidae opportunity when it sees one, but animal rights officials have warned golfers they could end up on the wrong end of a caddy backlash if they're not careful.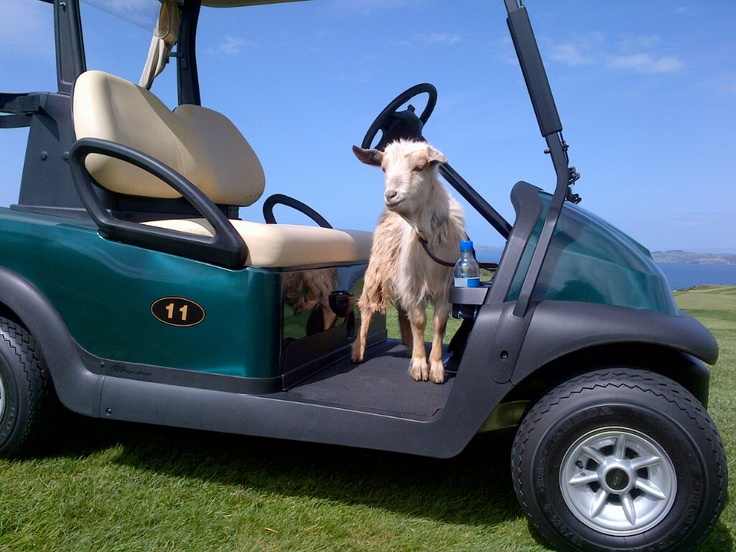 "Goats have minds of their own and activities they enjoy: They aren't machines," PETA President Ingrid Newkirk said to BBC News in a statement.
"They should be left alone and given the freedom to do things like graze and butt heads - so if this plan goes forward, we anticipate a few golfers with bruises."
Goats are notoriously good green readers apparently, especially on  Poa annua grass (Kentucky bluegrass, according to goats, is 'more a sheep or a ram caddy kind of thing'). They're also good at predicting what mid-round snack a golfer will be requiring: Peanuts. No matter what you put in your bag pre-round, when you finally come to grabbing your snack there will only be peanuts. Goats like peanuts.
Which reminds me of a rather amusing caddying tale from the 1997 Spanish open. Seve, a notorious caddy-baiter and abuser, asked his caddy at the time Martin Gray for 'something to wat' out of the bag.Gray duly obliged and handed Seve an orange which Seve took one bite out of and threw it away claiming it was "too bitter". When Gray offered him a banana Seve complained that it was "too brown". In a last-ditch attempt to placate his boss, Gray tried an apple but that before the apple was also rejected. Gray retorted with the classic line: "What am I – a caddie or a greengrocer?"
Anyway, back to the goats. Colby Marshall, VP Livestock and Guest Services at Silvies Valley Ranch said they thought it would be a "wonderful idea" to offer goat caddies.
"Goats are very social animals, they are very fun and it is going to add a whole lot of fun into the game of golf, it is going to be a wonderful experience," he said.
But remember to tip in peanuts, he added. See? Told you they like peanuts.
Did you know there are over 300 distinct breeds of goat. No need to thank me.
Completely unrelated:
Nike unveils new Jordan III golf shoe