Golf Bedlam
Jan 21st, 2020
Encouraging signs on slow play
Even Bryson got a jig on
Words: GolfPunk Photography: Getty Images
Encouraging signs from the first event with the European Tour's new regime on slow play. The toughened up four-point plan did not result in any penalties but the general consensus was that the pace of play was better. Even Bryson DeChambeau seemed to have responded positively – might the penny be finally dropping?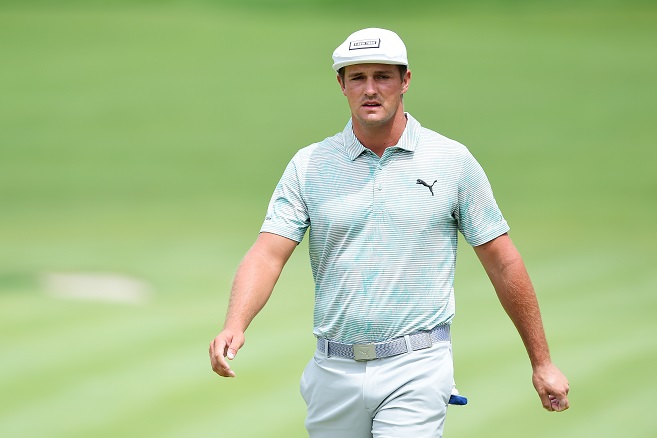 To recap, the Tour's four-point plan came into play in Abu Dhabi with the key elements being
> Players will be now be given an immediate one-shot penalty for two 'bad times' in a tournament rather than for two 'bad times' within a round.
> A reduction in the time allowance for 'in-position players' to play shots
Although helped by a slightly smaller field the players were still round quicker than the prior year with the average round taking four and a half hours.
"So far, so good," the tour's senior referee Andy McFee told The Scotsman. "The first round was actually 10 minutes quicker this year than it was last year and the second round was about six minutes quicker, so both rounds were quicker."
McFee reported that three players had been given a bad time during the event. Viktor Hovland, who is not long out of the amateur ranks, received one for taking 59 seconds to hit a putt, apparently, he took an age to line it up.  The other two went to Ahmed Skaik for taking 109 seconds over a shot, and Erik Van Rooyen for being out of position during the final round.
Bryson Dechambeau had welcomed the changes ahead of the event and Billy Foster, Matt Fitzpatrick's caddie who was in the American's group was impressed. "Credit where credit is due" he said after noticing a marked difference in Dechambeau pace of play.
The test for the European Tour now is to keep it going as they move to fields of 156 players. It is key that the focus remains on the subject but Thomas Bjorn believes that this is the start of genuine progress.
"It's been amazing, but these are the things we need. It seems like the players have said to themselves, 'Well, this is it.' Our referees have been proactive. They have spoken to the players about it and it seems everything is running nicely on the course. This is the way forward. It's been brilliant."
Let's hope the tour keeps the pressure up and doesn't let the players slide back into bad habits.
And another thing...