Fashion
Dec 12th, 2017
PUMA Golf launch women's 2018 Spring Summer Collection
With new shape-flattering PWRSHAPETM technologies
Words: GolfPunk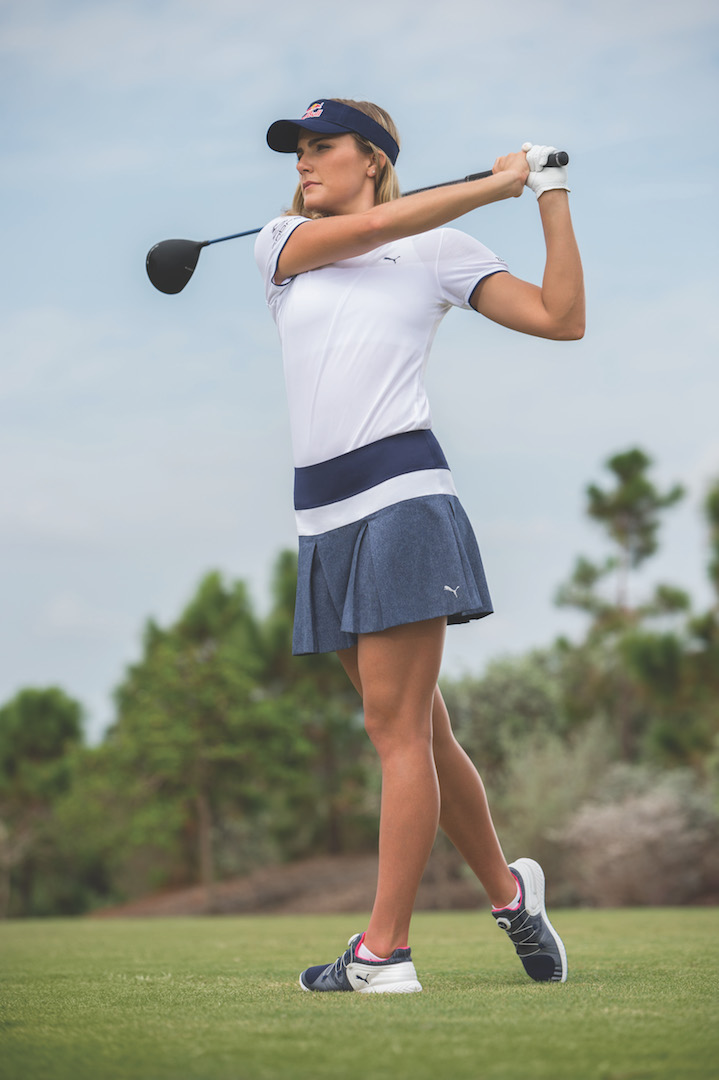 PUMA Golf introduces its new Women's Spring Summer 2018 apparel collection, characterised by stunning patterns, on-trend styles and new shape-flattering, PWRSHAPETM technologies.
"When designing our women's collection for Spring Summer, we paid close attention to the needs of women of all shapes and sizes. Our collection, especially our new women's bottoms, are designed specifically to help women feel stylish, confident and comfortable so they can go out and dominate on the course," said Kristin Hinze, Global Head Apparel, PUMA Golf. "Our PWRSHAPE waistband construction provides incredible support without compromising comfort or freedom of movement."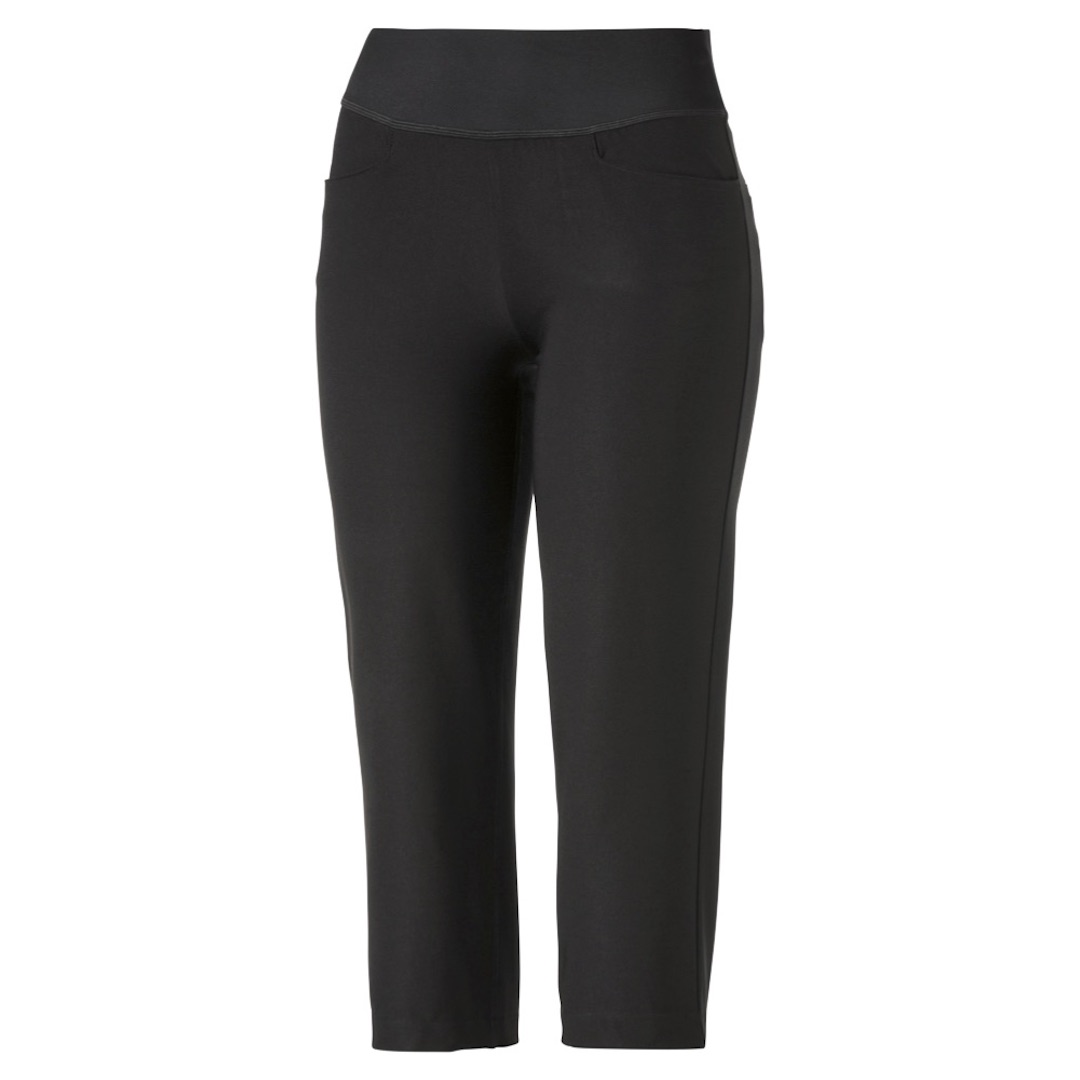 PUMA Golf's new PWRSHAPETM Technology is engineered to provide a smooth, slimming effect the ultimate support. Four-way stretch fabric is soft, breathable, and provides unrestricted range of motion, while the bonded waistband and flatlock seam construction deliver maximum comfort.
PWRSHAPE is available in 4 skirts and 2 pant styles in PUMA Golf's Spring-Summer 2018 collection. Each of the 4 skirts utilises a tall bonded waistband that is high-stretch, comfortable and provides extra coverage through the mid-section. In addition, each skirt features a form-shaping inner short with silicone tape to prevent riding-up during the golf swing. The PWRSHAPE Solid Knit Skirt, constructed of 92% polyester/8% spandex blend, providing incredible moisture-wicking performance, is available in solid Nebulas Blue, Purple Rose, Aquarius, Black, Bright White and Peacoat color stories.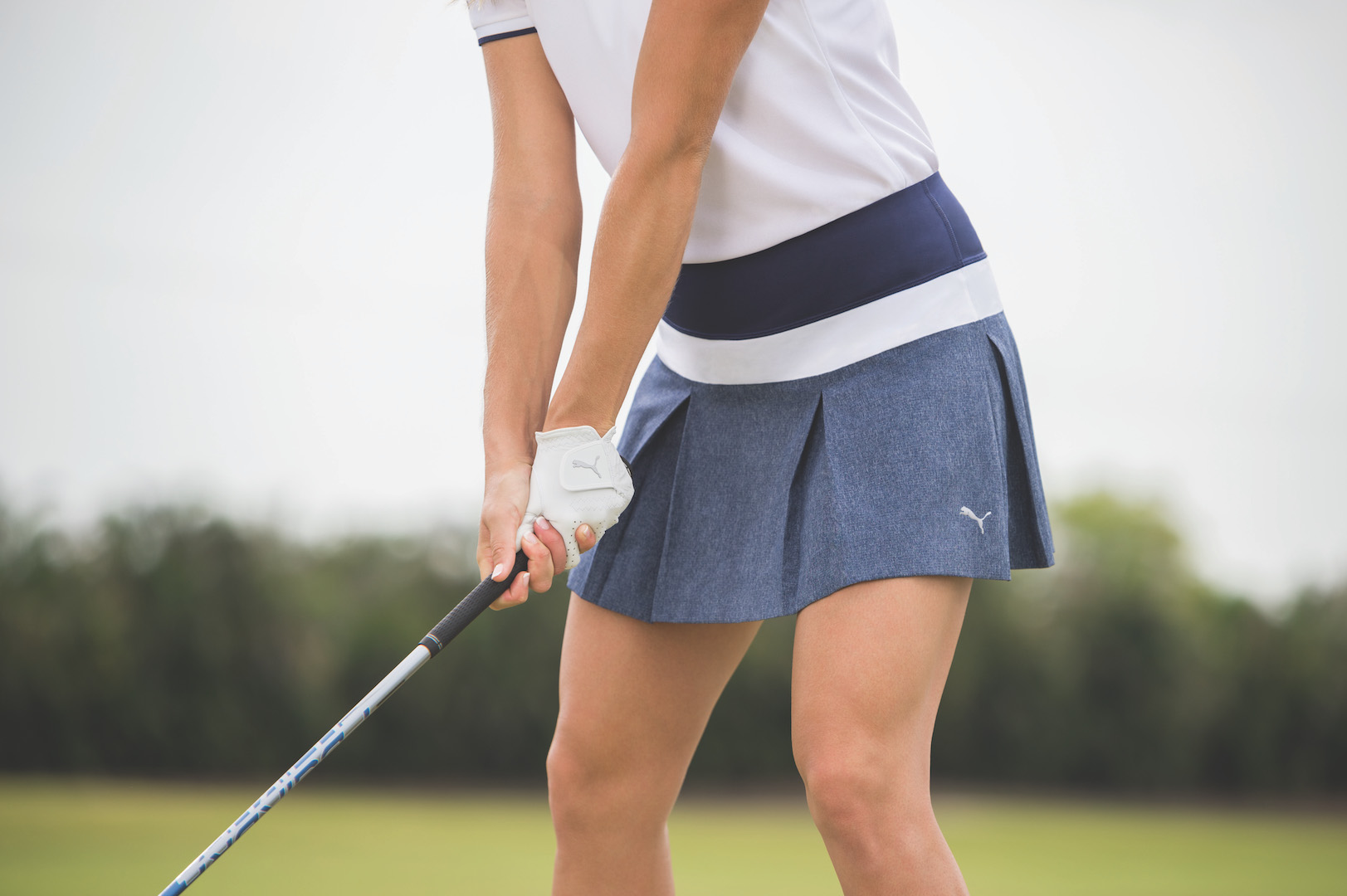 The PWRSHAPE Polka Dot Knit Skirt utilises the same construction as its sister style, and is available in a striking Bright Plasma and Nebulas Blue micro-dot pattern. Providing an added style element, the PWRSHAPE Sport Knit Skirt delivers the same great functionality in three striking color variations - Peacoat Plaid, Purple Rose Plaid and Aquarius Plaid. Rounding out the collection of PWRSHAPE skirts is the fashion-forward PWRSHAPE Pleated Skirt. This stylish piece - guaranteed to turn heads on the fairways and in the grille-room - is constructed from 100% polyester and is available in Peacoat and Nebulous Blue colorways.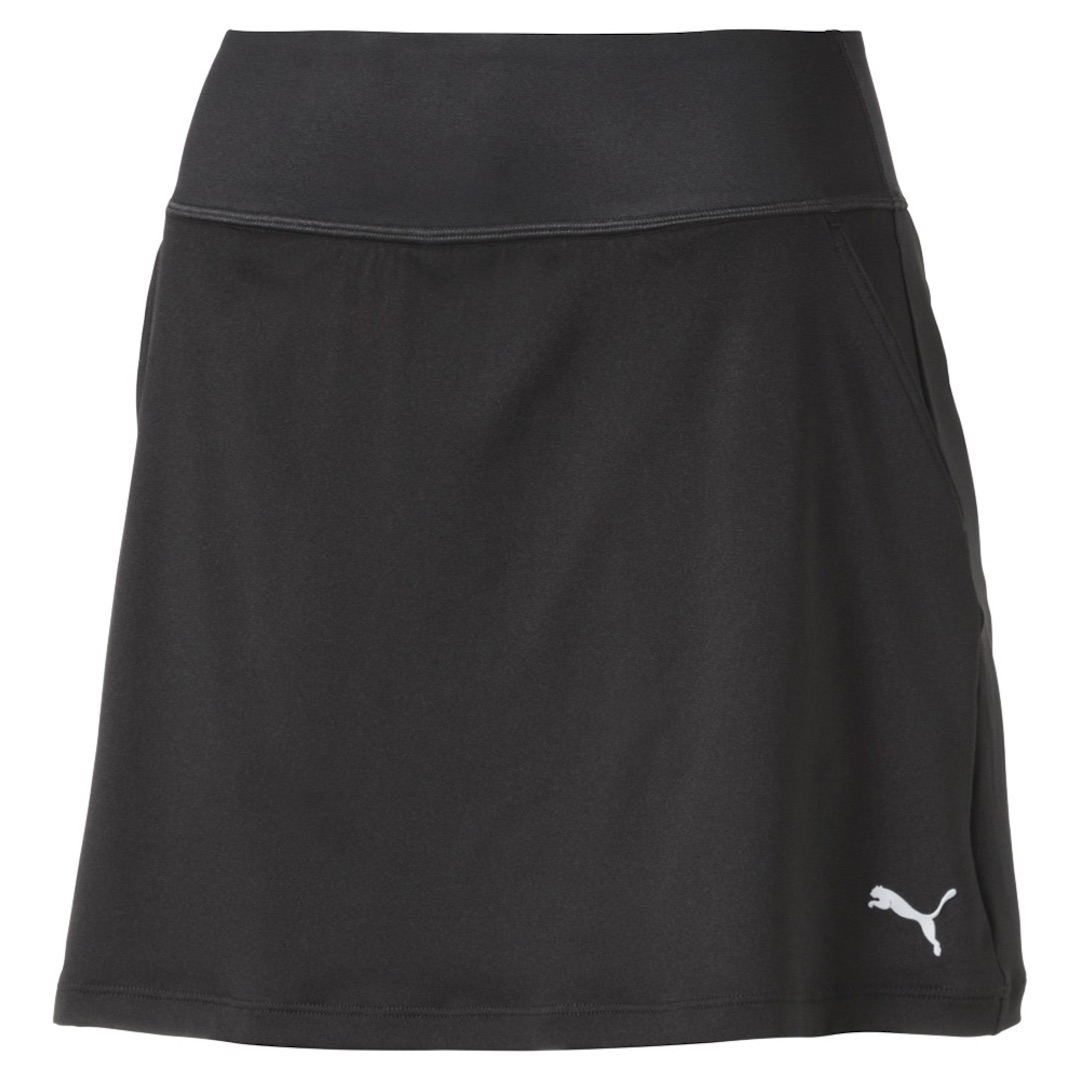 In addition to PUMA's Golf's chic SS18 skirts, the company is offering its new shape-slimming, performance technology in both its PWRSHAPE Pull on Pant and PWRSHAPE Capri styles, as well. The PWRSHAPE pant options are constructed from 90% polyester/10% spandex blends and utilise the same bonded stretch waistband found in the skirts. Both of PUMA Golf's SS18 PWRSHAPE pant styles are available in Bright White, Peacoat, Black and Quarry hues.
In Spring-Summer 2018 tops, PUMA Golf designers utilise patterns to provide fashionable complements to the more traditional solid and stripe looks that have been readily available for ladies on the course. The two main graphic stories in the collection are floral and polka dot with eye-catching offerings in both. In terms of floral offerings, PUMA is introducing both large-scale floral and micro-floral design garments. The new Bloom Polo, for example, features a bolder large-scale, full body floral design in Bright Plasma, Nebulas Blue and Peacoat color options, whereas, the new Micro Floral Polo is more subdued with a stylish all-over micro-floral pattern available in Nebulas Blue and Purple Rose shades.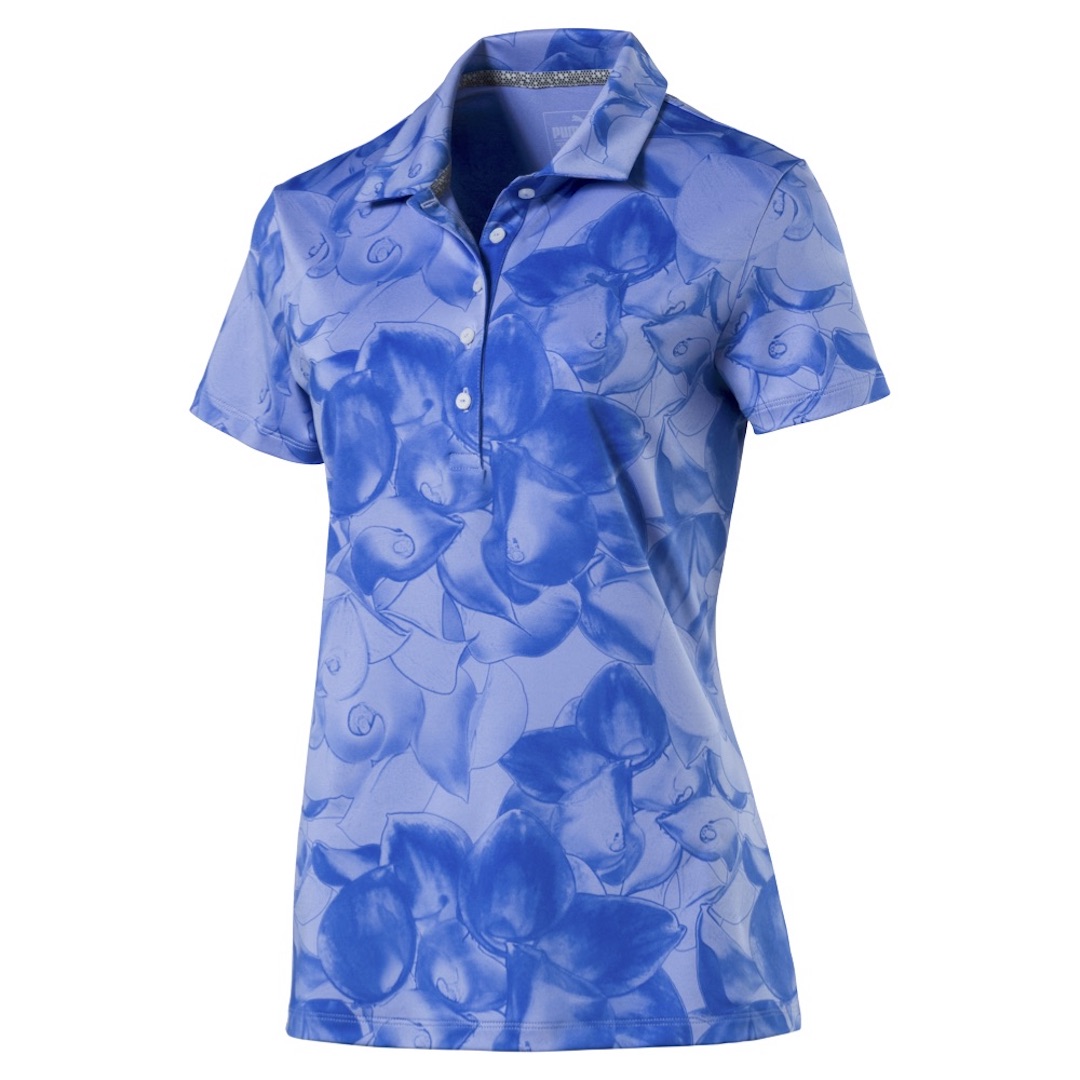 The Polka Dot Polo utilises a playful, micro-dot all-over pattern and is available in Bright Plasma, Nebulas Blue and Aquarius. In addition, PUMA Golf has brought polka dots to two layering pieces that are ideally-suited for fighting the early season chill. Both its PWRWARM Reversible Vest and Women's Golf Hoodie utilise polka dot patterns as well. The PWRWARM Reversible Vest is 100% polyester and features a water-resistant, pfc-free shell in a Peacoat/Nebulas Blue reversible colorway. The Women's Golf Hoodie is constructed of an 89% polyester/11% elastane blend with a moisture-wicking finish and comes in either a Bright White or Peacoat hue.
Allowing ladies to take their look from the links to a casual night out without missing a style beat, PUMA Golf has introduced its Golf Dress for SS18. The Golf Dress is a 100% polyester pique construction and provides a moisture-wicking finish for incredible performance and practicality while on course, while the nautical-inspired design accented by faux suede pockets makes the piece perfectly at home off the course as well. The PUMA Golf SS18 Golf Dress is available in Bright White/Peacoat and Solid Peacoat color options.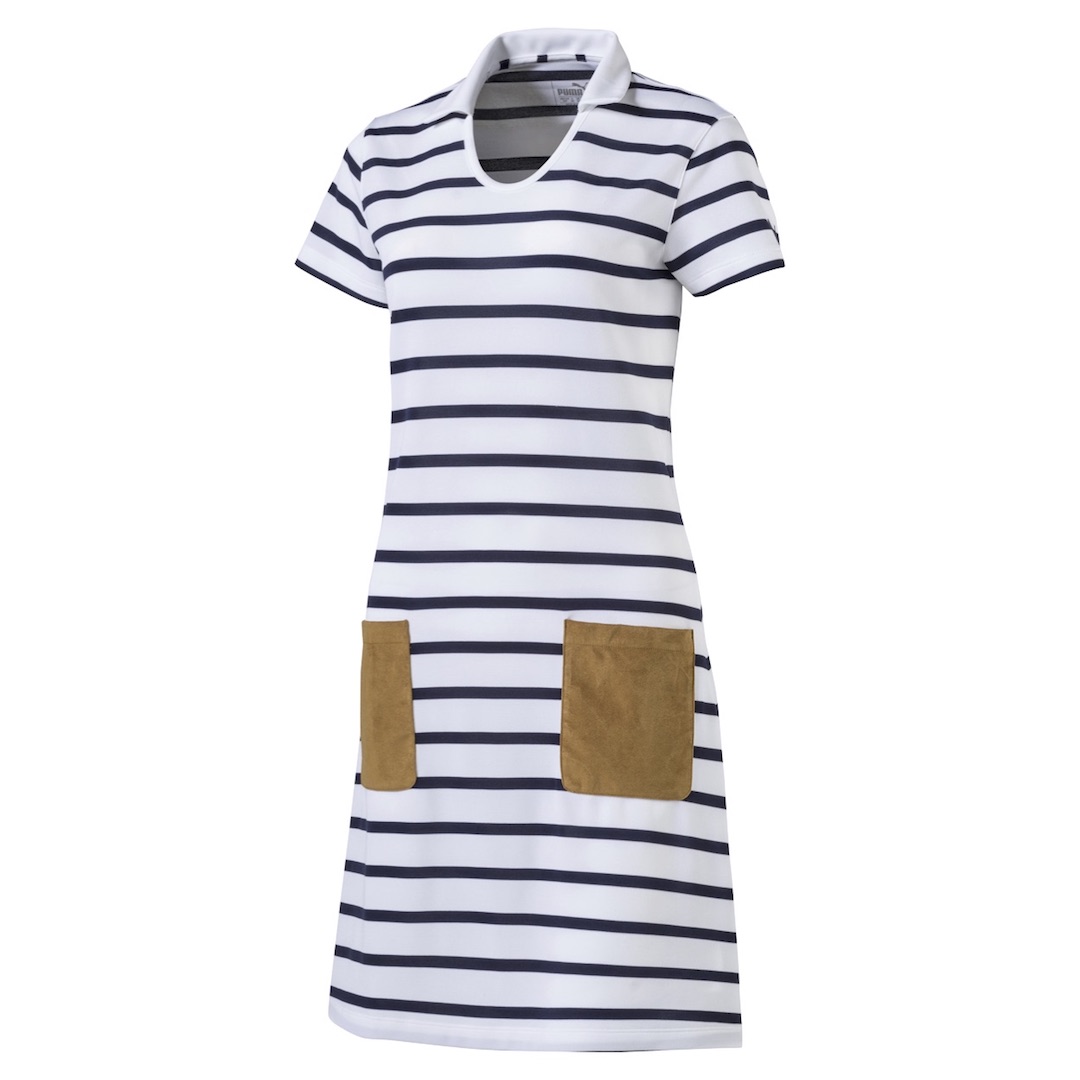 Look for PUMA Golf staffers Lexi Thompson & Carly Booth rocking footwear, apparel and accessories from the Spring Summer '18 collection, on Tour through the first half of 2018. The Collection is available now at http://www.cobragolf.co.uk/pumagolf/collections/SS18 and at select retailers.
Related:
PUMA Golf unveil Spring Summer 2018 Footwear Collection