European Tour
Sep 5th, 2021
Levet wins Legends Open de France
Emotional second Legends Tour victory for the Frenchman on home soil
Photography: Getty Images
Thomas Levet thrilled the home crowd as he secured an emotional second Legends Tour victory at the Legends Open de France hosted by Jean van de Velde.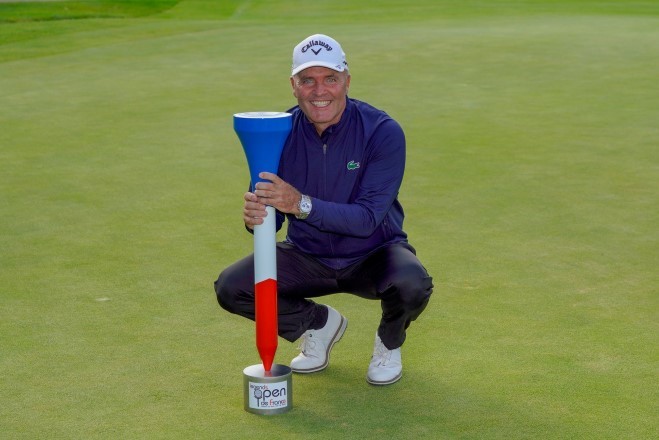 The six-time European Tour winner carded a three-under-par final round of 68 to move to thirteen-under-par, three shots clear of Canadian David Morland IV, who finished in second place at Golf de Saint-Cloud.
The 52-year-old believes his triumph was written in the stars after the recent passing of his coach, and Levet paid tribute to the man that has played such an important part in his illustrious golfing career.
"I think everything was written this week," he said. "My coach died last Sunday and it's my birthday tomorrow, so this is all for him. It's a nice gesture for him because he has always looked after me, he was my coach for 40 years and I think it's a good way to remember him and a gift for the family. I'm thrilled to win here, I've now done the double in the French Open and the French Senior Open, not too many people have done that. I'm really happy about it."
The Frenchman demonstrated an exhibition of consistency to play all three rounds under par on home soil, admitting that he relishes the pressure that comes with leading on the final day of a professional tournament.
"I'm not somebody that struggles with pressure," he said. "I have always tried to do my best, whatever the conditions and whenever I play against somebody I try to produce the best result and that's why under pressure I normally do well.
"When you're playing well, pressure is very easy to handle because you know the shots will come out the way you want and I've never lost a tournament when I have been leading on the final day and that's something I'm very proud of in my career."
Levet fed off the electric home atmosphere in Paris and was overjoyed to seal victory in front of the eyes of some old friends.
"It was a lot of fun having the home crowd behind me," he said. "My local club is only 15 minutes away, I have a lot of childhood friends here, members of my club and people that I have known for a long time. It's always nice to win on home soil, it's a special feeling."
Two-time European Tour winner James Kingston shared third place with three-time Legends Tour winner Gary Wolstenholme on nine-under-par, while American Clark Dennis finished fifth on seven-under-par.
---
And another thing...