European Tour
Oct 1st, 2021
Hatton in hunt for third Alfred Dunhill Links title
Englishman bounces back from Ryder Cup disappointment to share lead
Two-time champion Tyrrell Hatton staked his claim for a record third title after an explosive 64 at Carnoustie in the first round of the 20th Anniversary Alfred Dunhill Links.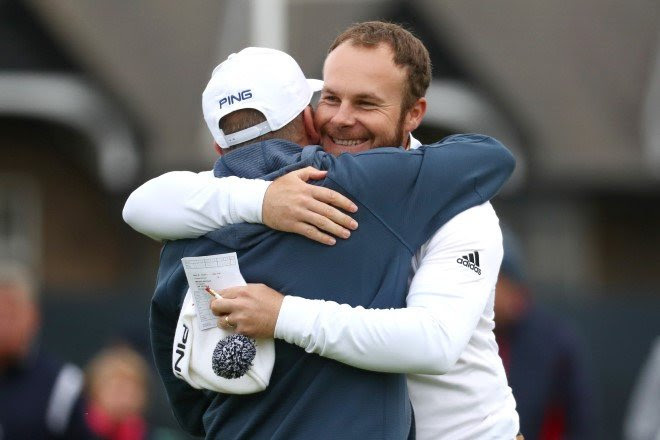 He shares the lead with Spain's Adri Arnaus, Belgium's Nicolas Colsaerts and China's Haotong Li.
Scotland's young hope Ewen Ferguson is one shot further back after a 65, along with France's Romain Langasque and 2011 winner Michael Hoey, while double runner-up and current Team Champion Tommy Fleetwood was among those on 66.
On a day of exuberant low scoring, the golfers showed how delighted they were to be back in action at St Andrews, Carnoustie and Kingsbarns after missing out last year.
Having played at the more difficult Carnoustie, Hatton is hoping to make further strides towards a record third Championship at Kingsbarns today. And he will be doing it alongside his proud dad Jeff, pictured above, who encouraged him to play the game and is his coach.
Hatton, who won the Alfred Dunhill Links in 2016 and 2017, said: "It was good. I didn't make a bogey. It's always nice to start pretty good around Carnoustie. You go to the other ones and feel you've got more of a chance, so we'll see what the week brings."
The highlight of Hatton's round was a stunning back nine 29. Tyrrell said: "I didn't actually realise it till I signed my card. Obviously, we needed a big back nine and I was very happy with the putter. Hopefully, that continues."
Hatton says he isn't currently getting any coaching from Jeff. "He hasn't looked at my swing or anything. I think he's a bit too excited to play these courses for the first time. I imagine he's probably quite tired. He normally plays once every six weeks. But I think he enjoyed it and we'll have a good day at Kingsbarns."
Jeff said: "I've never played golf anywhere in Scotland before, so getting Carnoustie first up was a whole different experience. I've never seen any course like it – all you can see is bunkers!"
The two Hattons lie in joint third place on eleven-under-par in the Team Championship with a better ball score of 61, a shot behind leaders Ewen Ferguson & Brad Simpson and Danny Willett & Jimmy Dunne.
Brad Simpson went from the top of the charts to the top of the leaderboard on the first day of the Championship.
Before arriving at St Andrews, Simpson had only just finished a nine-date tour of the UK to promote his band's latest album, Cherry Blossom.
After walking off the iconic 18th hole at the Old Course, Simpson had to take a moment to gaze at the scoreboard and appreciate the first time he actually saw his name at the top of the standings.
"That was mad. It was amazing to see – I guess I got lucky with a few shots!" he said.
Simpson was also quick to pay tribute to team-mate Ferguson, after watching the Scotsman card a bogey-free 65.
He said: "I really enjoyed it, and it was great playing with Ewen. Playing with a good guy like him instantly relaxes you and we had a good thing going.
"He's got a great mindset and his approach to the game is so positive. It's good to see more young guys coming through with stable heads on their shoulders. And Ewen was rattling the ball today, hitting it so well."
As the Championship celebrates its 20th anniversary this year, the rock star said it was a privilege to be part of such a historic occasion.
He said: "It's an honour to be involved in the anniversary. There are some great players here and it's also an honour to rub shoulders with them, see them play and witness it first-hand. That's always one of the best parts of it."
TAGS: European Tour, Alfred Dunhill Links, Tyrrell Hatton, Carnoustie, Kingsbarns, St Andrews, 2021
---
And another thing...