Equipment
Oct 31st, 2020
Zen and the art of golf
world's first fully-adjustable connected playing surface for golf
The 2021 Zen Green Stage® is the world's first fully-adjustable connected playing surface for golf.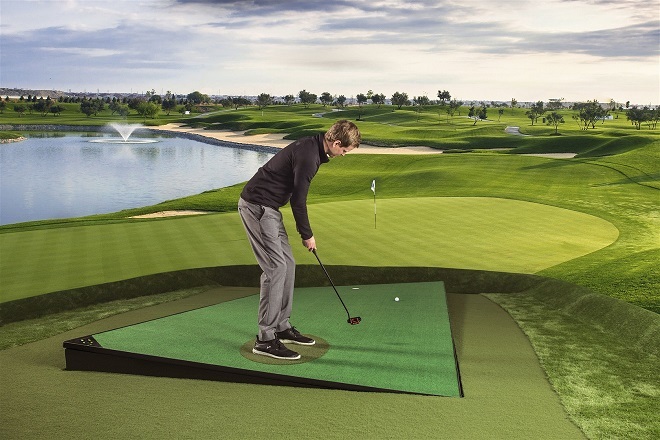 Offering precise Wi-Fi control from your phone or tablet, the adjustable 2021 Zen Green Stage connects with your swing studio technology for the complete indoor golf experience, giving golfers and their coaches new ways to play, teach and learn.
Experience minutely-adjustable sloping lies for both putting and full-swing golf with the all-new Zen Green Stage, completely redesigned for 2021.
It offers more movement, more stability, more accuracy, more flexibility and more connectivity than any other playing surface yet seen in golf.
It will soon make its TV debut in the Sky Sports Golf studio, replacing the older model which has already been seen by millions during live broadcasts at The Ryder Cup, the Masters, The Open Championship, The U.S Open and many other Tour events.
"Practicing or coaching on a flat surface indoors doesn't represent the reality of a sport which is, after all, played on predominately sloping surfaces," said Zen founder Nick Middleton. "The new 2021 Zen Green Stage effectively creates a powerful, robust, digitally-controlled adjustable golf course for you to use indoors, at your home or in a golf studio.
"It fundamentally improves golf practice and tuition."
Tour putting coach Phil Kenyon, whose putting drills are used by legions of Tour golfers including Tommy Fleetwood, Justin Rose, Francesco Molinari and 2019 U.S Open Champion Gary Woodland, said: "The 2021 Zen Green Stage has joined launch monitors as one of the essentials for the modern golf studio."
Highlights of the 2021 model, which is available to order now, include:
·         Unique all-direction movement, including double-breaking putts
·         Robust Putting and Full Swing configurations
·         Rapid slope transitions
·         Up to 10% gradient left / right
·         Up to 8% gradient up / down
·         NEW Precise Wi-Fi control from your phone or tablet
·         NEW Future-proof: connects with tomorrow's technology
·         NEW Precise accuracy +/- 0.1%
·         NEW Stand-on-stage control
·         NEW Auto self-levelling and calibration
·         NEW Intuitive control system
·         NEW Safety features
·         NEW Self-assembly option
·         NEW Ultra-real putting turf
·         NEW Strengthened design supports multiple players at once
·         NEW Dramatic in-floor installation option
·         NEW Adjustable Strike Turf mat
When used with a launch monitor, the 2021 Zen Green Stage enables you to capture new data which you never had before, more accurately mirroring the real-world playing conditions found on an undulating golf course.
'Let's look at your numbers' has never been this powerful or as much fun.
For players, the 2021 Zen Green Stage adds an ultra-realistic feel to a home golf studio. "Zen Green Stage is great practice. It's the business" said Ian Poulter, European Ryder Cup icon.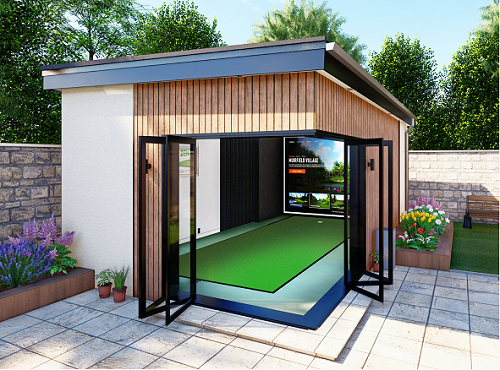 For golf coaches, it offers both full-swing and putting data capture in the exact same place, maximising efficient use of floor space, enabling accelerated learning and better lessons.
"Just as launch monitors have become universal, within a few years Zen Green Stage will be everywhere," said Tour putting coach Jon Karlsen.
For retailers, Zen Green Stage creates a better retail experience enabling more powerful custom-fittings and ultimately more sales. "Now we have Zen Green Stage, our putter sales are up 100% from last year," said John McDonald, PGA Professional.
"I would categorise the arrival of the connected, adjustable playing surface as a fundamental evolution of indoor golf," said Zen founder Nick Middleton. "We believe it ranks alongside the arrival of launch monitors, golf simulators and, looking further back, the arrival of computer games as a seminal moment in creating the complete indoor golf experience."
The 2021 Zen Green Stage can be integrated with a wide range of golf technologies including launch monitors, golf simulator software, Augmented Reality and Virtual Reality systems, Putting Analysis and Ball-Tracking systems, 3D force plates, and many more.
"Nowadays you should be designing your golf studio around the Zen Green Stage. No-one else out there has a product that can do this" said leading golf academy designer Tim Cutshall from IA Sports.
The 2021 Zen Green Stage also now forms the centrepiece of Zen's new Studio Design & Installation service, working with worldwide partners to produce next-generation indoor golf experiences.
The new product also offers a simple self-assembly option, for people who are building their own indoor swing room.
Other options include a Full Strike Oval to enhance full-swing golf, and the tailor-made Zen Simulator Canopy for larger spaces, with Zen's own new, fully-integrated Augmented Reality solution also just around the corner.
"The Zen Green Stage is the final piece of the jigsaw. No other technology has its capabilities" said Phil Kenyon. "I now give better lessons simply because I have the Green Stage. In that respect, it is priceless."
Recreate any makeable putt on the planet, and practice hitting off sloping lies with the all-new 2021 Zen Green Stage.
The 2021 Zen Green Stage retails from £20,950.
For a tailored quote please email info@zenoracle.com, or call +44 (0)114 262 6933.
---
And another thing...