Equipment
Jan 13th, 2023
TaylorMade introduces the Stealth 2 Fairways Woods
Versatile designs and new technologies to fit Golfers of all abilities
TaylorMade Golf Company continues its technological innovation in the fairway wood and Rescue™ categories with the announcement of the Stealth 2 fairway and Stealth 2 Rescue family. The latest line of Stealth 2 fairway woods and Rescue™ clubs continues to feature with breakthrough movable weight technologies and versatile designs.
The flagship model of the line is Stealth 2 Plus fairway, which features a heavy 50g sliding weight on the sole. This weight allows for three main settings, each with its own performance characteristics – creating three different fairway woods in one. The middle setting is the most versatile for optimal playability off the deck or off the tee. This standard setting will fit a wide range of golfers and has mid launch, mid spin and consistently powerful distance.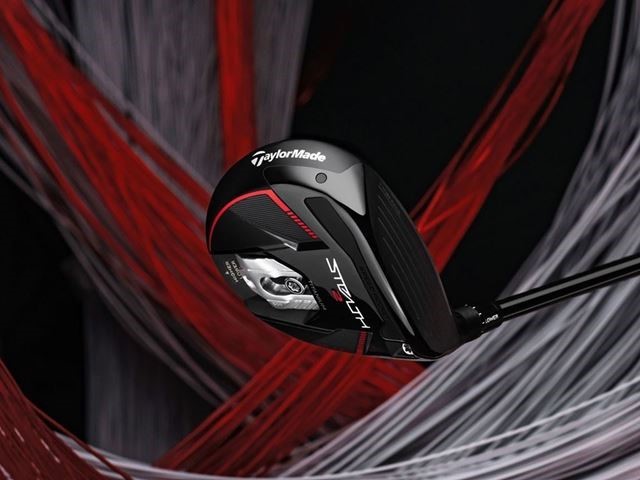 Players can manipulate the weight to fit their swing or desired launch conditions. Shifting it to the front reduces spin and creates a piercing trajectory for added distance off the tee. This setting is also ideal for high-spin golfers who want to knock off spin for increased rollout and distance.
"We anticipate the forward setting being popular on Tour, particularly among players like Collin Morikawa who have historically used our 13.5° Rocket 3-wood for increased distance and a low spin/low launch. The versatility of Stealth 2 Plus will allow for this type of "rocket" setting but ultimately its versatility is its greatest appeal. Adjusting the movable weight creates noticeable performance differences in terms of launch, spin and distance, allowing golfers to dial in the preferred flight characteristics that their game, course and conditions require."
Tomo Bystedt, Senior Director of Product Creation
Positioning the weight all the way back is the most forgiving setting. It adds spin and increases MOI for enhanced performance on off-centre strikes. This setting also encourages a steeper descent angle with more spin, creating a performance option for players who possess the power and speed to attack par 5s with their second shots – helping them to hold the green more easily.
The combination of the sliding weight along with an FCT Loft Sleeve gives Stealth 2 Plus a massive spin and loft range, checking in at +/- 2° of loft and approximately +/- 550 RPMs of spin. These two functions allow players to customise the club to fit their specific needs and playing style.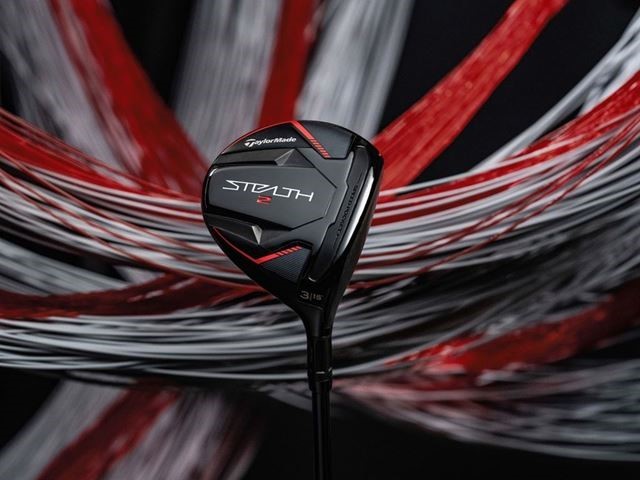 The Stealth 2 fairway builds on the success of the original Stealth fairway, which was among the most-played fairway woods on the PGA Tour in 2022. It features a slightly lower profile 3D carbon crown that pushes CG down and pulls mass away from the high toe area, allowing more weight to be positioned rearward for optimal forgiveness and maximum playability.
The V Steel™ sole continues to play a pivotal role with the Stealth 2 fairway. This iconic TaylorMade technology is dual-purpose:
1. Helping to drive weight low for deeper CG.
2. Improving turf interaction and providing the versatility to take on a variety of lies.
Another unique addition to the TaylorMade fairway family is the all-new Stealth 2 HD, engineered to maximise forgiveness and deliver easy playability for golfers at every level. A radical departure from traditional TaylorMade designs, it features an ultra-high MOI construction with an oversized 200cc head.
A larger, low-profile sole helps the club hug the ground at address and makes it easier to achieve a high launch, while internal weighting encourages a draw-bias ball flight. Stealth HD has the highest MOI of any TaylorMade fairway wood and expands the limits of forgiveness in terms of off-the-deck playability. For golfers who have historically struggled to produce successful shots with their fairway woods, this ground-breaking design will be an exciting and easy-to-hit alternative.
Every Stealth 2 fairway and Rescue features a new Advanced Inverted Cone Technology, an intelligent design that optimises the face thickness profile of each individual club type to ensure peak performance regardless of face size, shape or material. Engineered to maximise speed and enhance durability, the design is thinnest at the true centre and around the edges, with a thicker mantle surrounding the centre face.
"Advanced ICT takes a proven TaylorMade concept and pushes it to the next level. We've now optimized variable face thickness for each individual club, so that every face on a Stealth 2 fairway or Rescue has been specifically engineered for that club. This design feat is a testament to our team's relentless drive to improve on every aspect of our products year after year."
Matt Johnson, Principal Engineer, Advanced Design
SPECIFICATIONS, AVAILABILITY & PRICINGStealth 2 Plus, Stealth 2 and Stealth 2 HD fairways
will be available for preorder on January 10 and at retail on February 17, 2023. Stealth 2 Plus has an RRP of £379 / €479 / SEK 5,299 / NOK 4,999 / DKK 3,699 / CHF 489 and will be offered in 3/15° and 5/18° lofts. It will be offered in the Mitsubishi Kai'li Red FW (75X, 75S, 65R), with a variety of custom shaft options available. Stealth 2 Plus fairways come stock with the Golf Pride's Z-Grip (52g).
Stealth 2 and Stealth 2 HD
have an RRP of £299 / €379 / SEK 4,199 / NOK 3,999 / DKK 2,999 / CHF 389. Stealth 2 will be offered in lofts of 3/15°, 3HL/16.5°, 5/18°, 7/21° and 9/24°. Shaft offerings include Fujikura Ventus TR Red FW (6-S, 5-R, 5-A), with a variety of custom shaft options available. Stealth 2 HD will be offered in lofts of 16°, 19° and 22°. Fujikura Speeder NX Red is the stock shaft offering with a variety of custom shaft options available. Both models come stock with Golf Pride's Z-Grip (52g).
Stealth 2 HD Women's Fairway
is offered in lofts of 16°, 19° and 22°, and comes stock with the Aldila Ascent Ladies 45 shaft and Lamkin Ladies Sonar grip.
---
And another thing...