Equipment
Nov 24th, 2022
Shot Scope Launches Branding and Customization
Program allows golf clubs and corporates to brand rangefinders
Shot Scope
, a leading international manufacturer of GPS-based distance tracking and game performance systems, has introduced a branding and customization program for laser rangefinders.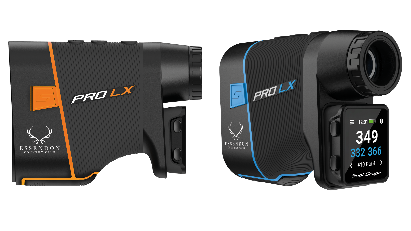 Shot Scope's custom rangefinder program now allows golf and country clubs to customize rangefinders for their members, as well as sell them as tournament and corporate/charity outing gifts. In addition, professional and amateur golf tournaments, collegiate teams, event sponsors, golf resort destinations and others can now connect their brand with golfers who utilize rangefinders to drive their performance on the golf course.
The new Shot Scope customization service, which prints logos directly onto the product, is available free of charge based on a minimum order of 20 units for the PRO LX or PRO LX+ devices, while a small surcharge will be added for orders under 20 units. Orders can be placed by emailing sales@shotscope.com. All custom orders will be delivered within a maximum of 4 weeks.
"We are very excited to now offer customization and branding on our PRO LX and PRO LX+ rangefinders," said Gavin Dear, Chief Commercial Officer, Shot Scope. "Logo merchandise remains a very popular category in golf at both the country club and resort levels, as well as for golf tournaments, teams and anyone looking to connect their brand with performance out on the course."
The new Shot Scope customization service comes on the heels of the 2022 launch of PRO LX+ a product that has redefined the laser rangefinder category in golf and is the game's first device to feature GPS-powered distances and Artificial Intelligence for personalized performance tracking.
The PRO LX+ system includes three innovative devices which are sold as one unit, the PRO LX+, featuring GPS-powered distances and performance tracking, or individually as the PRO LX Rangefinder and H4 Game Tracker. Today, with research showing that modern golfers rely on multiple GPS devices, players of all levels now have one device - PRO LX+ - that provides all of the on-course technology they need in one system. For rangefinder users, the PRO LX+ uses Artificial Intelligence to deliver real-time game tracking data like never before, which is currently used by tens of thousands of golfers worldwide recording over 200 million shots. In fact, Shot Scope data shows that amateur golfers improve by four strokes thanks to the unique fusion of accurate distance information and automatic performance tracking technology from Shot Scope devices.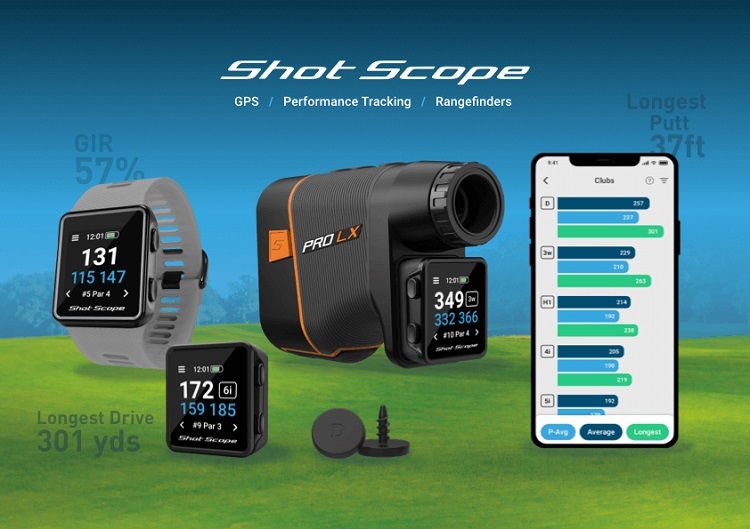 The PRO LX+ is the only rangefinder to offer 3 products in one – a rangefinder, GPS-powered distances and performance tracking. It features a wealth of golfer-friendly benefits including, advanced target lock vibration, red and black dual optics, X7 navigation, adaptive slope technology, 900-yard range which is accurate to 1 yard, a precision clear lens and a comfort stability grip. Additionally, the PRO LX+ offers 36,000 pre-loaded courses, dynamic front, back and middle GPS distances with front and carry distances to every hazard; all distances are available in yards or meters. Available at £329.99 SRP with no subscription fees and free updates.
The PRO LX+, which is available in blue, gray and orange colors, also features Shot Scope's artificial intelligence for performance tracking via the H4 Game Tracker which magnetically attaches to the rangefinder. Backed by 16 RFID tracking tags that capture over 100 game statistics during a round of golf, the performance tracking capability works in the background and continuously scans the golfer's swing settings. This creates an ever-increasing volume and accuracy of data collected from the golfer during play, leading to more insights and statistics that help the player understand their game better, improve on-course strategy and shoot lower scores. The water-resistant PRO LX+, which is USGA conforming, also comes with a premium carry case, lanyard, carry clip, cleaning cloth and 1 x CR123 battery.
Shot Scope PRO LX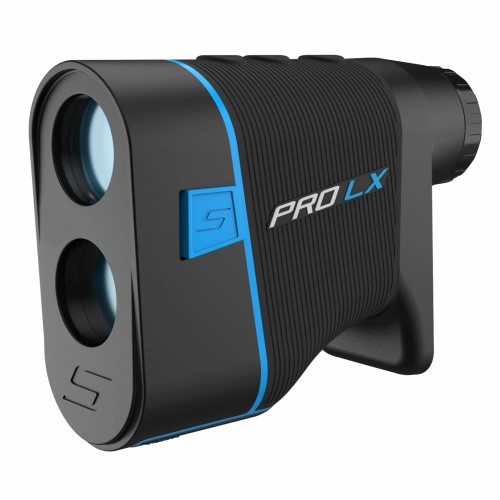 For golfers looking for a high-performance laser rangefinder without the performance tracking technology, the PRO LX boasts all of the features listed above less the H4 Game Tracker. The PRO LX, which is available in blue, gray and orange colors, has a highly competitive suggested retail price of £199.99, with no subscription fees.
Shot Scope H4 Game Tracker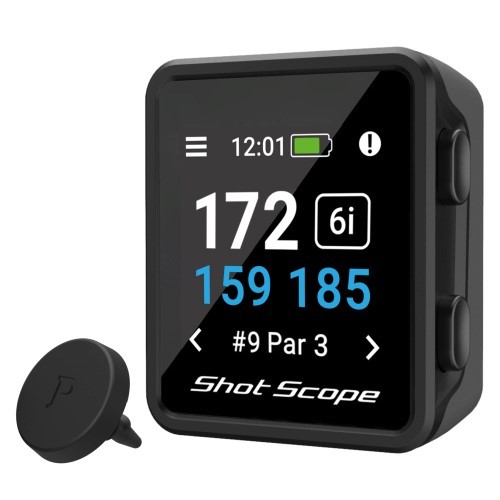 Rounding out the rangefinder system is the handheld H4 Game Tracker device, offered at an SRP of £129.99 with no subscription fees and free updates. The H4 Game Tracker offers both GPS distances and performance tracking and easily attaches via a metal belt and carry clip. The H4 offers all of the high-performance GPS technology features of the PRO LX+ listed above, combined with unmatched Shot Scope performance tracking capabilities, backed by the 16 RFID tracking tags that capture over 100 game statistics during a round of golf.
Performance Tracking and Statistics (available with PRO LX+ and H4 products)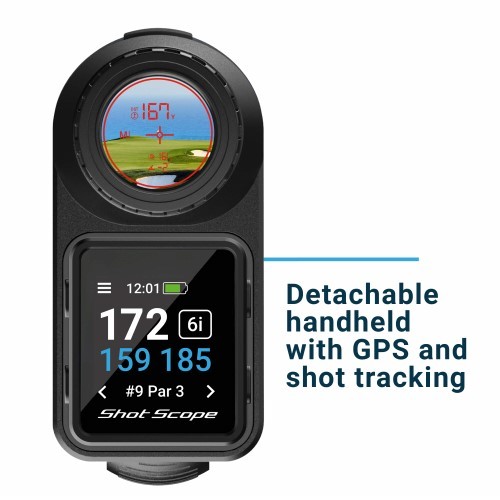 Shot Scope's 16 lightweight plug-n-play club RFID tags that are embedded with smart GPS chips that easily screw into the butt-end of every club. The tags communicate with the PRO LX+ and H4 Game Tracker to identify what club was hit and its location on the course. Unlike other golf performance trackers, Shot Scope technology delivers instant syncing, while enabling club recognition with no pairing or phone required. Utilizing this shot tracking technology, golfers can sync their device with Bluetooth and download the free app for mobile use on iOS and Android. An interactive dashboard, which provides an aerial view of the course for a bird's-eye view, enables the golfer to capture and analyze over 100 tour-level statistics on club distances and tee shots for measurable game improvement, while Shot Scope's PinCollect™ technology records putt and pin location, capturing and analyzing approaches, short game and putting statistics. The suite of performance tracking features available through the PRO LX+ and H4 Game Tracker devices include:
Tour-Level Statistics: dive into 100s of statistics and insights about your game such as average club distances, best short game club, number of birdies and bogeys per round and much more.
Strokes Gained: for a more in-depth analysis, compare against handicap benchmarks to discover how you perform in each area of the game compared to other amateur golfers. Comparisons can also be made against Tour players.
Interactive features: compete against Shot Scope users all around the world with Leaderboards and Medals. Custom Leaderboards can be made to compete against friends. Earn medals for achievements on the course. 
Course Hub: virtually 'join' any course in the world and view all rounds played with Shot Scope. This can be used to help plan a strategy for a new course you are yet to play. 
Social Share: Bird's eye hole overviews provide a great way to quickly and easily share highlights of your round. Alternatively, you can upload a picture to share with your round details and score.
All the above and more are available for PRO LX+ and H4 users. Shot Scope's performance tracking products provide vast amounts of data on the amateur golfers' game but also presents the data in a way which is easy to interpret. Highly detailed statistics such as Shot Scope's innovative 'strokes gained' are available for those who want to know everything about their game, however top-level summary statistics also provide enough information to help all golfers improve. Interactive features such as course hub and leaderboards add a competitive and fun element to the products, as golf should always be fun!
TAGS: Equipment, Shot Scope, Rangefinders, 2022, News
---
And another thing...