Equipment
Oct 4th, 2021
GolfPunk visits The Putter Tailor
There's a lot more to it than hitting a few putts!
Words: GolfPunk
Putting is in all the head is it not? You find a putter you like the look and feel of try it out on the putting green and away you go. That's what we thought until we got an invite to visit
The Putter Tailor
for a fitting for an Edel putter.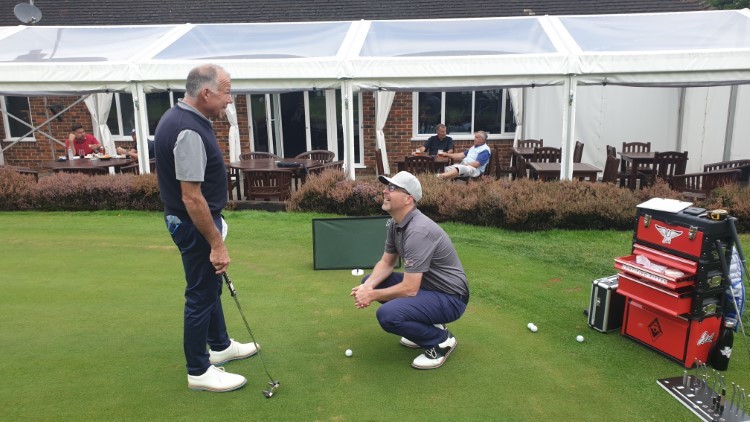 We rocked up to The Addington (a great course by the way) to meet Jasper the guru of all things putting. Armed with his box of components and other contraptions Jasper proceeded to work his magic with our guinea pig.
We hand-picked our most sceptical (and tight) man Ross to go through the process. If he could be convinced to part with his hard-earned wonga for a new putter then there must be something in it.
After an initial chat to assess your personal putting tendencies and individual putter preferences the process moves on to the nitty-gritty.
"When I arrived at The Addington a tour pro was buying an Edel putter after his fitting. This was a positive start, common knowledge golf professionals are tighter than even me!"
Biomechanical analysis
Like getting fitted for a suit stage one involved measuring up our man for his putter. Measurements of height, arm span and the like assist in working out the best length and height for a putter.
Jasper also looked at other biomechanical factors such as the positioning of the right elbow our player's backswing and the way his hands pointed when he stood with them by his side.
It was interesting that some players' hands point forwards when there are by their side and these players can often be seen adopting a claw grip as this is more natural to them than a standard putting grip. 
"Jasper soon got the ball rolling, very thorough, professional and an illuminating experience. My fitted putter design was something I wouldn't even look at in a golf shop let alone try out." 
Aim analysis
The aim is a primary focus in the process and helps fine-tune the length, lie, head shape, hosel shape of the putter.
Using a laser pen, a back screen and a small thin mirror strip on the front of the putter the accuracy of a player's aim may be assessed. The player lines up a straight putt at the dummy hole. The ball is then removed and the back screen shows where the beam has reflected back to.
A green dot to either side of the hole shows any misalignment and the height of the dot gives an indication of the lie of the putter.
A well lined up putt will produce a green dot a few inches above the hole.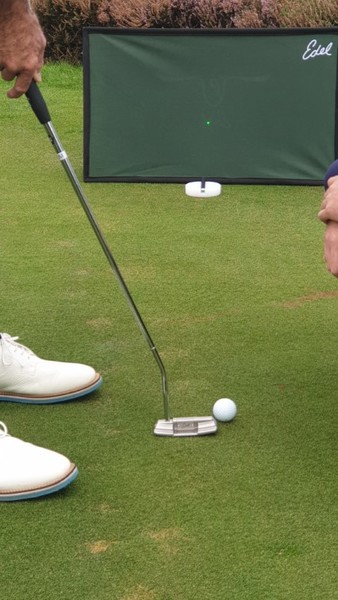 Various heads shapes are tried as well as variations in visual aids (lines) on the putter. It was fascinating that our man found it easier to line up a blade putter compared with the other shapes and that the addition of visual aids actually seemed to have a negative impact on alignment!
Distance control
Having determined the best head and visual set up the player is then tested on distance control.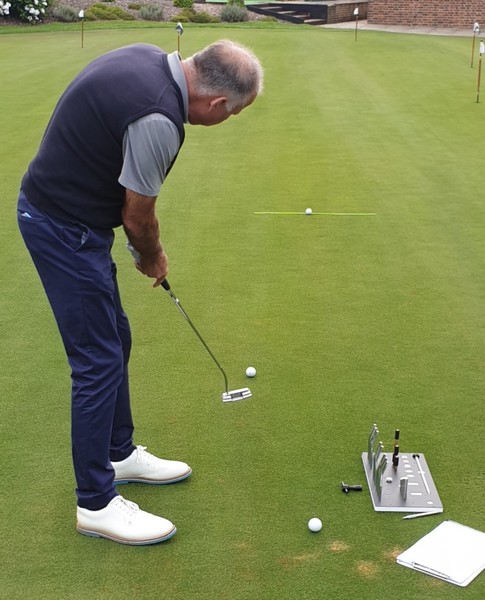 A target line is set up around 20 feet away and the aim is to run the putt just past the line. The weighting of the putter is adjusted to find the best combination that provides distance control.
End Result
Having spent a good hour going through everything The Putter Tailor came up with the perfect wand for our man.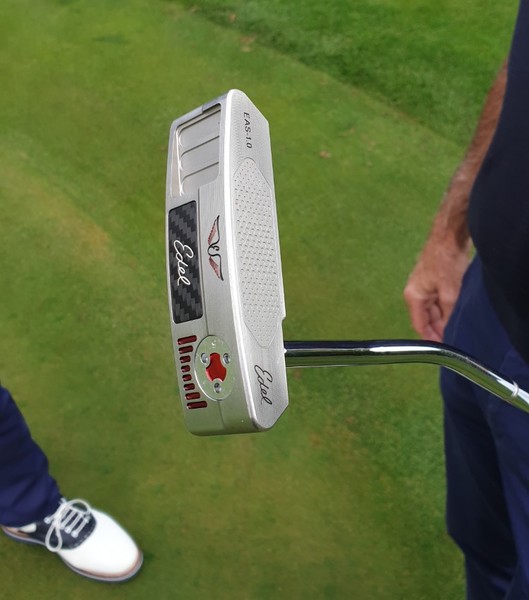 A torque balanced Edel EAS 1.0 blade putter perfectly fitted to our man was taken for a test drive around the putting green and the results were good.
Ross wasn't just holing long putts but was holing two or three putts in a row which was something alien to him. As a result, the wallet came out, the moths dispersed and one shiny new (expensive) putter was ordered.
"I spent the next hour on the putting green half hoping it would preform no better than my fang shaped Odyssey, which has been in my bag for the last seven years without a break. The wallet said no but the balls dropping into the holes from everywhere said yes and won the day."
We say expensive as the fitting and made to measure putters are not cheap. A fitting cost £75 and if you decide to take the plunge and buy a putter it will set you back £475. It is the same price regardless of what combination of components you end up with.
So all in all it will cost you just over a monkey (£500, we are not all cockneys! - Ed) to hopefully solve your putting woes. It sounds a lot but if we offered a two putt reduction in your putts per round for your next twenty-five round at the rate of £20 per round you'd bite our hands off would you not?
So how did the new blade go?
Ross put his new putter through its paces and this was his conclusion.
"I have now played three rounds of golf with my new putter (two weeks for delivery) and each round it is becoming more familiar. The results are promising and I am not having alignment issues, putts missed are bad reads."
Conclusion:-
"If you are a serious golfer you only have to think of this. You get fitted for a £450-£500 driver and hit 14 shots a round with it. So why not spend a little more for for a club you use over twice as many time per round. Hitting it 10 yards further doesn't win you comps, holing 10 yard putts does!"
For more information on the Putter Tailor visit their
website
or email them at fittings@theputtertailor.com.
---
And another thing...